Meet Juliana Adam Wong, 35, partner and CEO of the Biji-Biji Initiative, one of Malaysia's pioneering social enterprises, with a mission to tackle environmental issues. Featured as one of Prestige Malaysia's 40 Under 40 (2020), and an Acumen Malaysia Fellow, Juliana believes in creating change through behaviour, culture and sustainability. NG WENG LIN talks to her about her passion for her work and her determination to make a sustainable impact in the world around her.
---
What led you to the innovation sector?
Biji-biji started off with the main idea of wanting to make a difference, to innovate the way businesses work. We believed that there is a way profits can be shared through how businesses are structured, and that everyone, even from vulnerable communities, has the chance to improve their livelihoods. So, we embarked on the social and impact driven business model. Personally, how I got into this, was more on the social impact side of things. I knew that there are skills and experiences that I have that could be of benefit to underprivileged youths, that would help uplift them, and allow them to see things from a different perspective. That was how my business partner, William, started the Taboo Enterprise to run creative upcycling workshops to underserved youths. This was the first active step I took in innovating the way we do things.
(note: Taboo Enterprise was another Social Enterprise that we started, just before getting into a partnership with Biji-biji. Safe to say that Taboo & Biji-biji have since merged.)

The Biji-Biji team before loading a 40-ft trailer for a nationwide Eco Festival in 2015.
Your social enterprise Biji-Biji is about driving sustainability. Was there a turning point or certain moments that nudged you to think more about consumption patterns? If so, please share.
Yes, we have been focused on driving sustainability since our conception. We have been placing emphasis on solving the sustainability issues creatively, looking at waste from a different perspective and giving new life to it. It's only recently that we have started shifting our focus to consumer's consumption, trying to change people's mindsets and perceptions about their use of plastic in the first place. We keep hearing the usual debate of how manufacturers need to stop using plastic, or how the blame goes to the recyclers for not being able to cope. I feel, as much as the other stakeholders are responsible, the consumers need to step up as well. They need to understand that they are as much a part of the contributors as the manufacturers are. Their consumption habits are what drives the vehicle.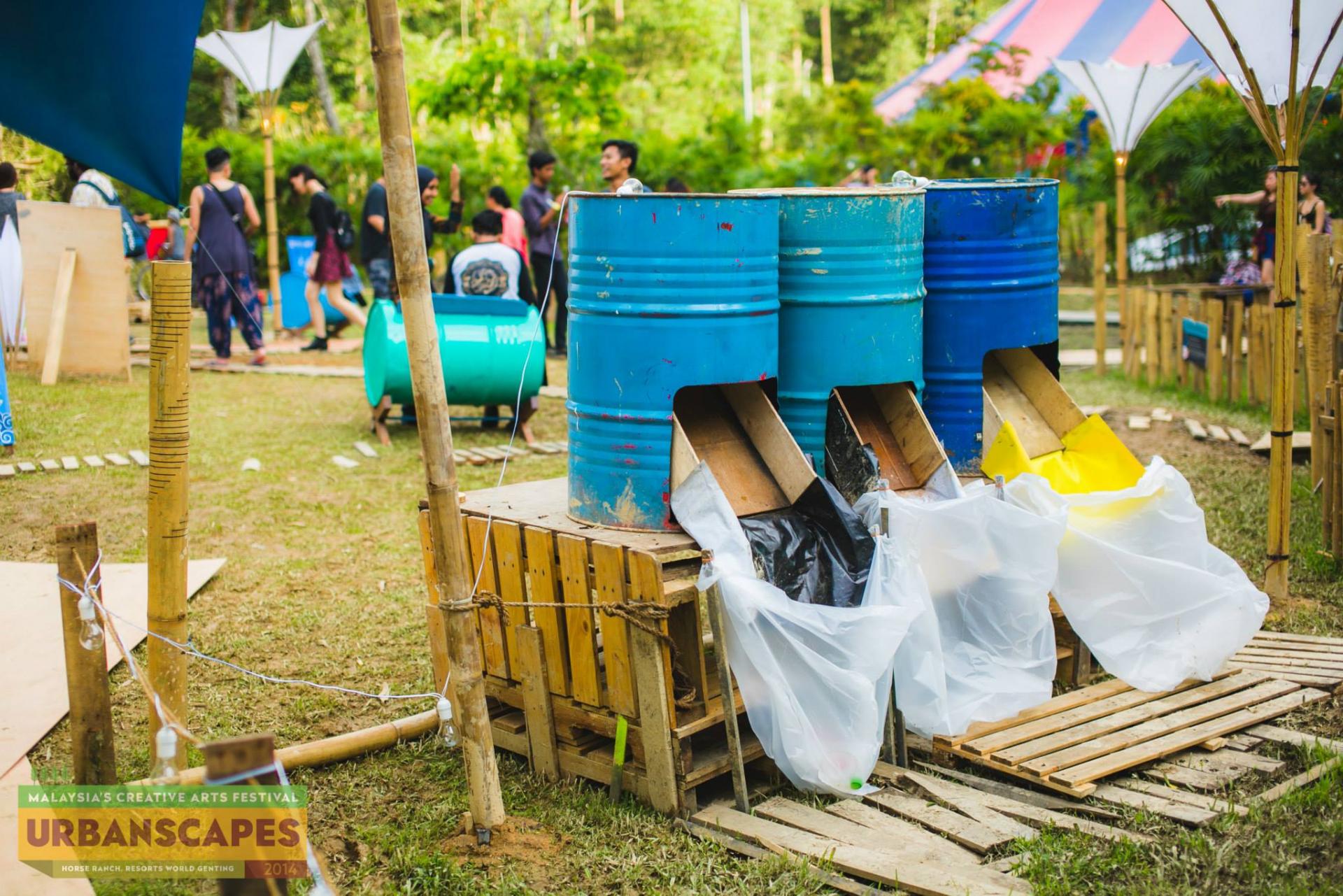 One of the team's upcycled features that was built from waste materials at Urbanscapes, a Malaysia-based creative arts festival. The team also ran upcycling and sustainable living workshops there.
You've also been involved with Me.reka, an online education platform that provides alternative learning spaces. Why do you think creativity is important in education?
Learners need to have the freedom to think differently, to not only be fed with what others think is right. It is important that they analyse and learn things in their own way, to be able to be creative in coming up with solutions. This is where innovation begins. Nobody innovates without being able to think outside the box.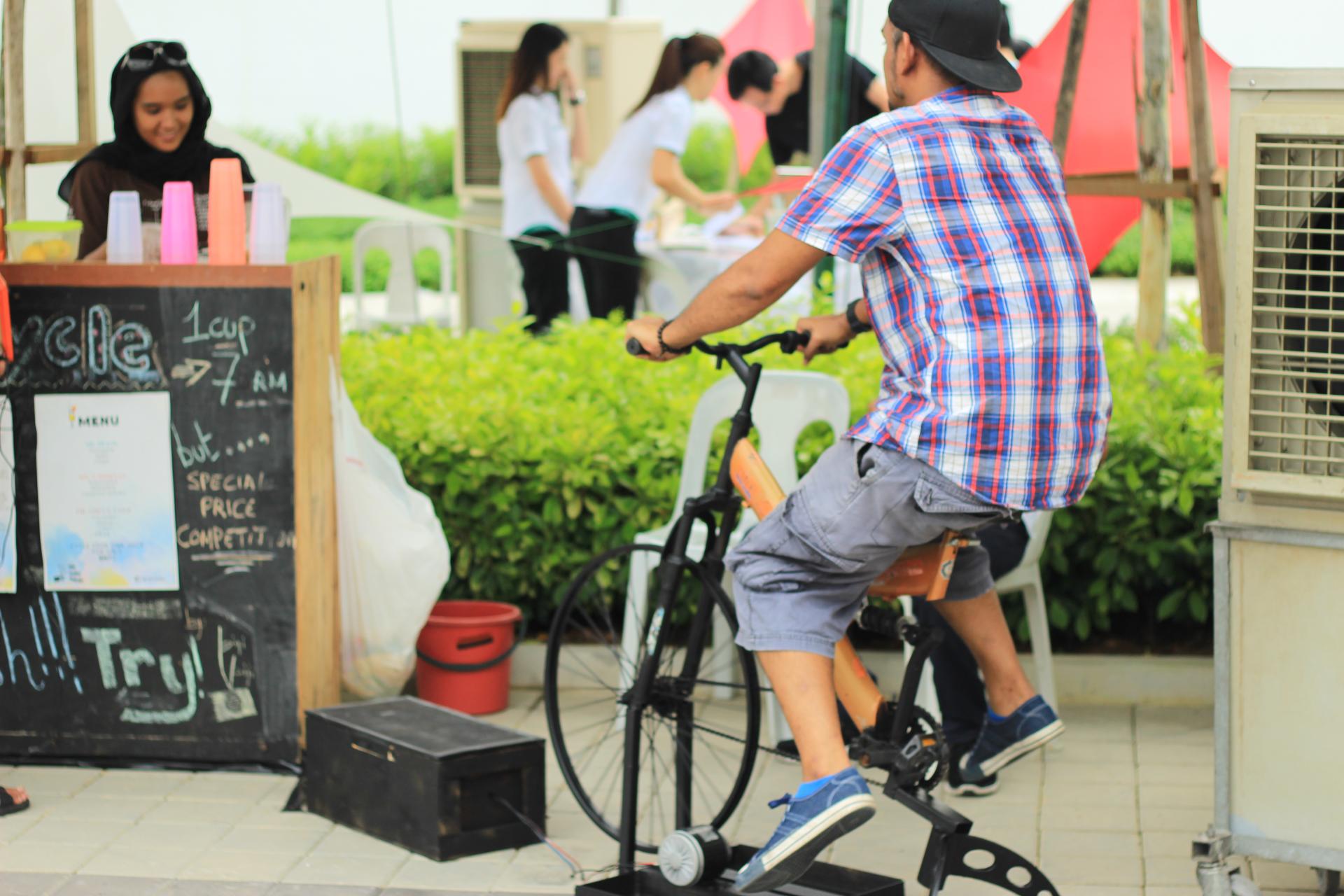 The Biji-Biji Bicycle juicer at work – one of the team's longest running alternative energy installations that converts movement into energy that can be used to power up various devices.
What are some qualities that you strive toward?
To always have a strong purpose to do what I do. I feel that if you really have a strong "why" to what you are doing, even if you tend to lose your way in the journey, you will find your motivation to drive you to achieve your "why".
It is also important to me to be able to do things collaboratively. I've always believed that working alongside others and tapping into each other's experiences and expertise is a great way to achieve greater outcomes.
When you face difficulties, what keeps you going?
The team that I work with in Biji-biji are very important factors in keeping me going. When I face dejection or a block, I look around me and see that the team is still pushing forward, it gives me the motivation to strive along. We keep each other accountable like such, in our own ways, through our own support system.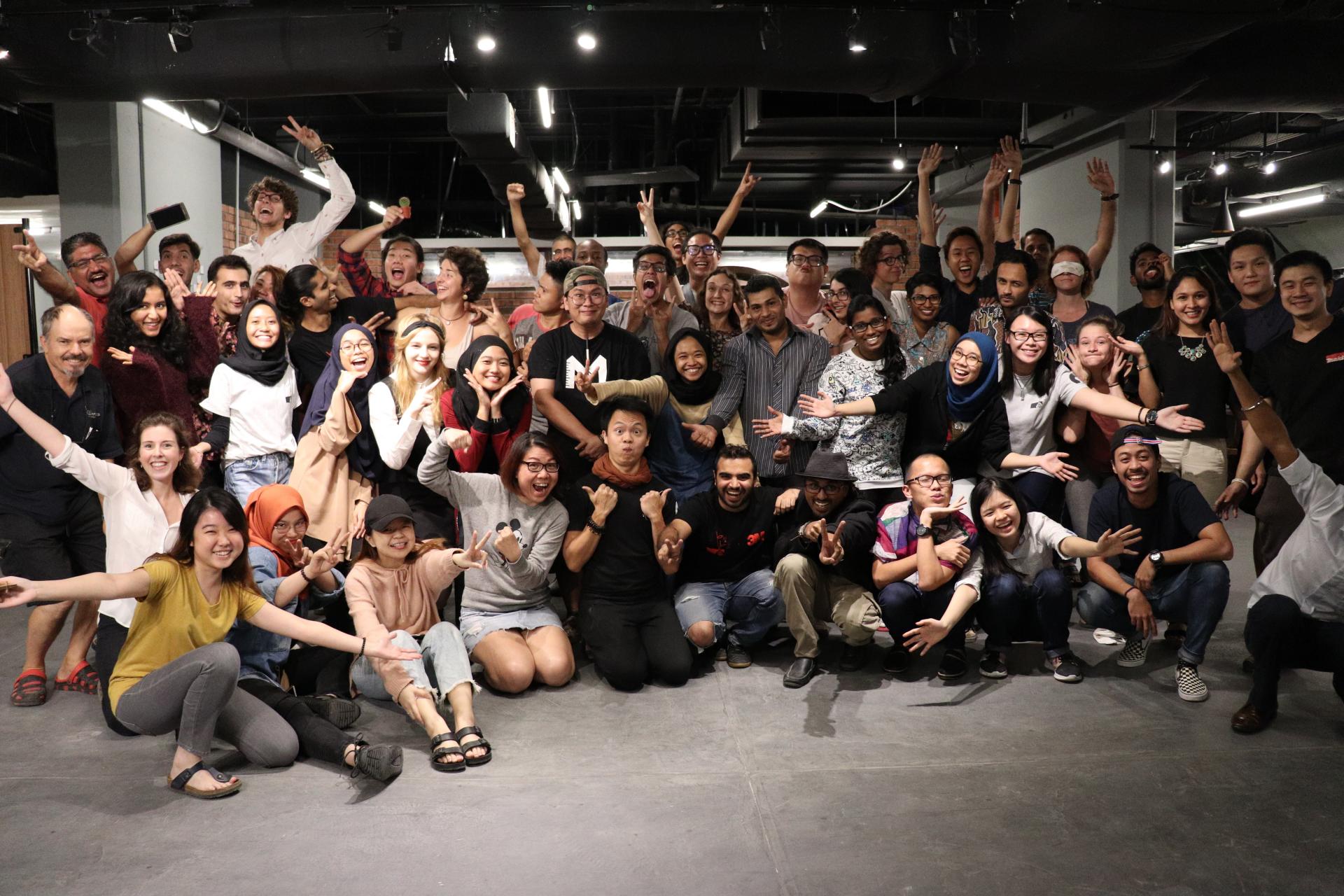 Biji-Biji's first team photo after settling down in their new headquarters in 2017. They were at their largest at this point, with over 50 members, yet they remained a close knit and fun loving family.
Who are some of your major influences?
Quite a number inspire me in various aspects! I keep myself inspired by looking up to other changemakers, especially my fellow Acumen Fellows, who do amazing things and bring about huge impacts to the people they work with, and who especially still continue their fight no matter what.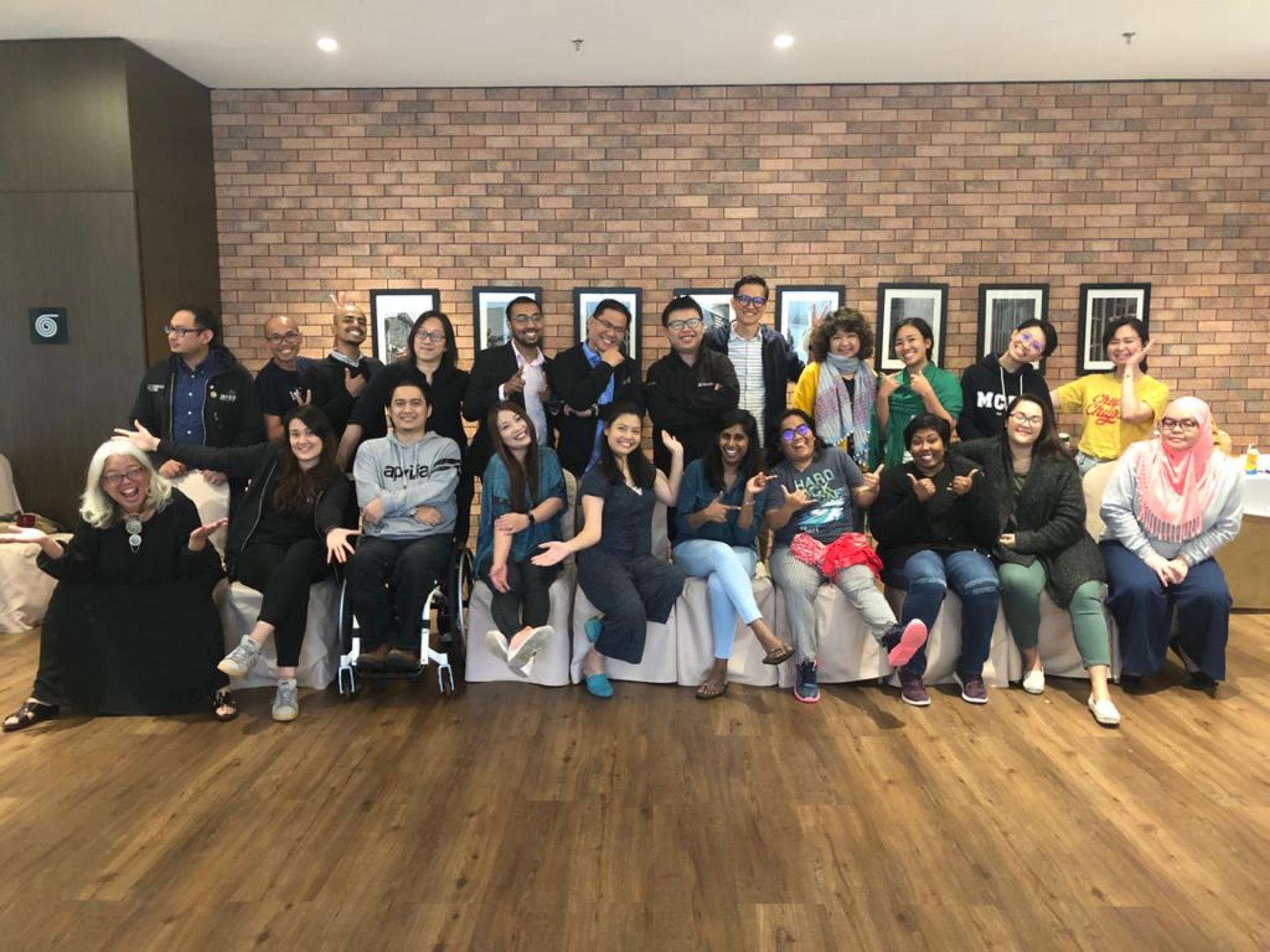 The 2020 cohort of Malaysia Acumen Fellows. Being a fellow is one of Juliana's proudest accomplishments, and her experiences with them has greatly shaped her leadership and change-making.
Are there any memorable stories or interactions you've experienced across your journey so far that you're grateful for? If so, please share.
Throughout our journey, I have been blessed with the opportunity to meet with so many different types of people, from various backgrounds. I have learnt so much from everyone I've met, from our beneficiaries, programme participants, partners, and even the interns that we have worked with. The transformation that I see in the individuals that I have had the chance to work with, are the memories that I hold dearly.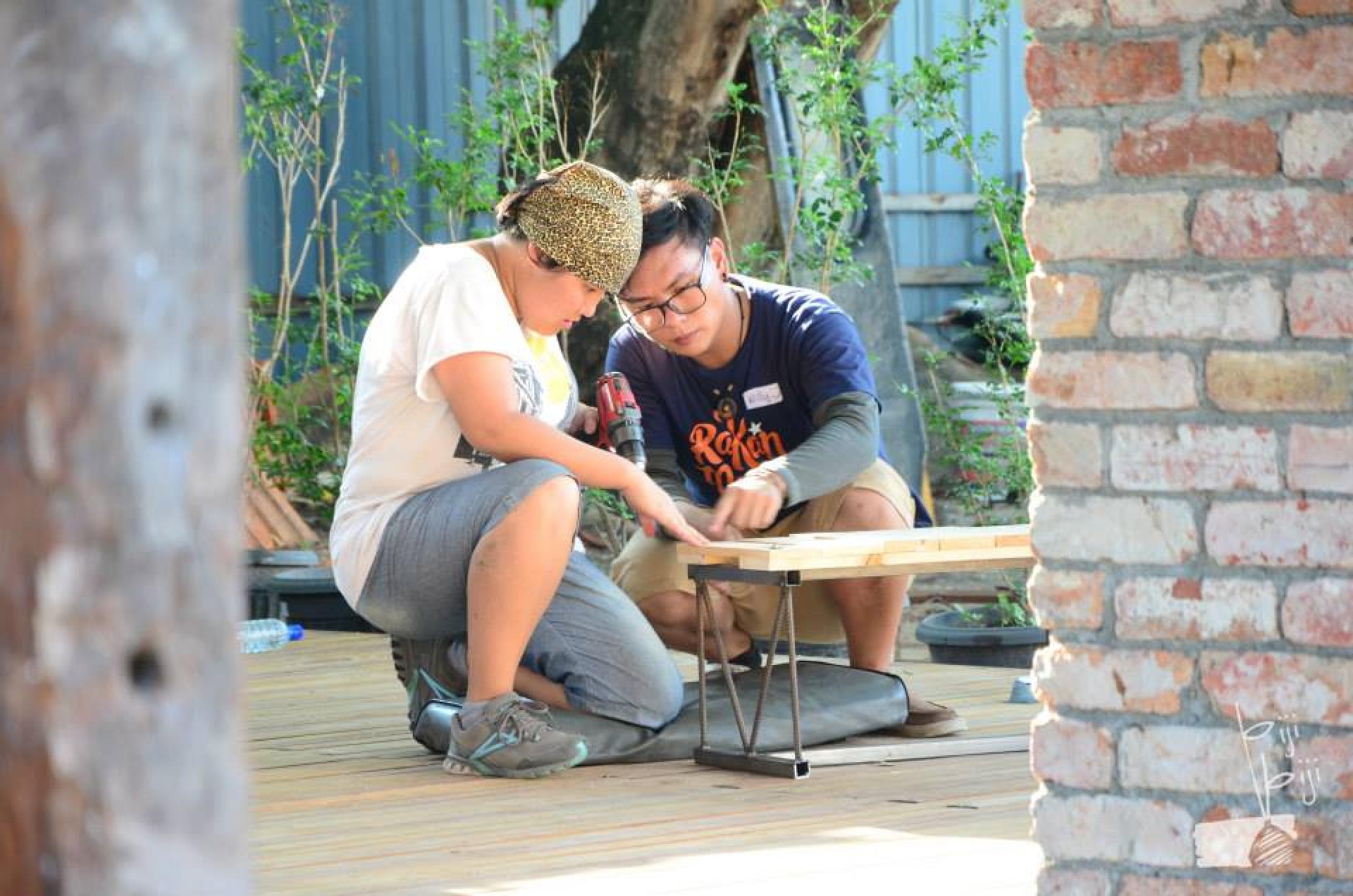 A workshop participant working on her upcycled furniture project at Camp Benih, one of Biji-Biji's nationwide projects in which they taught youth about sustainable practices. The participant even painted her work and auctioned it off at the end of the workshop.
Any advice you would give to the person you were 10 years ago?
To be more aware of who you keep in your circle. I believe that you are the average of the 5 closest persons you have, and that plays a huge role in shaping who you are.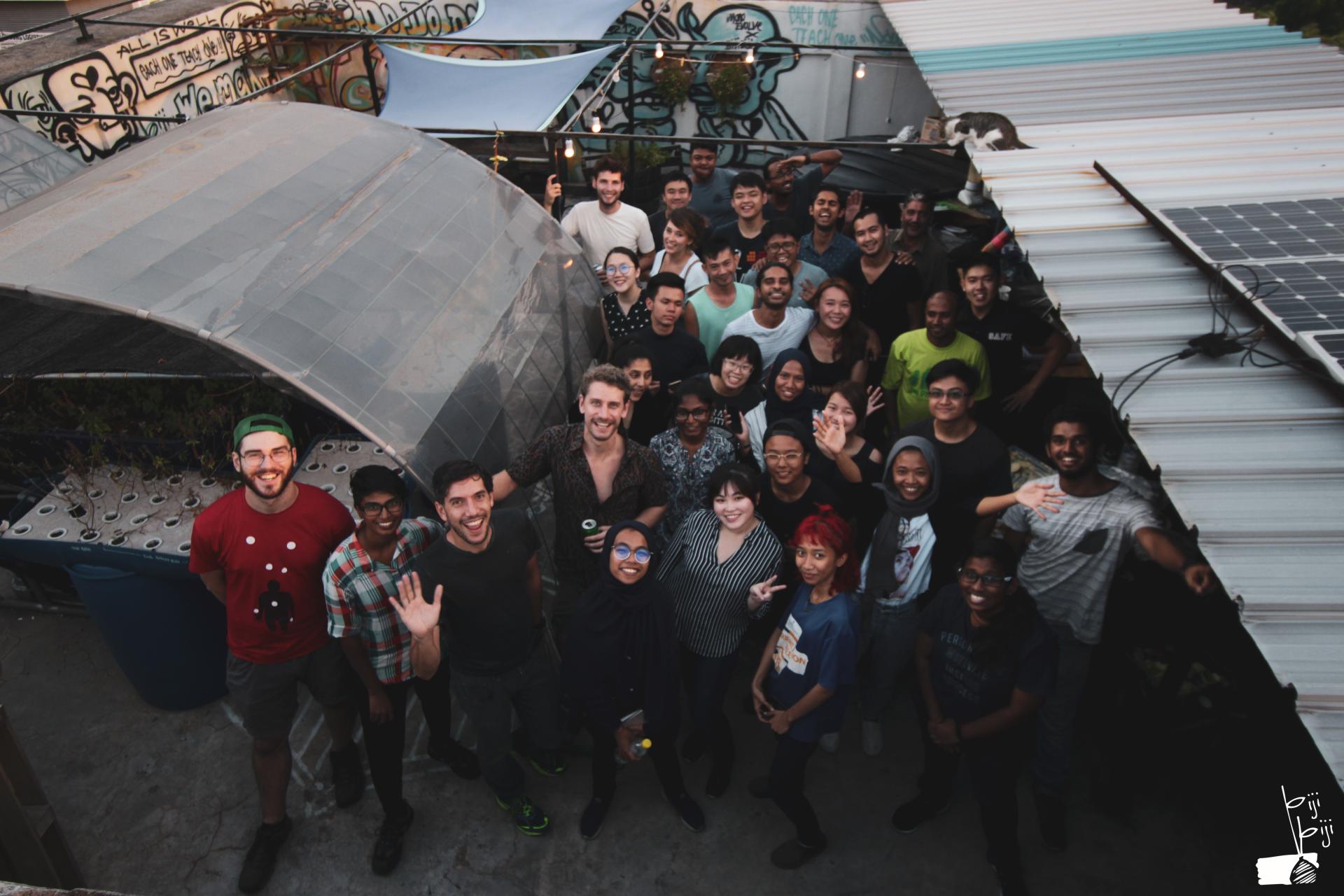 Biji-Biji's Fabrication Team, at their factory-cum-office in Klang, Selangor. Much of Biji-Biji's ethical fashion production work is done here, and the team has good memories of winding down after a long day's work on the rooftop of this building, watching the sunset together.
If you weren't in your current line of work, what would you be doing instead?
Something in the creative field. I can't say what exactly, but I know it would surely be something to do with the arts, or some sort of social scene.
There's been a lot of progress in the sustainability sphere over the years. In your opinion, how can we as a generation continue to contribute to a sustainable future?
I feel that if we all take the extra step to be more mindful in how we consume, it will slowly become second nature for us to become more sustainable. We will learn that we can make do without single use plastics, that we can adopt alternative options such as solar energy, to actively be more involved in the circular economy, and ultimately, be able to influence large-scale sustainable design and development. We all need to remember that each of us play a part in this, no matter how tiny we may think our actions are.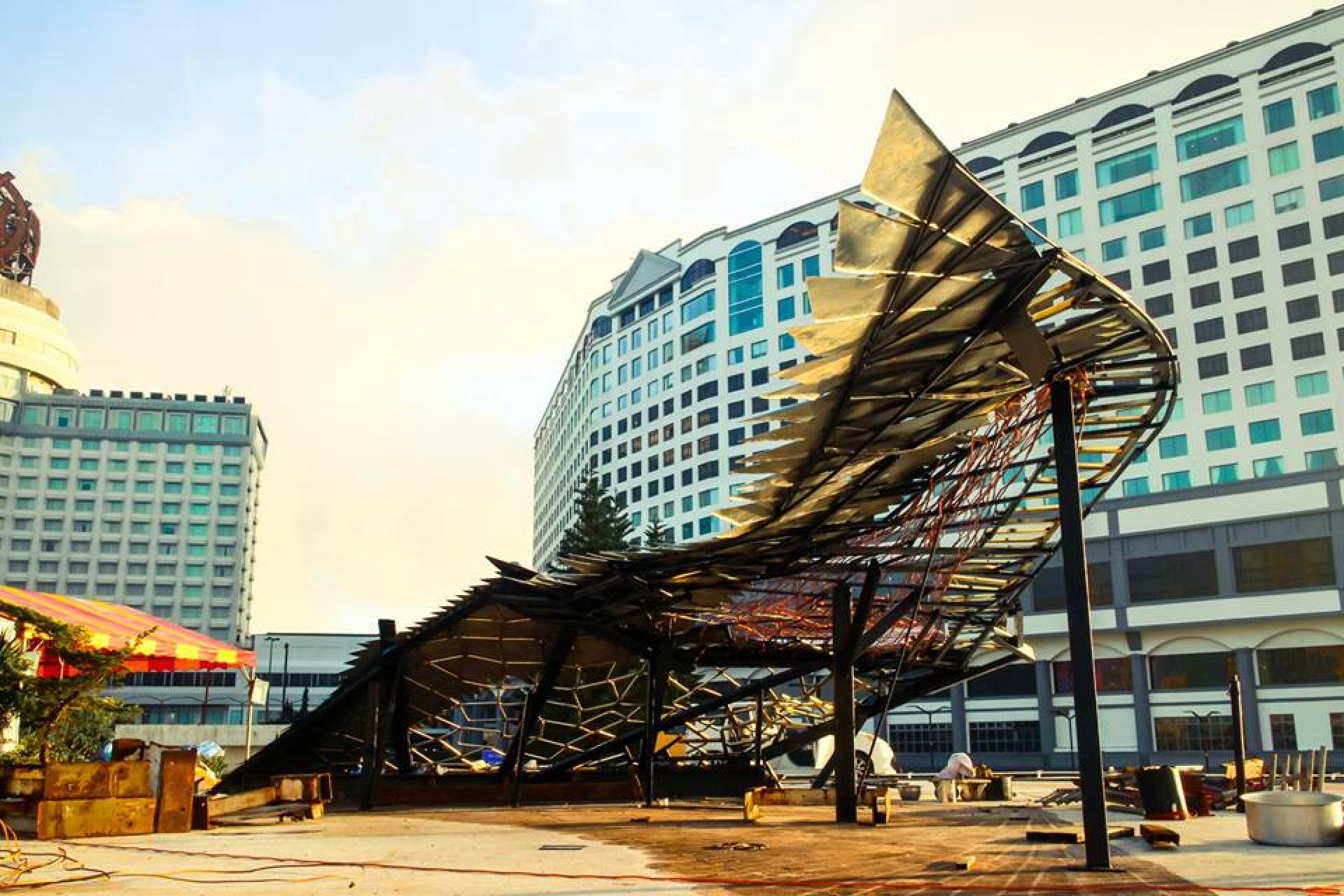 An art installation made from waste materials taken from demolished theme parks and casinos. This giant bird sculpture was built in 2015, on an abandoned helipad in Genting, and remains one of the team's proud accomplishments that showcases how a little bit of creativity can go a long way in turning waste into art.
Where do you see yourself in the next 5-10 years?
Bringing the Biji-biji & Me.reka brand and ethos globally, having an international presence and enabling change in other communities outside of Malaysia.
All images courtesy of Juliana Adam Wong.