Evidence-based research
| | | |
| --- | --- | --- |
| This research report bridges the longstanding gap between Singapore's resident and migrant populations and explores the challenges faced by these low-wage workers. | | NVPC investigates how we can improve the quality of life and well-being for migrant workers, and highlights the areas of opportunity that can help us to build a better Singapore for all. |
Social Space Articles
How can the three sectors of society collaborate to impact the migrant worker community in a meaningful way? Veronica speaks to student volunteers about their experiences on the ground.

Policy is a vital tool in regulating our treatment of foreign workers in Singapore. Kien Chern sits down with a local company to discuss the realities of policy and how it is implemented by private firms.

Runchen examines our existing systems and how they affect vulnerable communities in Singapore. Read more about the challenges of navigating the mediation process as a migrant worker.

Waxing Poetic: A bengali Tale in Singapore

In a bid to tackle homesickness among migrant workers in Singapore, Zakir founded Amrakajona, a Bengali poetry and music interest group. Find out how the beauty of literature transcends barriers and creates a sense of community.

Isabel Phua saw a gap between Singapore's local residents and migrant workers, and decided to step in. She founded Migrant x Me, a social enterprise that aims to generate awareness and forge friendships between these cultures and communities.

Worried Sick: Migrant workers and access to healthcare

Intrigued by the local migrant community, Wisconsin-based Esther Yeung set out to share their stories. Read about migrant workers and their hardships regarding workplace injuries and limited access to healthcare in Singapore.
Faces of #GetWideAwake
| | | | | |
| --- | --- | --- | --- | --- |
| Wanting to appreciate this oft-overlooked community and their efforts in building Singapore, Atiqah has been organising fundraisers and meal distributions for migrant workers since 2017. | | Before working on Project Candela, Shi Rui had never really interacted the migrant community in Singapore. Find out how her openness to learn and interact with them has given her a fresh perspective. | | Ethel is proof that even students can play a huge part in creating a more inclusive society. Read more about her role in ground-up initiative WIMBY, and their aims to befriend and humanise the migrant worker community in Singapore. |
Events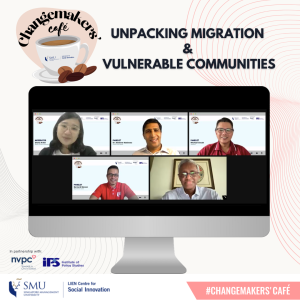 Changemaker's Café - Unpacking Migration & Vulnerable Communities
In partnership with NVPC and IPS, LCSI is proud to present the Changemaker's Café, a platform where thought and action leaders and changemakers can come together to explore the dynamics of complex, wicked problems. Watch the recap and learn about the role of social innovation in addressing the challenge of essential migration.