Private implementation of public policy
By Lim Kien Chern
Foreign workers in the construction, marine and process sectors make up a sizable portion of Singapore's workforce at around 300,000 people. National attention has repeatedly been drawn to the well-being of this group of workers due to instances of poor living conditions and workplace safety practices. Government policy is seen as a vital tool in regulating these areas as well as their entry into Singapore. However, what policy aims to and should accomplish on an ideological level does not always translate perfectly to reality. I interviewed Mr Peter Chow, director of PJC Construction Pte. Ltd. (PJC), to understand the perspective of a private firm that navigates this tension.
---
Can you give us an overview of PJC's policies regarding workplace safety?
PJC is a construction firm that was registered in 2013 that focuses mainly on structural works such as the foundations of buildings. As a small firm of around 40 workers, we are almost completely reliant on foreign labour given that many Singaporeans shy away from the hardship of our kind of work.
In the area of workplace safety, the Ministry of Manpower (MOM) imposes requirements together with the Workplace Safety and Health Council (WSHC). General labourers have to go through an MOM-mandated program upon arrival to Singapore in order for their Work Permit (WP) to be issued. There are also more specific skills that require specialised certification. For example, there are courses for forklifts or boom lifts that must be completed before a worker can operate such equipment. Such regulations must be adhered to by all private organisations to ensure that a culture of safety is practiced and supported by all.
How often do officials ensure that you are complying with regulations and how strict are these enforcements?
The first level of enforcement starts with the application for a permit, which is a prerequisite for work to commence. As MOM does not have an officer permanently stationed at worksites, it is critical for the application and the rest of the project journey to appoint a safety officer. More often than not, the selection is based on whomever is deemed fit for this role from within the organisation, something like "ownself check ownself"*.
The next level of enforcement involves regular MOM inspections and audit routines. It would be unreasonable to expect MOM to police every single worksite in Singapore given that at any one time, there are thousands of active worksites. How regular these checks are can depend on the scale and duration of these projects. For example, a multi-million dollar project to build a skyscraper over 2 years can be expected to have very strict compliance with regulations as well as regular visits from MOM officers. This is compared to a month-long additions and alterations (A&A) project for a single house, where workers may rarely don their helmets and MOM officers may not even visit once before completion. In my experience, you can expect 3 to 4 of these routine checks over a one year project. Of course, if safety breaches are found or reported, they are likely to visit more often. However, earlier this year, MOM conducted a new initiative Operation Ibis, which are additional workplace safety inspections on top of the routine checks to reduce the number of on-site accidents.
* "ownself check ownself" is Singlish slang meaning to be responsible for one's own actions, without the involvement of other parties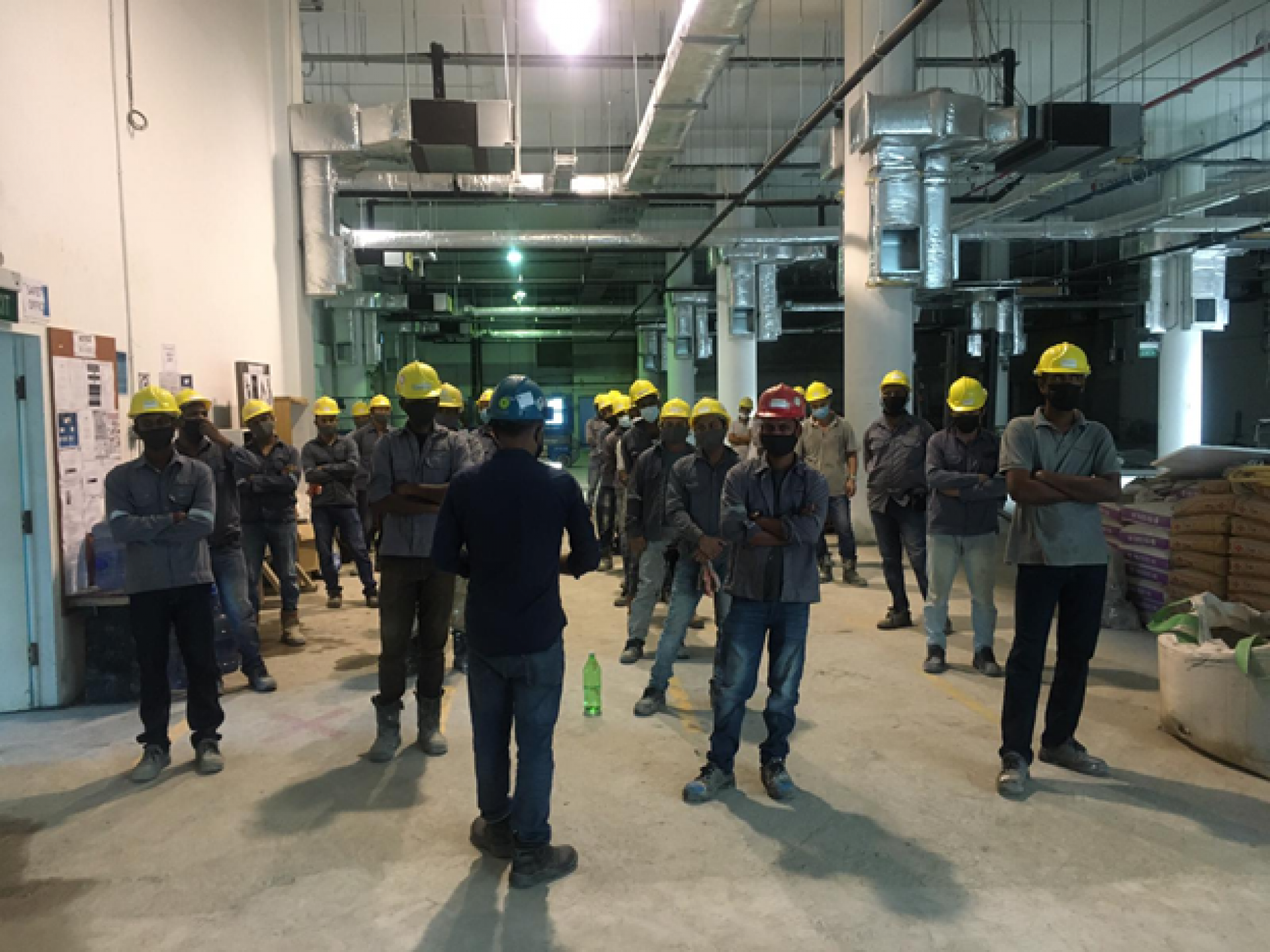 Safety briefing at PJC
Another hot-button issue is that of worker dormitories and their living conditions. What is your experience in this area?
Being a key issue during the peak of the COVID-19 outbreak, regulations regarding the dormitories were changing very frequently. Generally, foreign workers can stay in different types of housing that include various types of dormitories as well as private housing. At PJC we house our workers at a Factory-Converted Dormitory with an Urban Redevelopment Authority (URA) approved layout of around 40 people distributed across three large rooms. However, during the outbreak, there were new guidelines that prohibited the use of double-decker beds, which was necessary for our existing layout. It was quite a nightmare trying to ensure that we kept up with the existing policies, as well as the new MOM advisories that were released. We had close to four or five advisories to adhere to every month.
The minimum living space in these dormitories was recently updated from 4.5 square metres (sqm) per person to 6sqm. How is this enforced?
This is monitored by the Online Foreign Worker Address Service (OFWAS) which mandates that every foreign worker be registered to an address. Combined with the fact that housing for migrant workers requires URA approval that determines the maximum occupancy, the OFWAS can be used to determine when too many workers are living at an address.
It is possible to "bypass" this system by registering a worker under a private address and secretly housing them in a dormitory. However, the penalty for this is steep and you can be barred from bringing in foreign labour in the future. Attempting this poses too high a risk, besides being unethical. This makes the OFWAS system a relatively effective one for monitoring the living conditions of foreign workers, in terms of living space.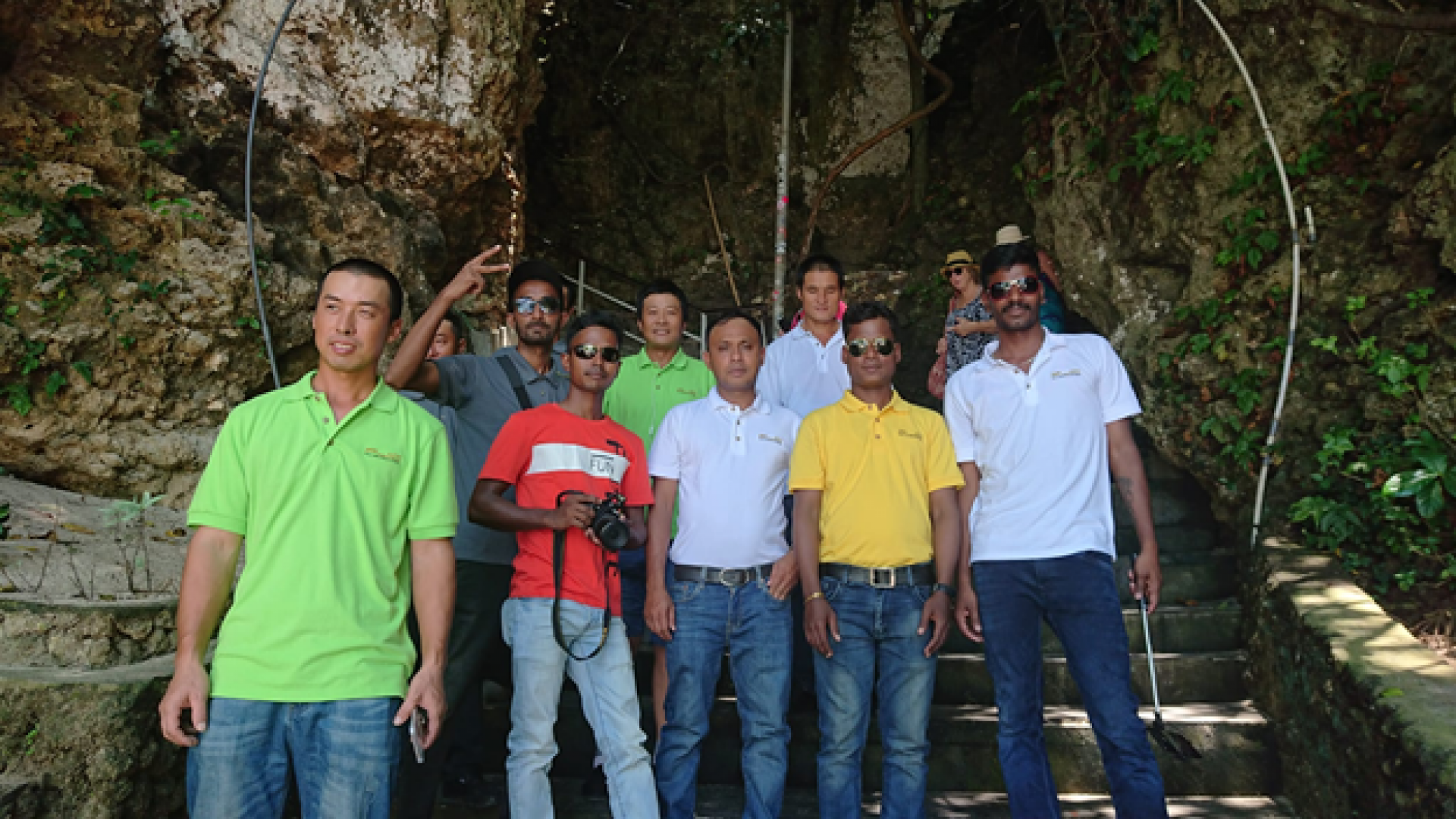 A PJC cohesion
Pivoting to the topic of salary, how does PJC construction ensure fair and accountable payment?
To keep things simple and transparent, all salaries at PJC are paid by electronic bank transfers; meaning that there is always a record. The only exception to this was during the Circuit Breaker (CB) period when MOM encouraged us to pay our workers in cash at their request. Whenever this was done, a receipt slip was signed by both parties to keep record of all payments.
Agent fee debts can place an enormous psychological stress on workers, what are your thoughts on the practice?
For a worker entering Singapore for the first time, agent fees can range from SGD 8,000 to 12,000; which is quite steep considering these workers earn around SGD 1,000 per month. Such high costs partially stem from government policy as WP holders are required to obtain a Building Construction Authority (BCA) accredited Skills Evaluation Certificate (SEC).
I find this odd because more skilled and higher paid workers who come in under the S Pass, for example, do not need to pay for such courses as their diplomas or degrees are recognised. On the other hand, low-skill labourers with lower salaries are made to pay for the SEC. As a firm, we can't really do much to help our workers in this area apart from encouraging them to stay with a single employer for as long as possible in order to maximise the agent fees that they have paid.
---
The SEC was initiated by MOM to ensure all migrant workers are qualified basic-skilled construction workers. This is important to raise skills, productivity and safety in the construction work industry. Yet, as evident from this conversation with Mr Chow, simply having measures and regulations in place for the migrant worker population in Singapore cannot be a standalone solution. The reality is that nitty-gritty details of policy implementation on the ground oftentimes gets overlooked, and comes with its own set of challenges. It is therefore crucial that private sector firms like PJC work hand in hand with other stakeholders, to form a more holistic approach.
Stay tuned for the third and final part of this 3-part series on the importance of tri-sector collaboration in solving wicked problems.
All photos courtesy of PJC.
References:
| | | |
| --- | --- | --- |
| | | Kien Chern is a Year 2 Politics, Law and Economics undergraduate at Singapore Management University. He enjoys re-watching shows on Netflix in his free time as well as a game or four of DOTA. Look out for his pieces on Social Space as he tries to understand the world and more often than not ends up a tad bit more confused! |