By Trang Chu Minh
David Katz was first awakened to the horrors of ocean plastic while on holiday in Manila, where the sight of high volumes of plastic waste was striking in the otherwise clear water of Manila Bay. Travels around the world opened his eyes to the extent and gravity of the problem: beaches with more plastic than sand, seabirds and marine animals injured and dying because of plastic trash, and the adverse health and socio-economic impact on local communities. Roughly eight million tonnes of plastic are dumped into the oceans every year—that's a garbage truck of plastic entering into our waters every minute. Five countries in Asia alone—Indonesia, Thailand, Vietnam, the Philippines and China—account for more plastic leakage into our oceans than the rest of the world combined.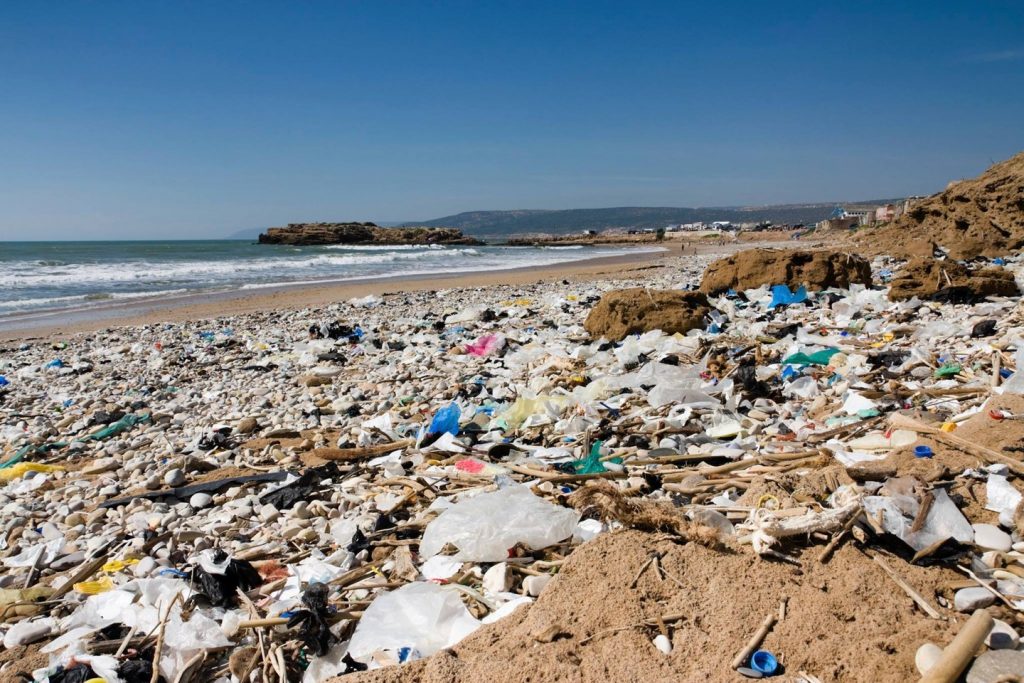 A plastic trash-covered beach. Image: Plastic Bank
"If you were to walk into a kitchen, sink overflowing, water spilling all over the floor, soaking into the walls, what do you do first? Why don't we turn off the tap? It would be pointless to mop or plunge or scoop up the water if we don't turn off the tap first. Why aren't we doing the same for the ocean?" Katz thought there had to be a business solution to ocean plastic, and called his partner, Shaun Frankson, to suggest an idea for their next venture: the Plastic Bank.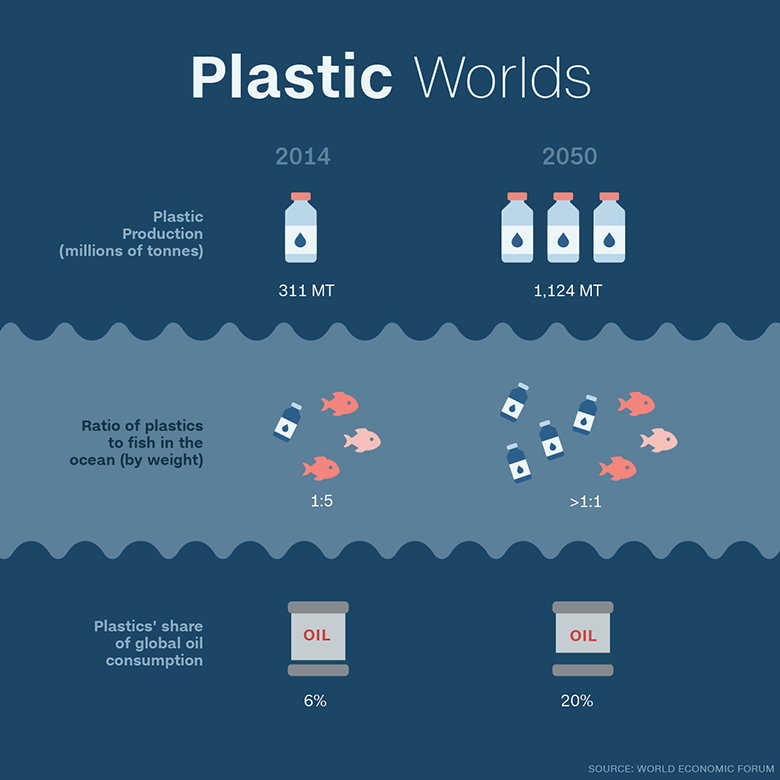 More plastic than fish in our oceans by 2050. Image: Ellen MacArthur Foundation
Monetising plastic trash through the Social Plastic® ecosystem
Plastic Bank, a social enterprise established in 2013 in post-earthquake Haiti, incentivises people to collect and return plastic waste in exchange for money or credit towards life essentials such as cooking fuel, medical insurance, electricity, mobile phone subscriptions or school tuition. It offers a secure and transparent way to monetise ocean-bound plastic with a dual mission of protecting the environment, and banking the unbanked in some of the world's poorest regions. Not only does Plastic Waste help to recycle infrastructure, such as in Haiti, it also addresses the inefficiencies of existing informal systems in highly urbanised areas such as Sao Paulo, Brazil and Manila, Philippines. Collectors are often homeless, and a phone number is their sole means of identification or communication, while the vouchers received is their only way to send their children to school.
"Preventing ocean plastic could be humanity's richest opportunity." —David Katz, founder, Plastic Bank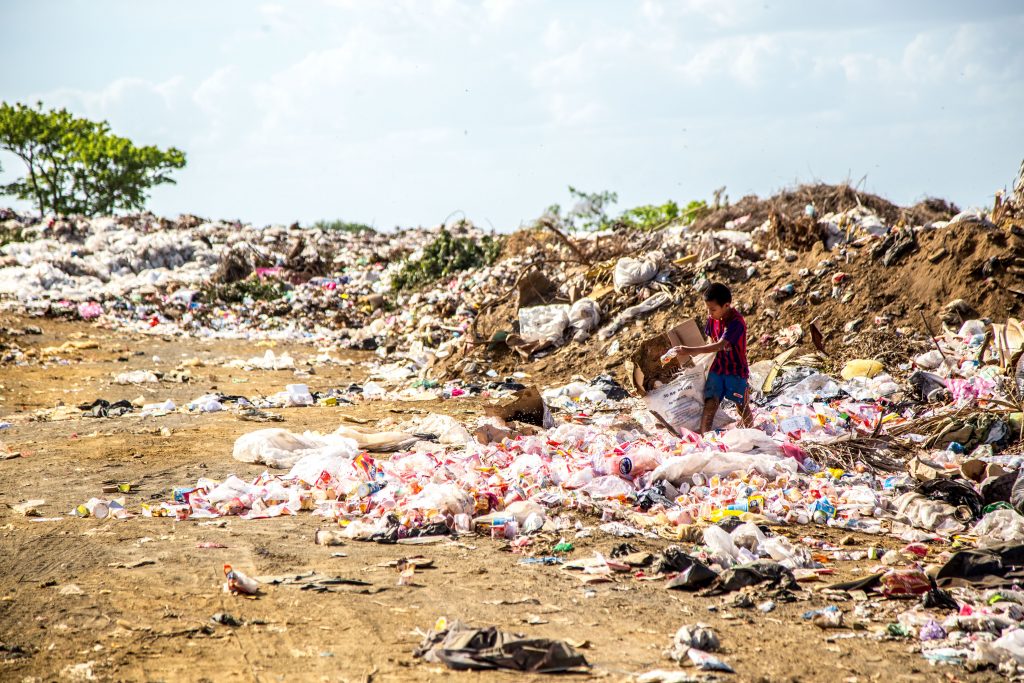 A young boy collecting plastic trash. Image: Hermes Rivera via Unsplash
Collection centers are run by local entrepreneurs to ensure that the operations are self-sufficient—people living below the poverty line are offered a stable source of employment, often earning twice their regular income as a result. The collected plastic is transported to an independent local partner for processing into bales, flakes, or pellets, and that new feedstock is delivered to corporate clients to be manufactured into new products. Corporates pay a premium on the market price, which allows the social enterprise to provide greater financial returns to its collectors.
Providing a fair price to the plastic scavengers and maintaining that price stability is what sets the Plastic Bank apart from existing intermediaries—the social venture reinvests all of its profits to inject as much wealth as possible into the local economies. Social Plastic®, a term coined by the Plastic Bank, "is a globally recognisable and tradable currency that, when used, alleviates poverty and cleans the environment. It's a material whose value is transferred through the lives of the people who encounter it, rich and poor."
Leveraging blockchain to gamify plastic collection and recycling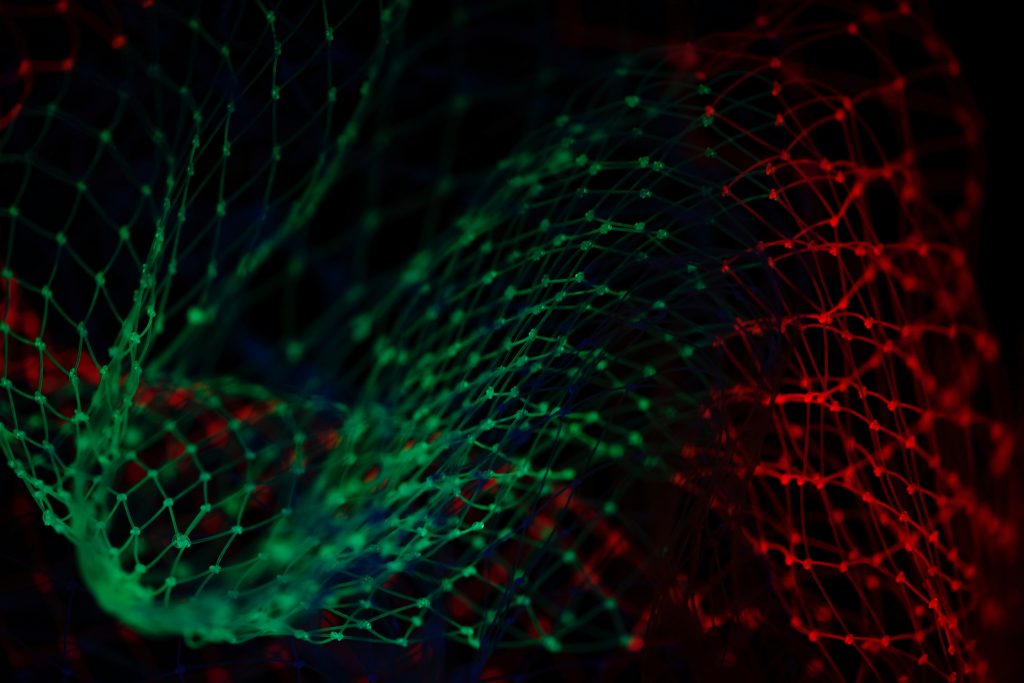 Playing with UV light. Image: Pietro Jeng via Unsplash

Social Plastic® transactions are supported by a banking application, created in partnership with IBM, and powered by blockchain technology. Earnings are directly transferred into a digital wallet, which guarantees security against theft, and provides collectors with sufficient collateral to take out a bank loan. With its various features, including a reward system and a progress tracker, the app gamifies plastic collection and removes the need to transact in cash. The app also helps corporate clients track their social impact and plastic footprint, providing crucial data for CSR and sustainability reporting. Companies are able to take advantage of the plastic offset feature, which allows them to account for recycled plastic purchased from elsewhere. Blockchain provides traceability and accountability for every transaction within the Social Plastic® economy, and with additional features like smart contracts, the Plastic Bank aims to operate free from human interference and the risk of corruption.
Advancing financial inclusion and sustainability
Collection centers in Haiti support a total of 1,800 collectors and are estimated to have directly improved about 9,000 lives. In total, over eight million pounds of plastic have been cleaned from the environment, the equivalent of 144 million plastic bottles.
The Plastic Bank's unique approach, marrying a robust social purpose with an equally solid environmental mission, has caught the eye of multiple multinational companies, including Shell and Henkel who have since entered into formal partnerships with the social venture. "Millions of people around the world already rely on 'waste picking' to sustain their living, and as a result, are marginalised and stigmatised by the rest of society. By working to formalise their employment, and paying premiums far and above their usual market rates, the Plastic Bank aims to reverse this pejorative characterisation, and acknowledge these citizens for the environmental champions they are," shares Katz.
Impacting communities worldwide
The social enterprise has since expanded operations to the Philippines and Brazil with plans to enter Indonesia next, as well as India, Ethiopia and South Africa in the near future. In partnership with a large US consumer goods company, they are set to roll out a pilot project in July in Bawah eco-resort, an Indonesian island off the coast of Singapore. The social venture is also in talks with the Vatican, plotting ways to engage the world's 1.2 billion Catholics to work towards a plastic-free environment. "What if each of them could bring 500g of plastic a week to church with them? That is enough to change the world," Katz says. Nearly every country on the planet could benefit from more efficient recycling systems, which is why the Plastic Bank has a global mission of connecting one billion people to the Social Plastic® Ecosystem via the purchase or collection of material. "Maybe cleaning the ocean is futile. It might be. But preventing ocean plastic could be humanity's richest opportunity."
Banner photo: A discarded bottle tainting a beautiful coastline. Image: Scott Van Hoy / Unsplash This story was originally published on Eco-Business as "Can Blockchain Turn Plastic Waste into Currency for the Poor—and Save Our Oceans?" on 22 May 2018. It has been reproduced in Social Space Magazine with their permission.
| | |
| --- | --- |
| | Based out of Singapore and Indonesia, Trang Chu Minh is a content and marketing strategist at Thomson Reuters, and the Asia Correspondent and Regional Representative for the social enterprise publication, CauseArtist. |