Meet Florence Tay, 37, co-founder of UnPackt, Singapore's first zero-packaging bulk store. When visiting either of their two outlets, expect not to find single-use packaging for the foodstuffs, necessities and eco-friendly lifestyle items on sale—instead, customers are to bring their own reusable containers, fill them up and pay for the products' exact amount (in weight). With UnPackt, Florence and her co-founder Jeff Lam are not only reshaping consumer habits, but also setting an example for other retailers to eliminate wasteful packaging. LINDA WANG drops by to find out more.
---
Please tell us more about yourself. What were you doing previously and what led you to start UnPackt?
I was a marketing manager for the Singapore Heart Foundation. It was there that I met my co-founder Jeff and collaborated with him on a project to raise awareness for sudden cardiac arrest. Thereafter, we decided to start a social enterprise after observing a lack of supermarkets that let you buy and pay for exactly the amount you need. The idea of helping customers develop more eco-friendly shopping habits through a zero-packaging store really resonated with us. More than just a grocery store, UnPackt's purpose is to create community awareness, as well as drive education and social impact around environmental sustainability. We additionally collaborate with like-minded social enterprises such as Green Kulture, treatsure, Artisan's Garden and Freedom Cups to reinforce the green mission and complement each other's portfolios. Also, by sourcing our products locally instead of importing from abroad, we decrease our carbon footprint and strengthen food security in Singapore.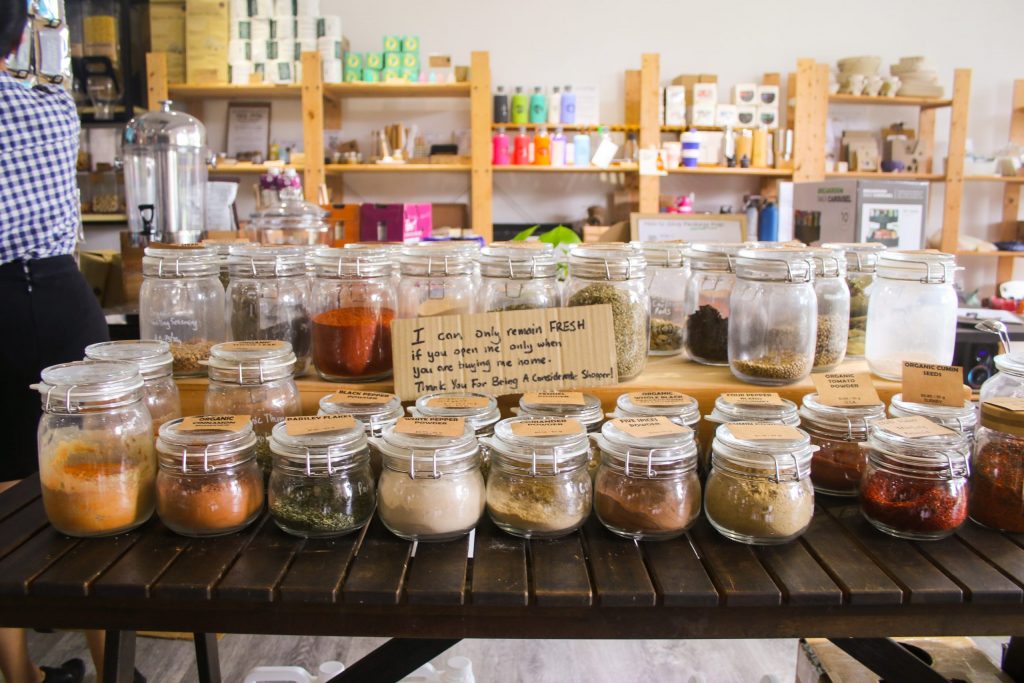 Spices for sale at UnPackt.
Tell us more about your social mission and how you've worked that into your business model and operations. Right from the beginning, we were clear that we wanted to be more than just a retail store, but also a community space. At both our outlets (at Jalan Kuras and OUE Downtown), people can shop, network, run workshops and share tips. Since our launch in 2018, customers have bonded over their respective eco-journeys and become friends. When we opened our first store at Jalan Kuras (a small street in suburban Sembawang Hills Estate), many people asked why we didn't pick a bigger premises at a more central location. The reason is simple: if we occupied a spacious shop in an area with high footfall, the rental cost would kill the business. On the other hand, by staying small and situating ourselves at a neighbourhood space, we are more accessible to families and children.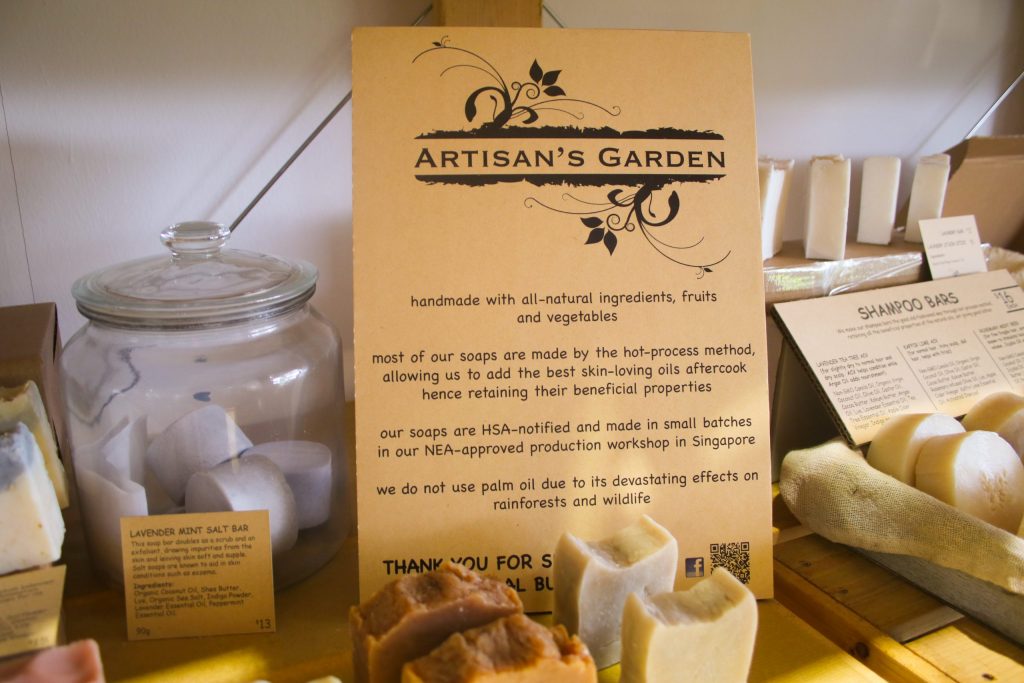 Health and beauty products at UnPack't.
It appears you've built quite a following of regular customers, too. What's the UnPack't community like? As mentioned, our clientele is a tight-knit community. Many customers—ranging from students to working adults—have also formed friendships with UnPack't employees. We'll text and exchange cooking tips, for instance. This level of personalised service is something we could not have achieved on a larger, more commercial scale. Ultimately, the UnPack't customer keeps returning because of the stores' friendly, neighbourly vibe: you walk in, see a familiar face behind the counter, greet a fellow customer, and can easily strike up a conversation about sustainable living.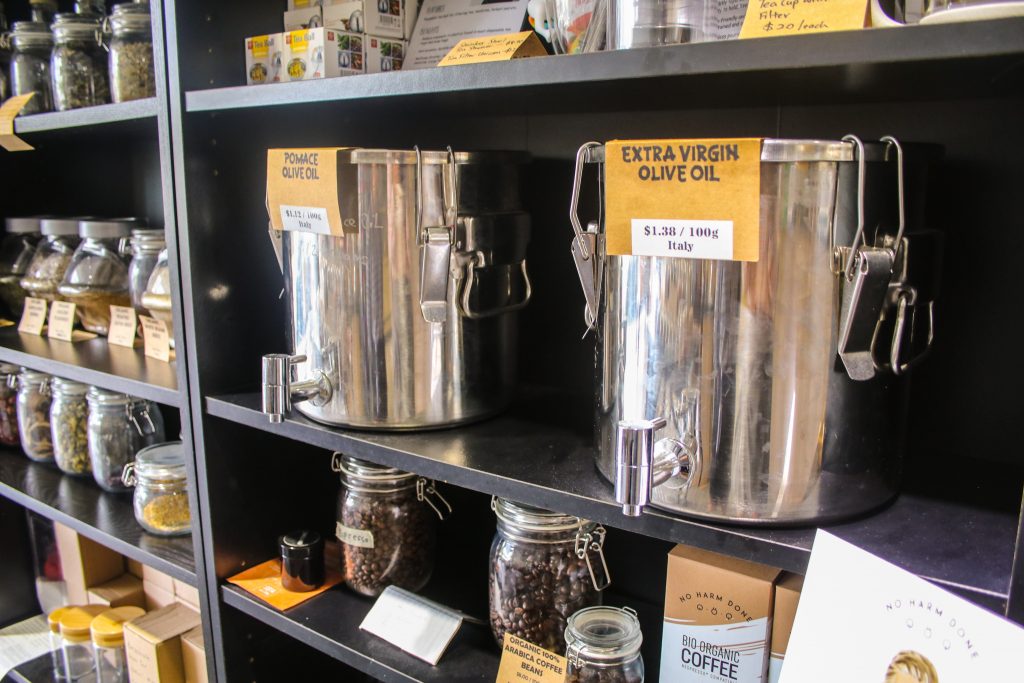 Liquid groceries at UnPack't
What are some of your challenges? Initially it was hard to find vendors willing to supply products to us in bulk, especially when it came to organic foods. This is because organic foods do not use pesticides and rely heavily on packaging to ensure freshness. We had to convince them of the demand for packaging-free products in Singapore and the practicality of our business concept —after all, we wouldn't want to create more food waste by stocking our shelves with items that nobody wanted to buy. The upside to going the packaging-free route is affordability. Without packaging-related costs, we've been able to price our products competitively. Customers who have not brought reusable containers can pick up complimentary ones from us and return them on their next visit if they wished. We don't provide paper bags for free, however, since we want shoppers to develop a consciousness around paper products. Not many know, for example, that paper products are not composted in Singapore, and most people tend to think of paper packaging as eco-friendly. The truth is, paper products are not often reused, and although paper carriers may seem like a more sustainable option compared to plastic bags, they still take a lot of resources to manufacture.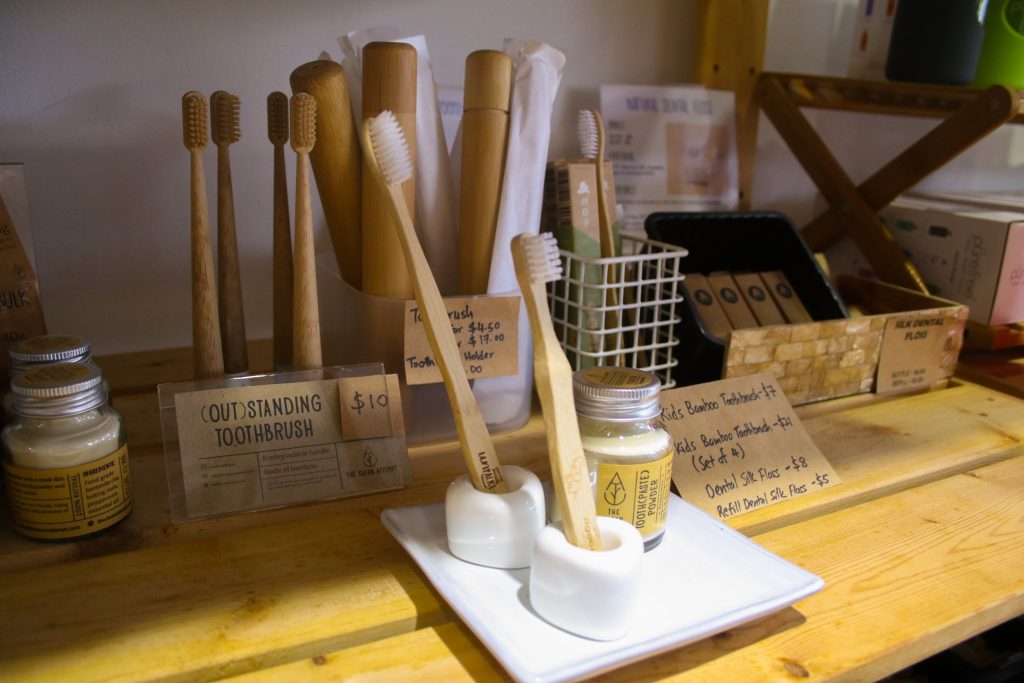 Eco-friendly wooden toothbrushes.
Our insistence on zero-packaging have opportunity costs, nonetheless. For instance, some shoppers will walk out of the store because they simply refuse to pay the additional cost of paper bags. But hopefully this encourages shoppers to think, "Well maybe the next time I go shopping, I'll bring my own reusable container or bag." Some other challenges include limited manpower. At present, we only have three other employees working in product preparation, customer service and back-end duties. Jeff and I still take care of the day-to-day business because the company is still very young. As a result, we find ourselves juggling the multiple roles of sourcing, marketing and outreach. Our staff have learned how to multitask quite well as a result.
What sort of market research did you do prior to starting the business?
We researched the types of foods to sell, how to conduct hygiene control, and ways to ensure freshness of produce. We also talked to several bulk grocery stores in Asia to learn about the kinds of issues they faced, so we could put some pre-emptive measures in place. With the insights arising from our research and conversations, we decided to use gravity bins to store our bulk products. These gravity bins keep our goods fresh by releasing them on a first-in-first-out basis. For items that require greater freshness, they are stored in smaller quantities in air-tight containers.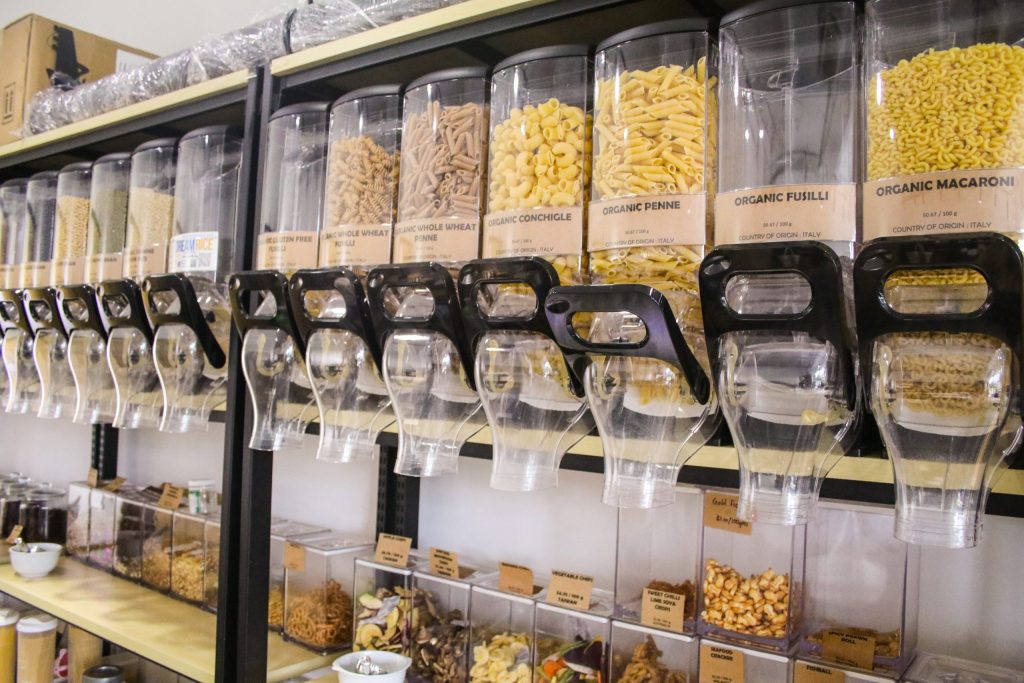 Gravity bins filled with different types of pastas.
Which are some of your favourite products at the store?
I am a fan of the reusable facial cotton pads, the menstrual cup and the shampoo bars—all of which I personally use. The beeswax wrap is also good for mums who cook a lot—the wrap keeps foods fresher for longer periods and is reusable!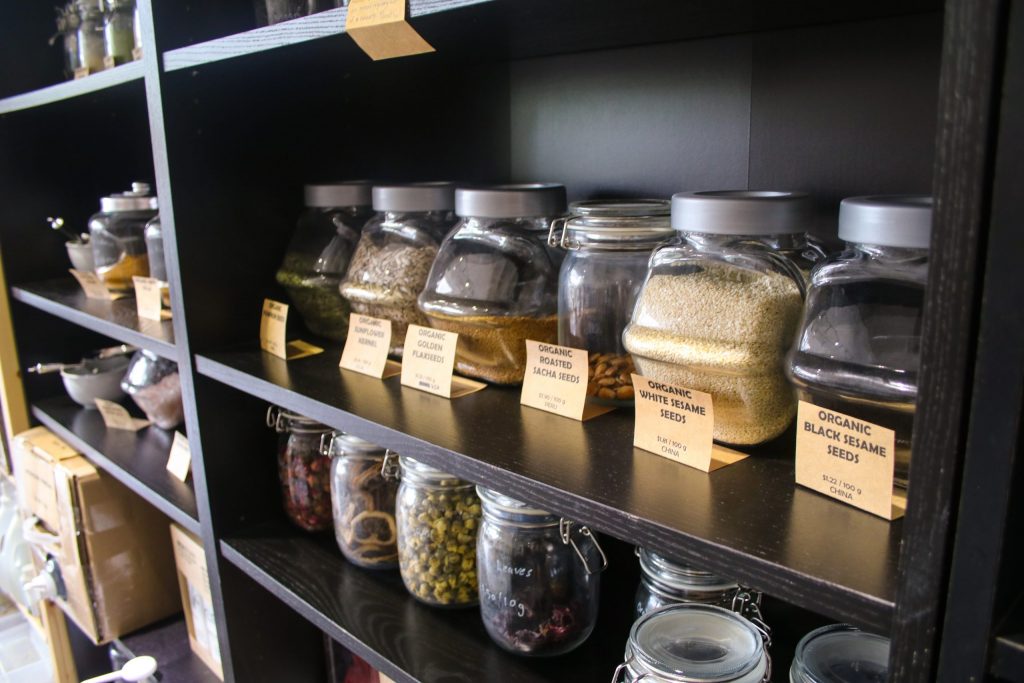 A variety of seeds.
When you're not busy running UnPack't, how do you like to unwind? I enjoy reading and cooking. Reading is a great way to widen my knowledge and helps me learn new things at my own pace. As for cooking, I love attempting to replicate dishes I've tried when dining out, or tweaking recipes to the liking of my family members.
Finally, what's your advice for aspiring entrepreneurs? Dare to risk and dare to try. If you never try, you'll never know.  
---
| | |
| --- | --- |
| | Linda Wang was a 2019 Summer Associate (Editorial) at the Lien Centre for Social Innovation. She is a rising sophomore at the University of Pennsylvania, where she studies Mathematical Economics, Computer Science and Political Science. She also writes for the online journal of Sigma Iota Rho, an International Relations Honor Society. Linda is passionate about social entrepreneurship and their potential for meaningful change. In her free time, she loves listening to podcasts and audiobooks, travelling the world and journaling. She can be reached at itslinds@sas.upenn.edu |