Meet Eugene Soh, 32, founder of Mind Palace, a social enterprise that uses virtual reality (VR) technology to immerse persons with dementia in familiar locations or experiences, thereby keeping their minds active and slowing the effects of dementia. To date, Mind Palace's VR headsets have been piloted at several nursing homes across Singapore, and plans are underway to expand the platform to more users. NEEDHI MEHTA speaks to Eugene (who also goes by the moniker, "DUDE") about the virtual ecosystem he hopes to build for the dementia community, where precious memories are harnessed and people can feel more connected than ever.
---
Please tell us more about yourself. What were you doing previously and what led you to start Mind Palace?
I am a programmer, designer and entrepreneur. While still a fine arts undergrad at the Nanyang Technological University's School of Art, Design and Media, I dabbled in photography as a hobby and would sometimes take pictures at events and parties. At one of these social functions, I happened to meet the editor of Campus Magazine, who became interested in my work and commissioned me to produce "The Last Kopitiam". This Singaporean take on Leonardo Da Vinci's famed "Last Supper" painting went viral several years later. After graduation, I did programming- and coding-related work for companies, assisting them in tech installations involving VR and AR (augmented reality), and developing websites and apps.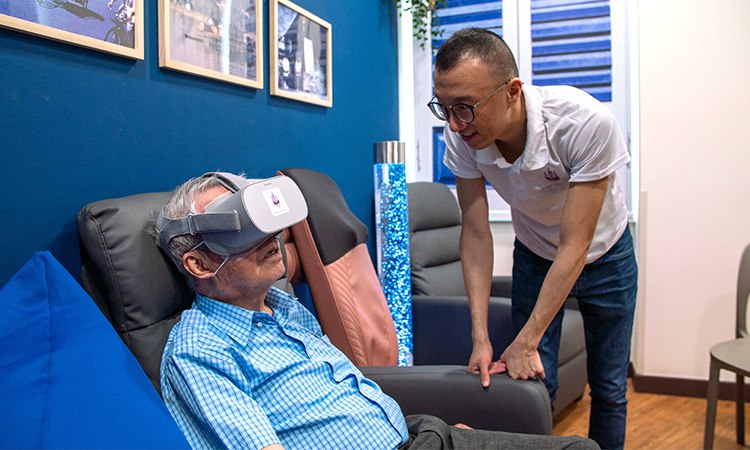 Eugene helping an elderly patient experience virtual reality.
In 2018, a friend working at a newspaper decided to stay at a nursing home as part of his experiential research. He asked if I could bring over my VR goggles so the elderly residents could explore the world via this technology, so I ended up conducting several sessions there and was even featured on Channel NewsAsia . Around this time, my team and I had also won the first prize in a hackathon for a VR project relating to dementia. Founding Mind Palace was a way to continue this work.
How would you describe the work of Mind Palace, in a nutshell?
Mind Palace uses VR tech to transport elderly persons into different worlds. Especially for those with dementia, we'll take them to places of their childhood using "reminiscence therapy". This involves showing them old photos to trigger something in their minds and get them talking. My favourite part of running Mind Palace is seeing the seniors smile and hearing about their memories.
How do you recreate video clips for elderly persons with dementia?
Generally we go to the nursing home to test what sorts of footage will conjure happy memories or feelings for the users. From our observations thus far, we've gathered that most seniors want to visit the Great Wall of China and that their favourite place in Singapore is Chinatown. They also seem to like chicken, so I recently included a clip starring the owner of a Michelin-star chicken rice business. I went down personally to film him [the owner] and in the video, he looks directly into the camera and addresses all the uncles and aunties at the nursing home. For instance, he holds up a piece of chicken and says, "Only the elders will get to eat this drumstick!"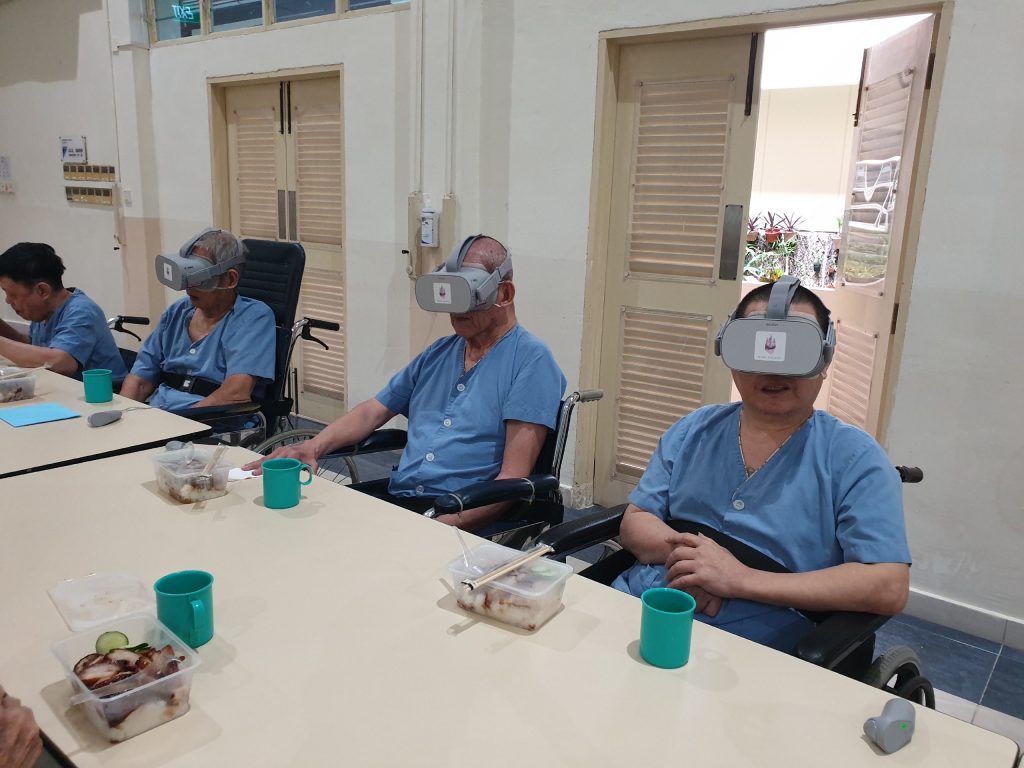 Experiencing VR: persons with dementia put on Eugene's VR technology to take them back to familiar settings.
It is rewarding to see how meaningful the VR experience can be for some users. One of the nursing home residents was an elderly lady who does not like to speak or communicate. When she was coming out from one of our experiences involving a clip of a panda at the Chinese zoo, we asked her what she saw. She then pointed at her pocket, which contained a stuffed panda toy. I didn't know this at the time, but according to her caregivers, the panda is her favourite animal. The VR experience was therefore especially meaningful for her.
How large is the Mind Palace team?
So far it's just me, though I recently hired an intern who's helped to create some 360-degree shots that will expand the depth of Mind Palace's VR experiences.
Did you always know this was what you wanted to do as a career?
No. When in school, I had no idea what I wanted to do, though I always had a desire to create things. I suppose I've been creating non-stop for seven years now, but I also tend to get bored easily. Presently, even though I'm on my seventh AR project, it feels like a fresh experience every time.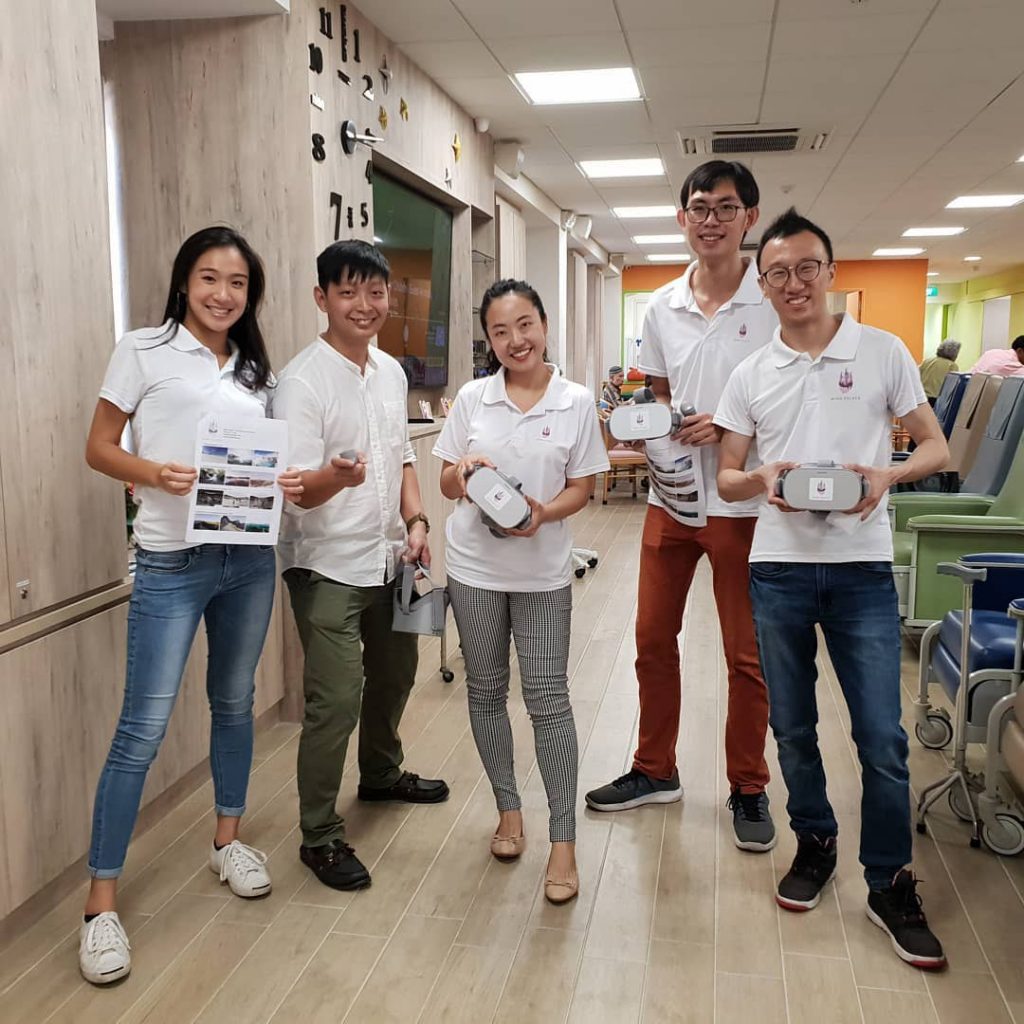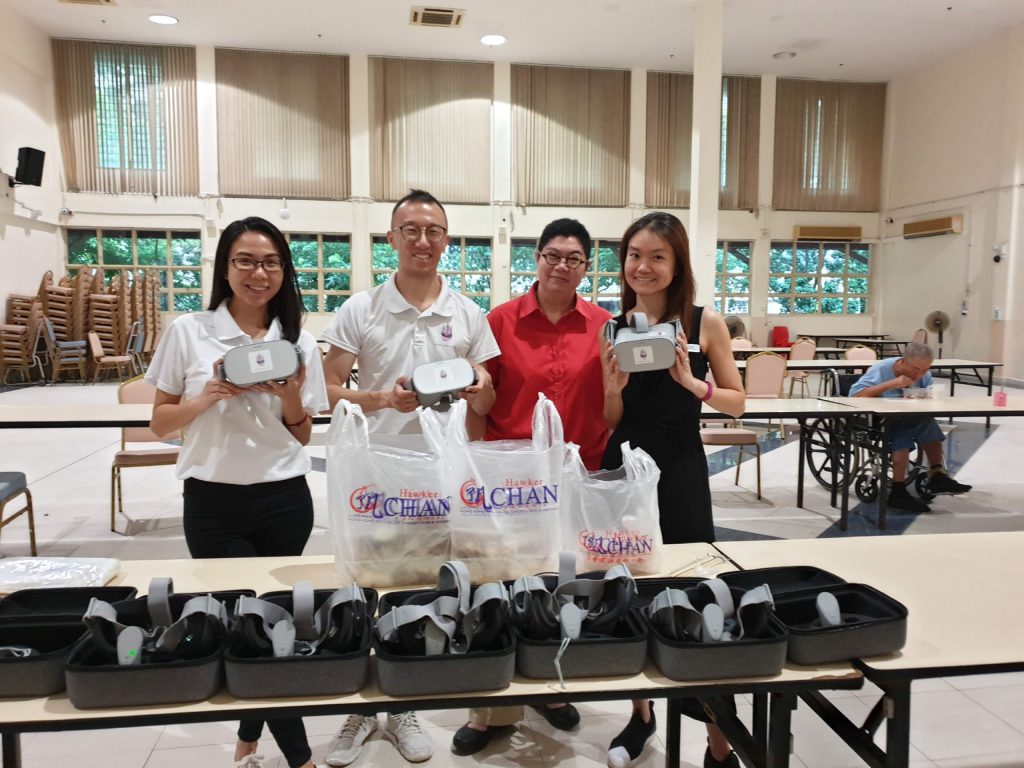 Mind Palace's VR tech is piloted at several nursing homes.
In between managing Mind Palace and your various gigs, how do you like to unwind?
I enjoy making Instagram filters. I actually came in second (in the world) in an IG-organised filter contest, and they ended up using this filter on their app. One of my most famous filters has 60 million views to date. Right now this is all for fun, but I do believe IG filters are a great marketing tool for the future.
We know your VR users get to "travel" anywhere in the world with your technology. In real life, which are some of your favourite destinations?
My favourite places to visit are Moscow and Uzbekistan. They are so exotic and beautiful.
What is the best advice you've ever received?
If someone says something bad about you, prove them right. Whatever they believe is "wrong" with you, own it.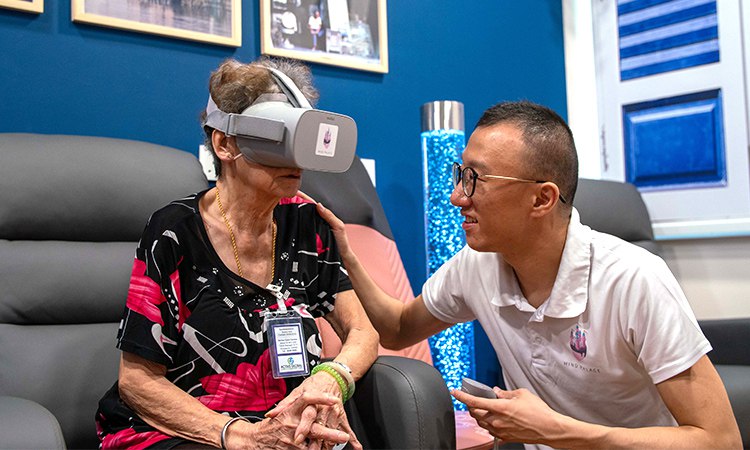 A nursing home resident immerses herself in the VR experience.
What's next for Mind Palace? What can we expect in the near future?
I hope to develop something for the elderly that involves the Oculus Quest headset. It has no sensors to set up: you just put on the headset and you're ready to go. I'm banking on VR becoming more mainstream such that more people can have their own headset or related gear. It'd be great if future VR (and AR) can be in the form of something portable, like a phone. However, I expect that it may actualise as a Google Glass kind of vision tool. That would be very useful for older people—you simply press a button at the top of your eyewear and it tells you who's standing in front of you or reminds you to take your medication.
All images courtesy of Eugene Soh.
---
| | |
| --- | --- |
| | Needhi Mehta was a Summer Associate (Editorial) at the Lien Centre for Social Innovation. A rising senior at the University of Pennsylvania, she is interested in advocacy for marginalised groups, solutions to uplift immigrant communities and raising awareness about social inequalities on campus. Needhi is part of her school's first-generation, low-income community (FGLI), Asian American identity groups, and public health advocacy groups on campus. She is currently doing research on healthcare experiences faced by trafficked youth in Philadelphia. She can be reached at nemehta@sas.upenn.edu |