Meet Lara Rath and Anuja Aggarwal, bankers-turned-eco-warriors. These ladies are the co-founders of Secondsguru.com, an online platform that promotes "green living". A treasure trove of information covering everything from upcycling craft ideas to handy recycling tips and inspirational stories, there are also talks and workshops on recycling, reusing and donating. The two friends tell NURIN NAZIFA about Secondsguru's mission to make eco-friendly living everyone's second nature.
---
Your motto is "Green Living. Made Easy": tell us how.
Besides creating awareness about green living, Secondsguru focuses on solutions that make sustainable living a fun, creative and practical goal for all individuals. Anyone can access our website for useful content on how to "live green". We also have an eco calendar that lets you plug in to the latest happenings within Singapore's eco community, and never miss out on an event. Online and off, we want to be a venue for like-minded people on their journey towards a greener lifestyle.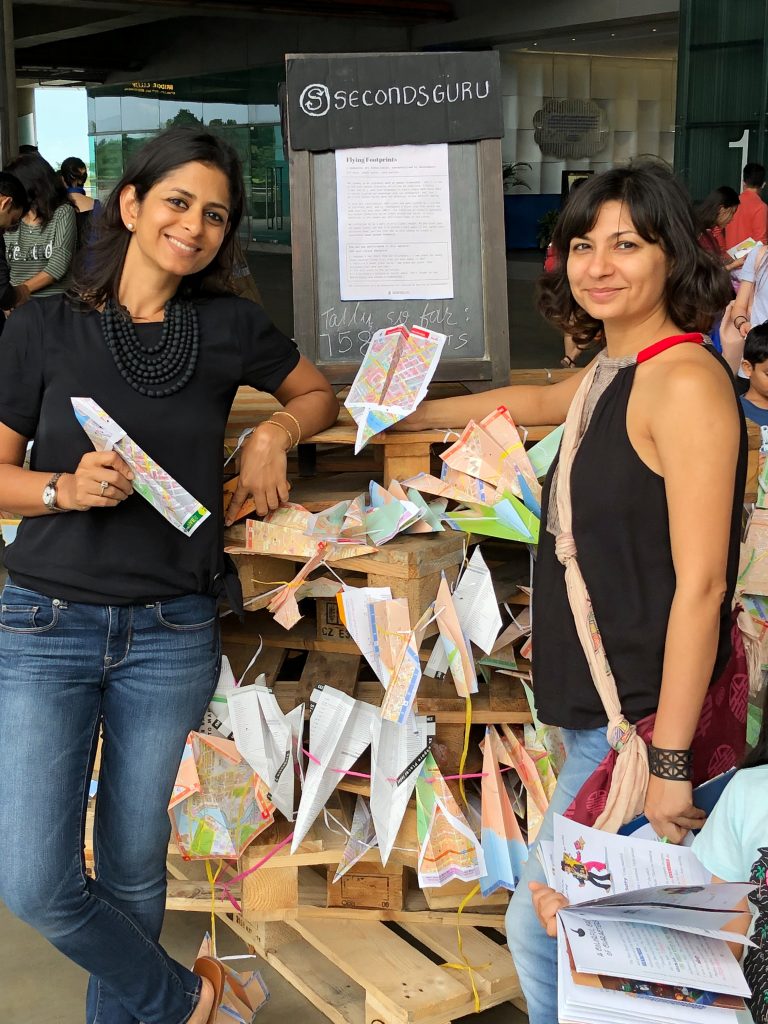 Lara Rath (left) and Anjua Aggarwal
You have such interesting ideas about upcycling and repurposing of items. Where do you get your inspiration from?
The trash bins of our respective condos and friends' homes! Bins are a treasure trove of used items from which we have salvaged tables, created Halloween costumes, designed umbrella bags, and more! We also draw ideas and inspirations from conversations with people around us. The social media space provides a lot of food for thought if one is listening and not just scrolling through.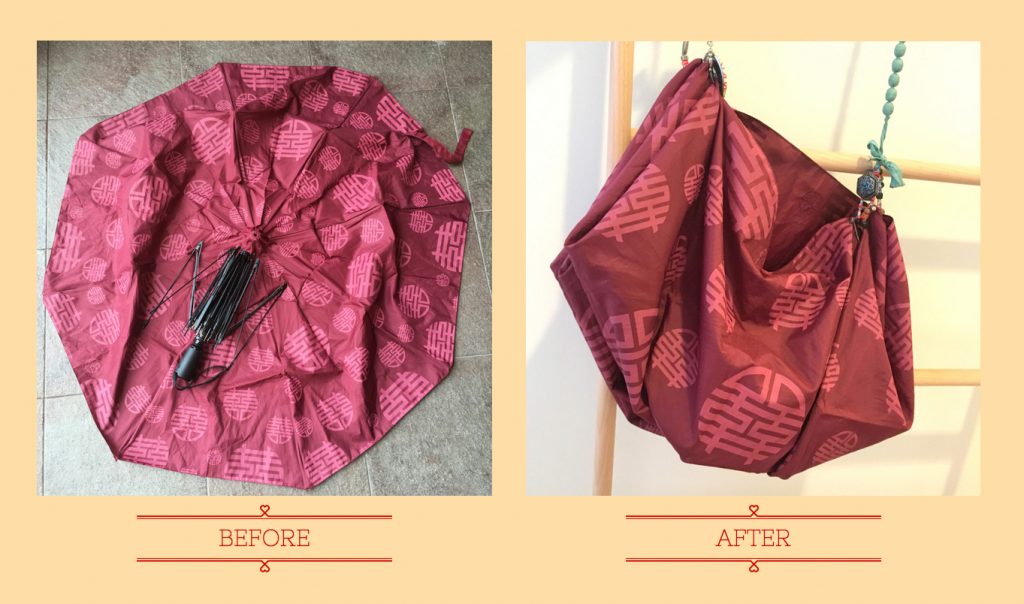 Old Umbrellas can get a new lease of life, thanks to Secondsguru. Find out how here.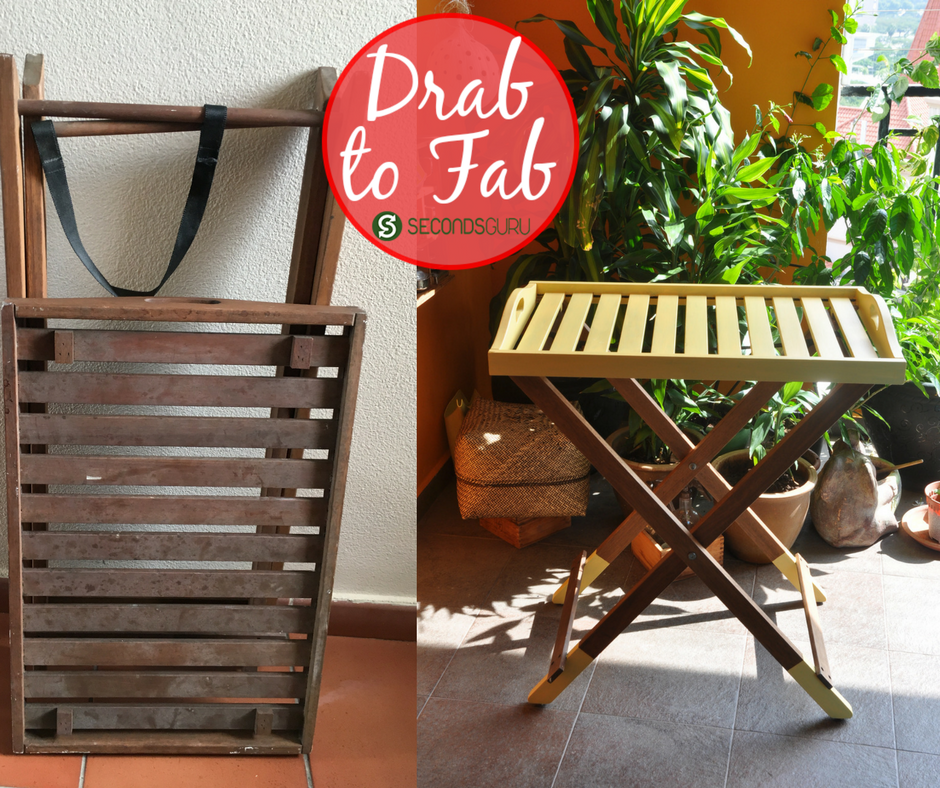 A discarded, broken table from Anuja's condo (left); the same table after repairs and a fresh coat of paint (right). It now sits prettily in her living room.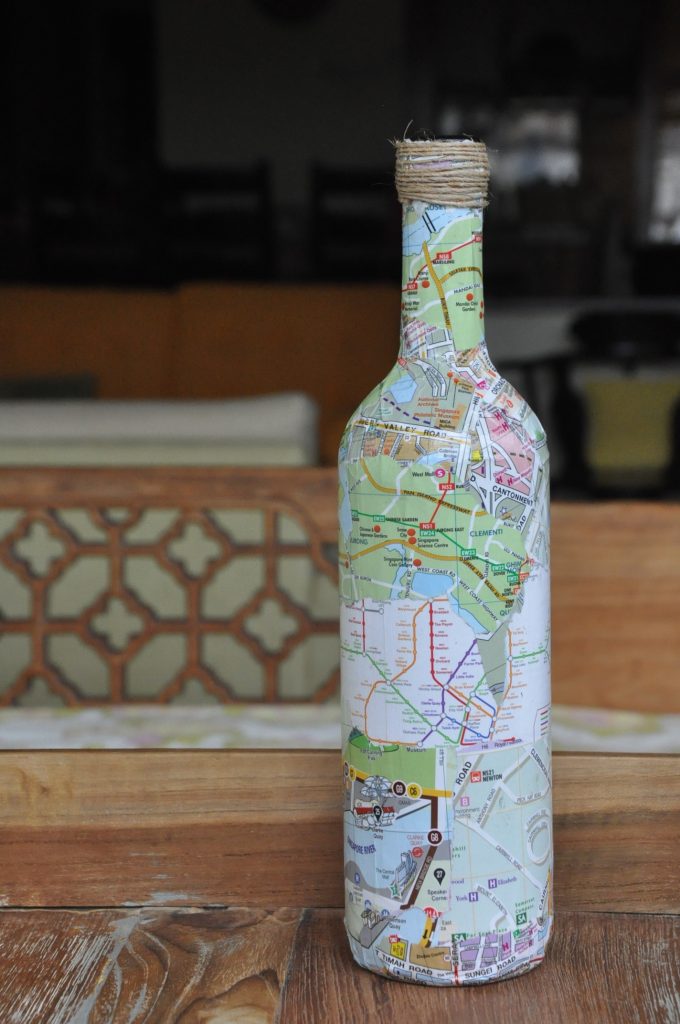 Used wine bottles get a fancy new appearance with old maps from Lara's recycling bin. Find out how to turn cherished travel memories into handcrafted souvenirs here.
Many Singaporeans aren't entirely clear about what's suitable for recycling. Where can they get more information?
Print out this graphic and stick it on your refrigerator, and never again wonder about what you can, or cannot, recycle in Singapore. For upcycling ideas and DIY inspiration, Secondsguru has an entire section about that.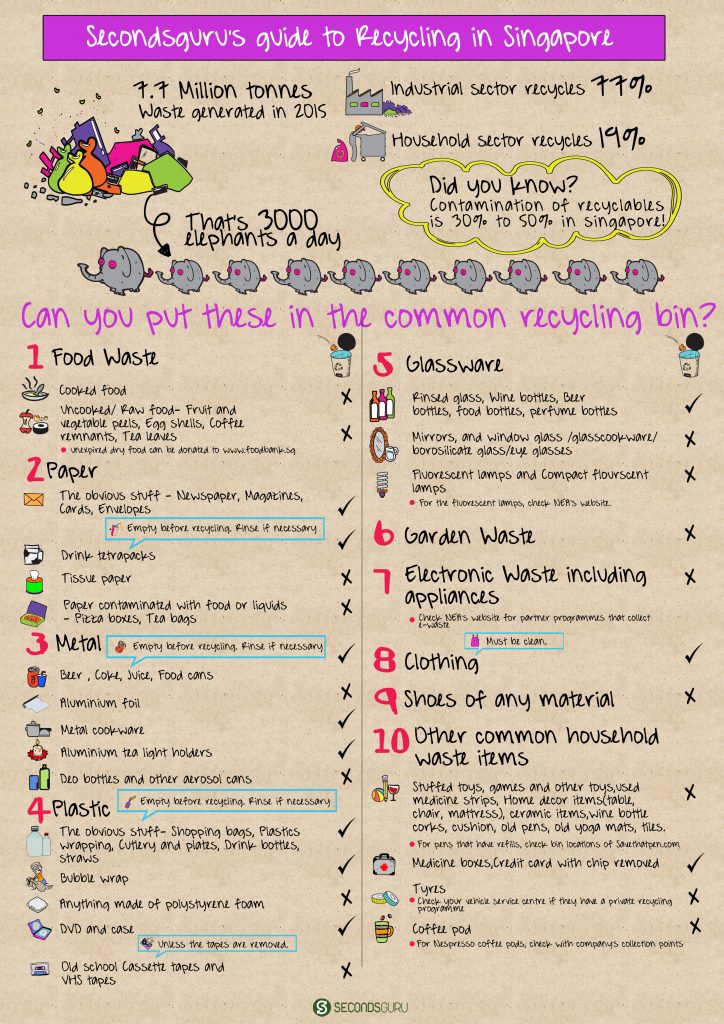 Tell us about some of your initiatives and events.
Since we started, we've been involved in various community events such as EartFest, the Nat Geo Earth Day Run, and the National Environment Agency's Clean & Green Singapore fair. Additionally, we organise activities like the Piggy Bank Club (a recycling club for children); Box of Joy (where Singaporean kids donate pre-loved items to underprivileged kids); and hold donation drives (directing dry and unexpired food to local charities).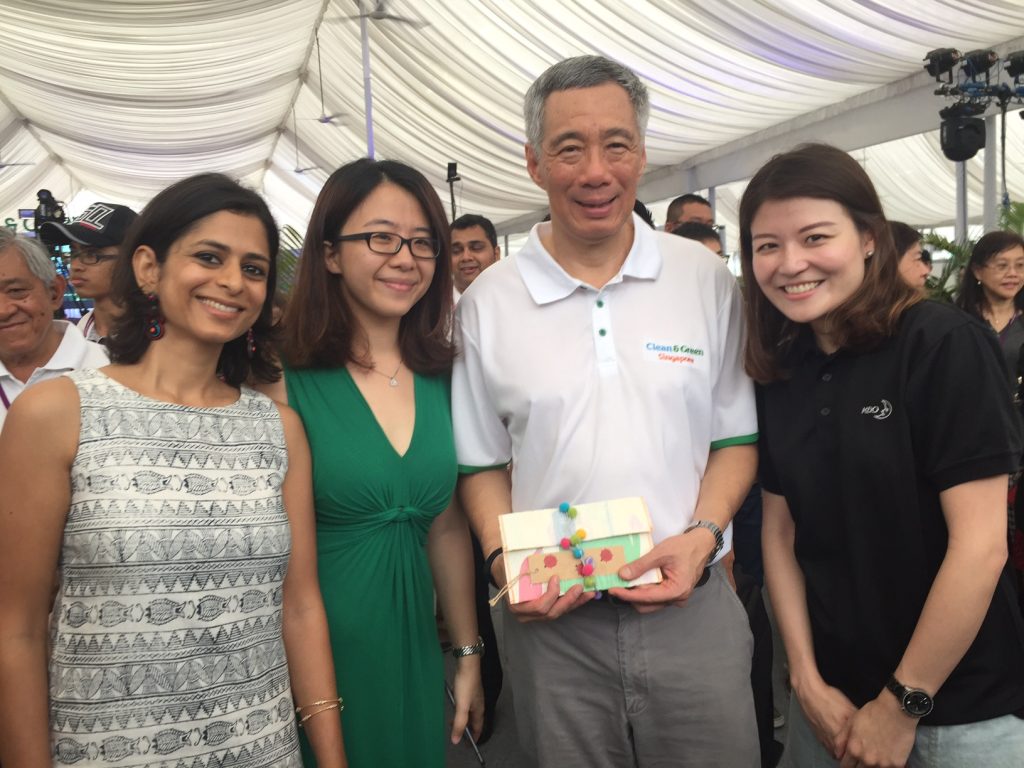 Lara with Prime Minister Lee Hsien Loong at the NEA Eco Fair.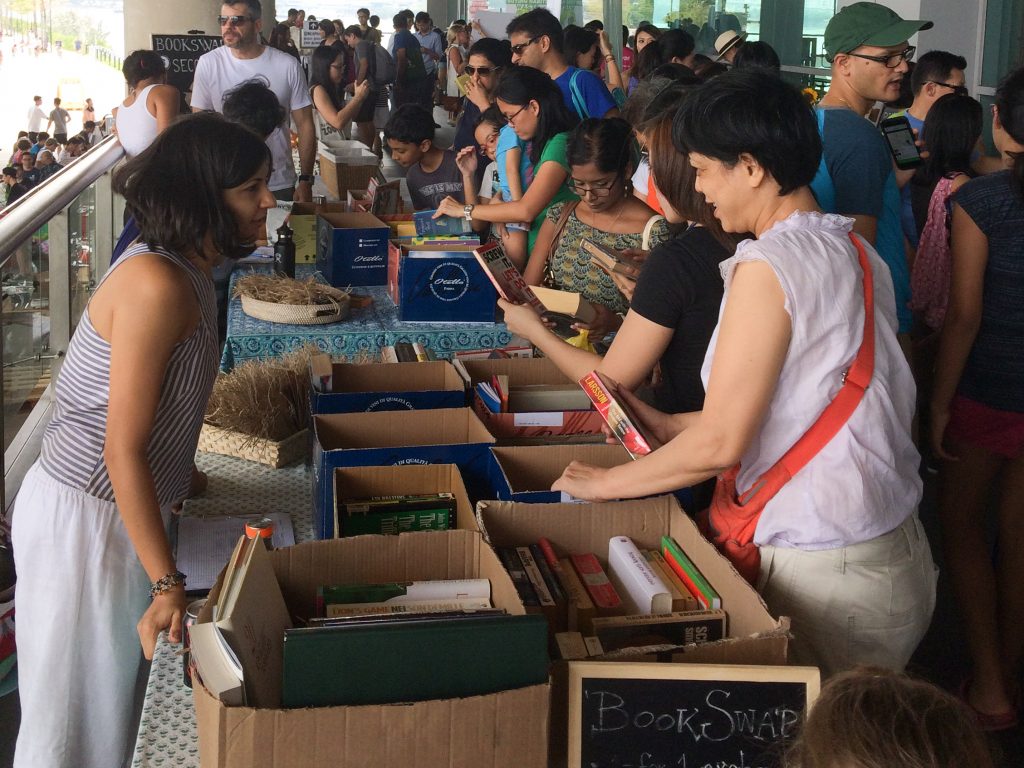 Secondsguru held a book swap during Earthfest 2018
What's one way your social enterprise has changed you?
When we founded Secondsguru three years ago, we considered ourselves to be environmentally aware people. However, as we read, learned and researched in the course of our work, we discovered just how much more we can still do to reduce our own carbon footprint. We strive for sustainability in every aspect of lives: from the food we consume, to the fashion we buy, to our gifting habits, to even our awkward ability to say "no" when well-meaning people hand us plastic straws!
Over the years, we have downsized our shopping considerably, we reuse and buy second-hand a lot more, and are much more conscientious about recycling! The shift in people's attitudes towards being more eco-friendly is gradual, but happening. Like us, people who embark on green living soon realise that the journey isn't as hard or sacrificial as they may've earlier assumed. Personally, we both enjoy life and things much more now!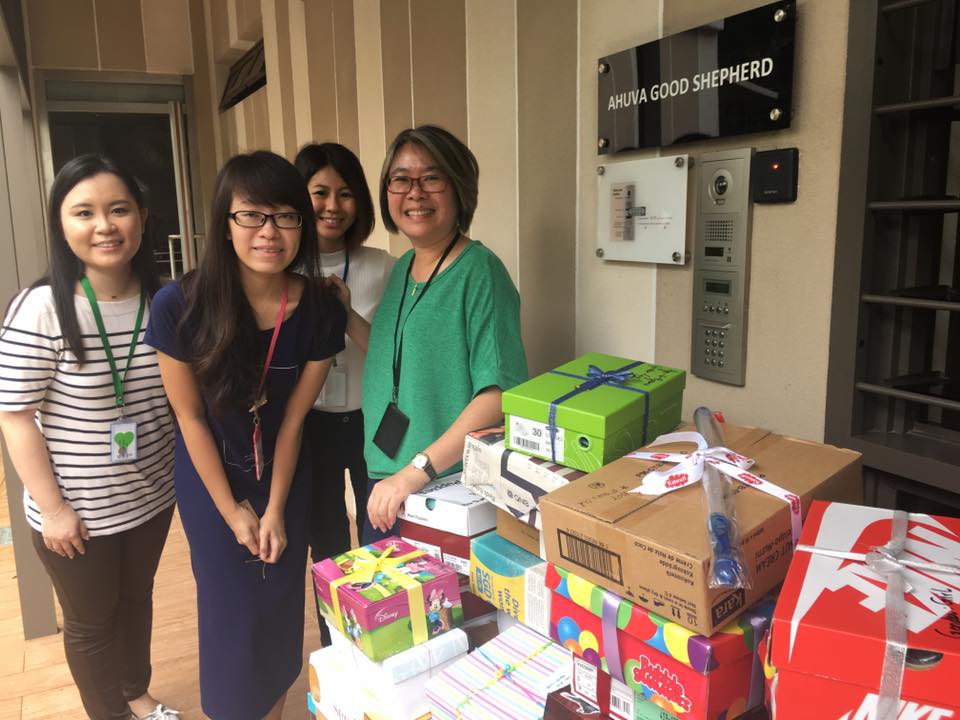 Box of Joy's beneficiary: the Good Shepherd Centre.
When was the first time you realised you made an impact?
(Lara) When I was standing next to Prime Minister Lee Hsien Loong at the NEA Eco Carnival in 2016, and saw that he was holding a recycled plastic bag clutch designed by Anuja and me for Secondsguru!
(Anuja) I volunteered as part of typhoon relief in Orissa in the year 2000. That was the first time I found myself as part of a brigade of volunteers. Though I initially believed my work alone had little impact, I found myself awed by how all groups co-ordinated and assimilated their efforts, and got so much done!
Who inspires you the most?
(Lara) My father. His passion and determination are unmatched. I wish I can be like him someday.
(Anuja) My mother. I admire her hunger for learning, patience with all kinds of people, ability to give without expectation, and her positivity.
What do you know now that you wish you had when you first started?
That there is so much more to life and living than material goods.
Finally, what book would you lend a stranger?
(Lara) Shoe Dog by Phil Knight, founder of Nike. It's an inspiring book about grit and embracing a "just do it" attitude. It's a must-read for everyone who dares to dream!
(Anuja) The Guernsey Literary and Potato Peel Pie Society by Annie Barrows and Mary Ann Shaffer. Anyone's eyes will light up after reading a title like that, and the person who enjoys reading this novel, set in post-WWII, will undoubtedly be someone I can connect with!
---
Nurin Nazifa Binte Mohd Yusoff is a Year 4 undergraduate student from the Singapore Management University, where she studies Business Management with majors in Operations Management and Corporate Communications. Keen to develop a greater understanding of social innovation around the region, Nurin's areas of interest include youth empowerment, social inclusion, entrepreneurship and entertainment. She can be reached at hello@socialspacemag.org