Meet James Lim, 41, founder of Emmaus Strategies, which offers strategic volunteer partnerships training and consultancy, and mental well-being programmes to individuals and companies across the public, private and government sectors. Having personally experienced and overcome depression and burnout, he tells ISHAN SINGH about his mission to help others in a similar situation work through their problems and keep mental health challenges at bay.
---
Please tell us more about yourself.
I'm the father to two young, energetic and cute boys. When not spending time with my family, I run Emmaus Strategies, a social enterprise that equips people, organisations and communities with the knowledge and skills to "thrive for good". 
What does Emmaus do, in a nutshell?
Emmaus has two main areas of expertise. The first is in mental well-being—we give talks, workshops and retreats about preventing and tackling mental health challenges such as burnout. The other is in strategic volunteer partnerships: we offer training and consultancy to charities, social enterprises, grassroots movements, government bodies and corporations to build their capacity in volunteerism. Specifically, we use simulation programmes to help volunteers better understand challenges faced by families in need, and we equip both volunteers and volunteer managers with the fundamental skills and perspectives needed to run effective volunteer programmes. Our toolkits and resources are also freely accessible via our website.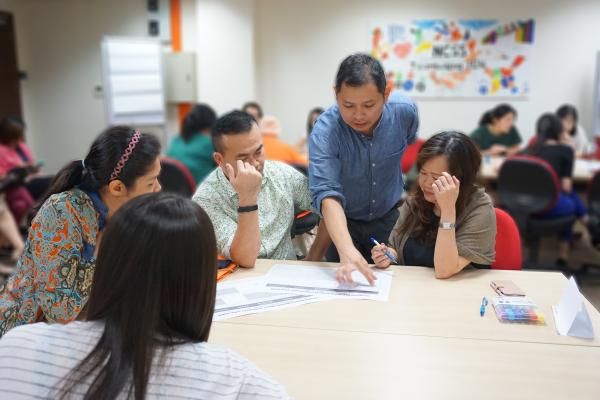 James at one of his workshop sessions.
Burnout is not often discussed. Why is it an important issue to be aware of?
Most people are familiar with the term "burnout" yet not many understand what it really is or why it's important to tackle it. Burnout occurs when we are exposed to a prolonged period of chronic stress, and start to experience psychological, physiological and social consequences as a result. Symptoms of burnout may include a loss of self-confidence, falling sick more, an inability to sleep well, cynicism and a tendency to withdraw from social interactions. If not addressed, burnout can negatively affect one's quality of life and relationships.
To increase public awareness on burnout, we offer educational talks, followed by workshops that encourage deeper conversations about the topic. During the latter, we employ our PRISM© model, which is designed to help people prevent and overcome burnout.
Running a business is really hard work. How do you prevent burnout, personally?
You're right. Starting a business from scratch and keeping it going is extremely tough. There's constantly plenty of work to be done, and I don't have the luxury of a large team and big budgets. I work with my limited resources, and often have to personally oversee the various elements of business development, administration, website maintenance, accounting, volunteer management and so on.
So you're right: if I'm not careful, I run the risk of  burnout. I therefore constantly make an effort to take time out for myself and my family. Also, since I don't operate out of a physical office, I'm not part of a work community, and that can feel quite isolating. To stay connected with my team members, who mostly work remotely, I schedule face-to-face check-ins with them.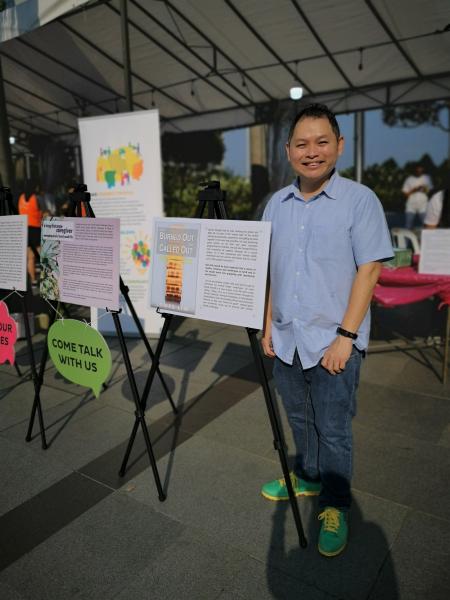 James sharing about burnout at a public awareness event.
Your social enterprise turns three in 2020. What's kept you going in your entrepreneurial journey?
It all comes down to four F's: family, faith, fervour and focus. I'm extremely grateful to my wife and family members for giving me their blessing and support when I first decided to leave my full-time job to start Emmaus. My faith has also played a huge role in my journey, especially since the idea of Emmaus began as a personal faith-inspired social project. At the end of the day, faith is what grounds me and sustains me in difficult moments. Next, fervour has been crucial: without it, I wouldn't be able to find meaning in my work or keep my vision alive. Finally, I cannot overstate the importance of focus, which helps me remember why I'm doing this and what I'm working towards. By focusing on the company's mission and values, I can avoid taking on projects that may seem profitable but are otherwise not in alignment with Emmaus's vision and strategy.
As your portfolio and clientele grew, how did you scale up along the way?
Though I started Emmaus as a one-man team, I soon realised the need to scale up if I wanted to build capacity and achieve sustainable impact. Prior to Emmaus, I had been a Volunteer Manager for 13 years, so I tapped into my previous experience and knowledge and put out a call for volunteers. Many gracious friends and strangers came forward as a result. Today, I have volunteers who help me with marketing, research, administration, event support and strategy. This dedicated team of associates and volunteers has been instrumental in Emmaus's ability to impact over 500 individuals and 90 organisations over a short span of close to three years.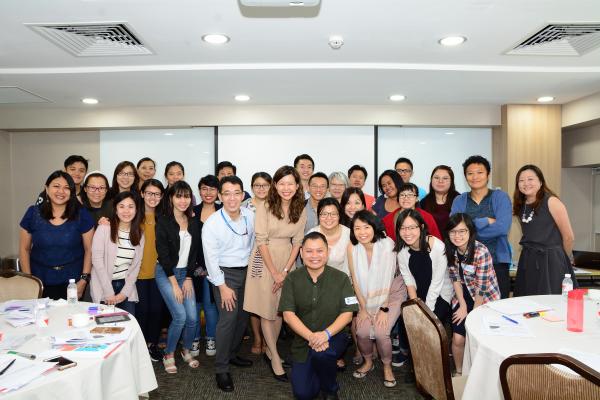 James training the next generation of volunteer management professionals as part of his Volunteer Management Circuit 2.0 programme.
Having worked in the social sector for so many years, what advice do you have for someone looking to enter this space?
Whether you're a fresh graduate or making a mid-career switch, first have a chat with someone from the industry to find out more. Volunteering is also a good idea, as it will offer an "up-close-and-personal" experience of what it's like to work in the social sector.  
In terms of making a positive impact, what does success look like to you?
For individuals, they'd find joy and meaning in what they do, and see their family lives thriving. In organisations and communities as well, we'd also see a more inclusive, positive atmosphere where people step up to care for one another.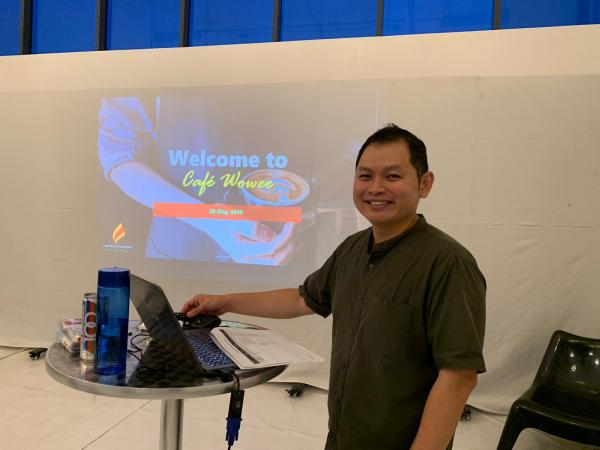 James speaking about burnout as part of his Cafe Wowee series.
Let's conclude this interview with a book recommendation. Anything to help us chill out before we burn out?
Yes, the other day I was looking for a book for my children and chanced upon The Stressed Ball by Lydia Lim. It may seem like a simple illustrated book, but it contains a profound message about how we manage stress. Without giving away too many spoilers, the story is about Elliot, a stressed ball, who's trying to finding out why he's so stressed. Every time I read this book to my kids, I can't help but reflect on the stress that has surfaced in my own life—and draw some lessons from Elliot. It's a great book for all ages.
All images courtesy of James Lim.
---
| | |
| --- | --- |
| | Ishan Singh is a second-year undergraduate at the Singapore Management University's Lee Kong Chian School of Business, and an Editorial Assistant for Social Space Magazine. He spends any spare time he has rapping or producing music, and hopes to pursue a career in music. Passionate about the arts and writing, Ishan hopes to write articles and make videos that shed light on the importance of the arts in our communities. He can be reached at ishan.singh.2018@business.smu.edu.sg |