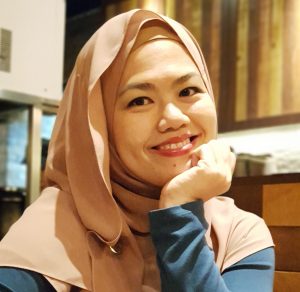 Meet Nasyitah Tan, 43, co-founder of The LOOMs Workshops, a social enterprise specialising in bespoke artisanal products. All earnings from the sale of LOOMs' products and corporate workshops go towards providing educational training and work opportunities for women in challenging situations. Nasyitah tells NURIN NAZIFA BINTE MOHD YUSOFF how she turned a passion for sewing into a meaningful business.
---
Tell us more about your personal background. What were you doing previously and what led you to start The LOOMs Workshops?
Art and fashion have been a big part of my life for as long as I can remember. As a child, I took art classes and entered competitions, and I grew up watching my late mother drawing on and cutting bales of fabric before meticulously turning them into sartorial statements. I would listen to her paddle away at the sewing machine and watch as she deftly applied finishing touches to her finely made garments. I did not get to watch much television back then, so I would play with the fabric off-cuts, trimmings and fasteners in our bedroom which doubled up as my mother's work room. Making things with my hands and working with all sorts of materials excited me. I was inspired to be an artist of sorts in future and my mother was very supportive. However, after she passed on when I was twelve, my dream to become an artist disappeared somehow. Ten years later, I took up the position of an Art and theatre-trained educator at a secondary school—a job I held for fourteen years until I left Singapore to accompany my husband on a work stint in Jakarta, Indonesia. Over there, inspired by the culture-rich environment and variety of textiles at low prices, I began to create again. I also volunteered as a teacher at Sekolah Bisa, a school for street kids. It was there that I first conceived the idea of starting a business that would empower women, children and their families financially.
And you turned your idea into a reality with LOOMs! Tell us more about your business model.
LOOMs is an all-women team and we value every single individual in it. Our social mission drives the business, and our studio serves as an alternative space for women to grow and connect with one another. Our bespoke handcrafted items also defy cheap consumerism, and we take a more considered approach when it comes to corporate gifting.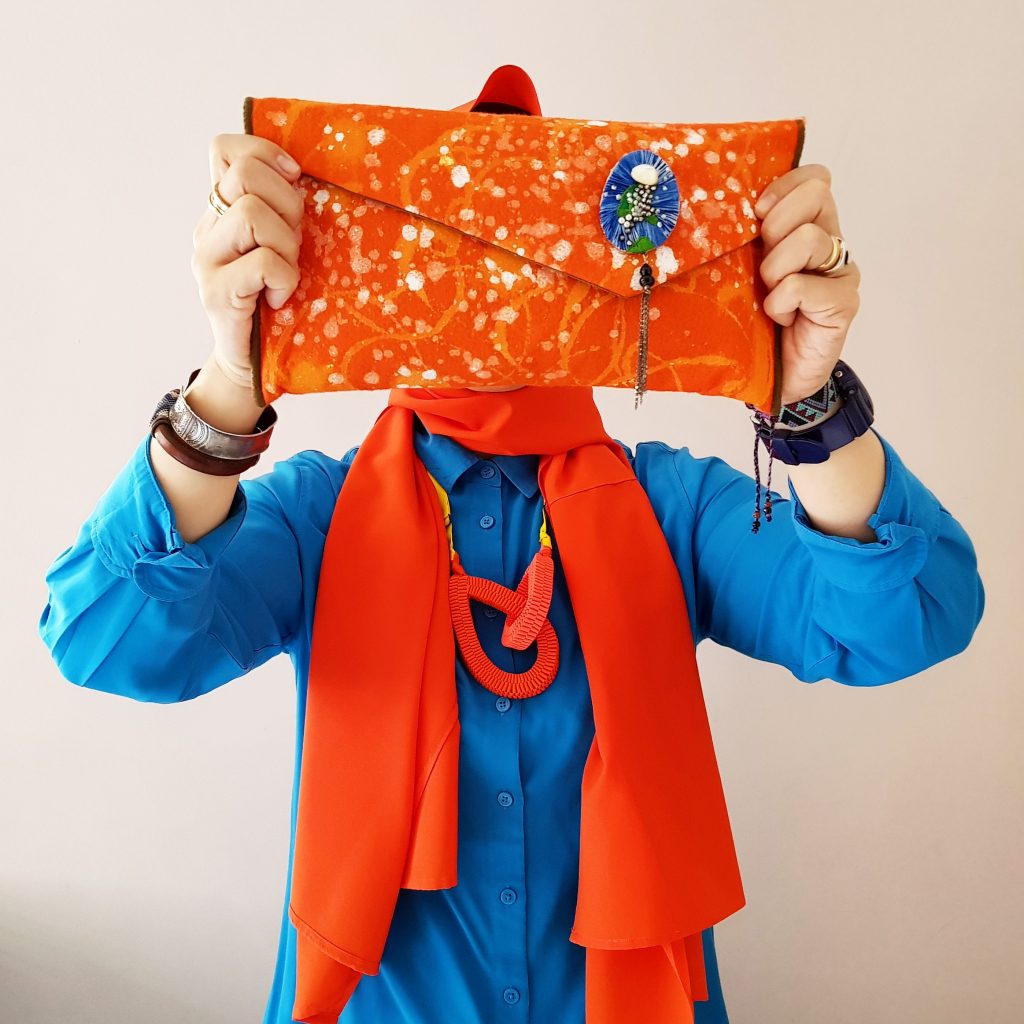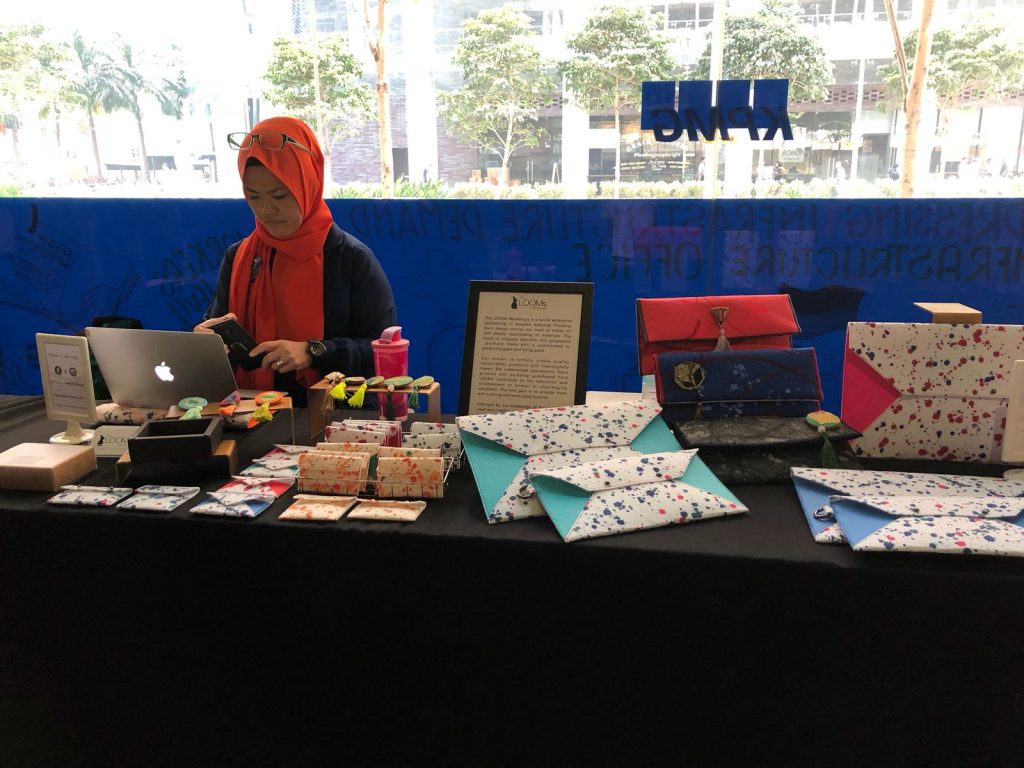 The LOOMs Workshops offers a range of hand-crafted products.
What are some of your programmes and initiatives?
We run a Work Trial Training Programme that equips trainees with basic skills required of a LOOMs artisan. Trainees are then assessed, and those found to be "C", i.e. competent, will be recruited as Apprentice Artisans. There's also the Artisan Training Programme, which is an on-the-job training scheme to help women progress from Apprentice Artisans, to Junior Artisans, and finally move on to become Artisans. For those who do not own sewing machines, we have the Rent-To-Buy-A-Sewing-Machine scheme, which leases sewing machines at a very low monthly rate—the machine belongs to the artisan once the full value has been repaid. Finally, artisans who graduate from our Artisan Training Programme become automatic members of the LOOMs Alumni, which will will be launched at the end of 2018.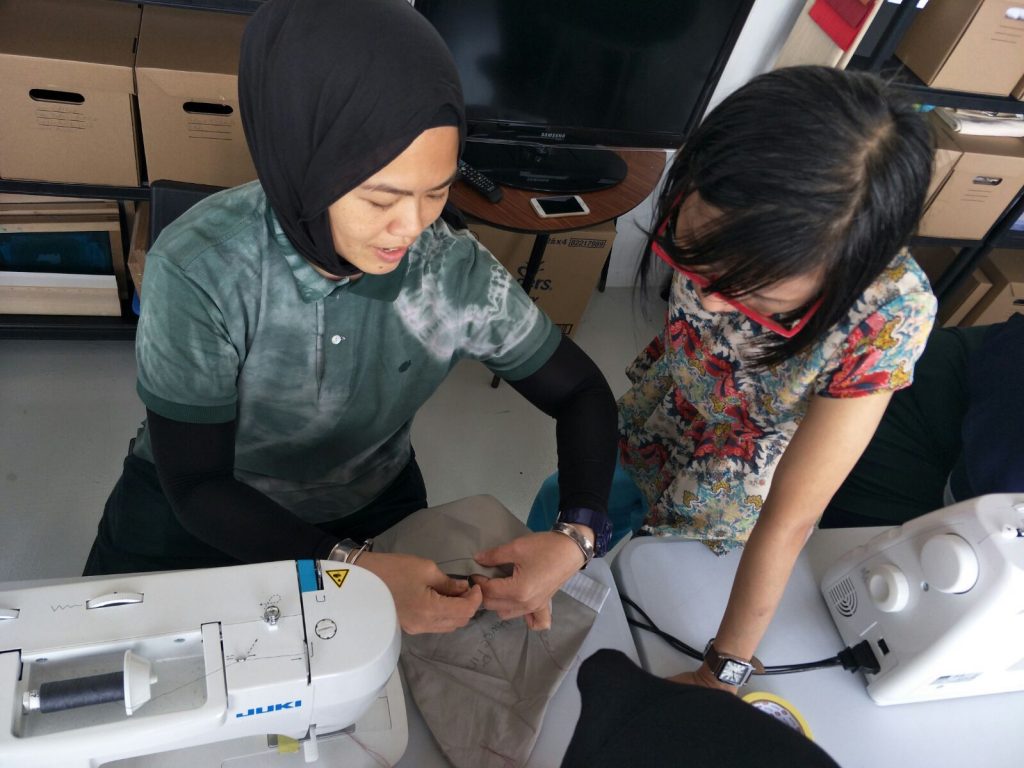 LOOMs provides training for artisans to gain new skills
What were some initial challenges you faced when you first started out?
I began working with a group of single mums from Beyond Social Services on a pilot project with the aim of providing these women with home-based employment. The product I developed for the project was a limited edition craft apron made with precious vintage fabric my late mother had left behind. The aprons were all sold out thanks to family, friends and my mother's legacy! However, despite the success of the project, I still had no clue what was needed for an enterprise to be successful due to my inexperience. As a result, we continued to make aprons and other products that people did not want to buy. Given my lack of a sound business plan, no one took LOOMs seriously at the time, and I myself began to have doubts. Today, three years since LOOMs' founding in 2015, I have developed more confidence and have a better understanding of what it takes to be a social entrepreneur. I'm very grateful for my family's support: my husband has taken on the financial responsibilities of the family, which frees me up to concentrate on growing LOOMs.
In addition to becoming more confident, how has your social enterprise changed you as a person?
LOOMs has made me a more mindful person and given me a stronger sense of purpose. I'm inspired to learn more, grow wiser and do better so that I provide more help to those who do not have the same kind of opportunities that I had or have. For this reason, I'm very aware of the need for self-care and ensure that it's something that is not neglected during our training sessions.
How do you sustain your business financially?
By providing quality products and having a solid client base. We specialise in workshops for corporate businesses and differentiate ourselves with our high levels of service standards and product quality. Our clients appreciate the thought we put into the premium products we design and create for them, and are also more inclined to engage us, knowing they can contribute to improving the lives of undeserved women.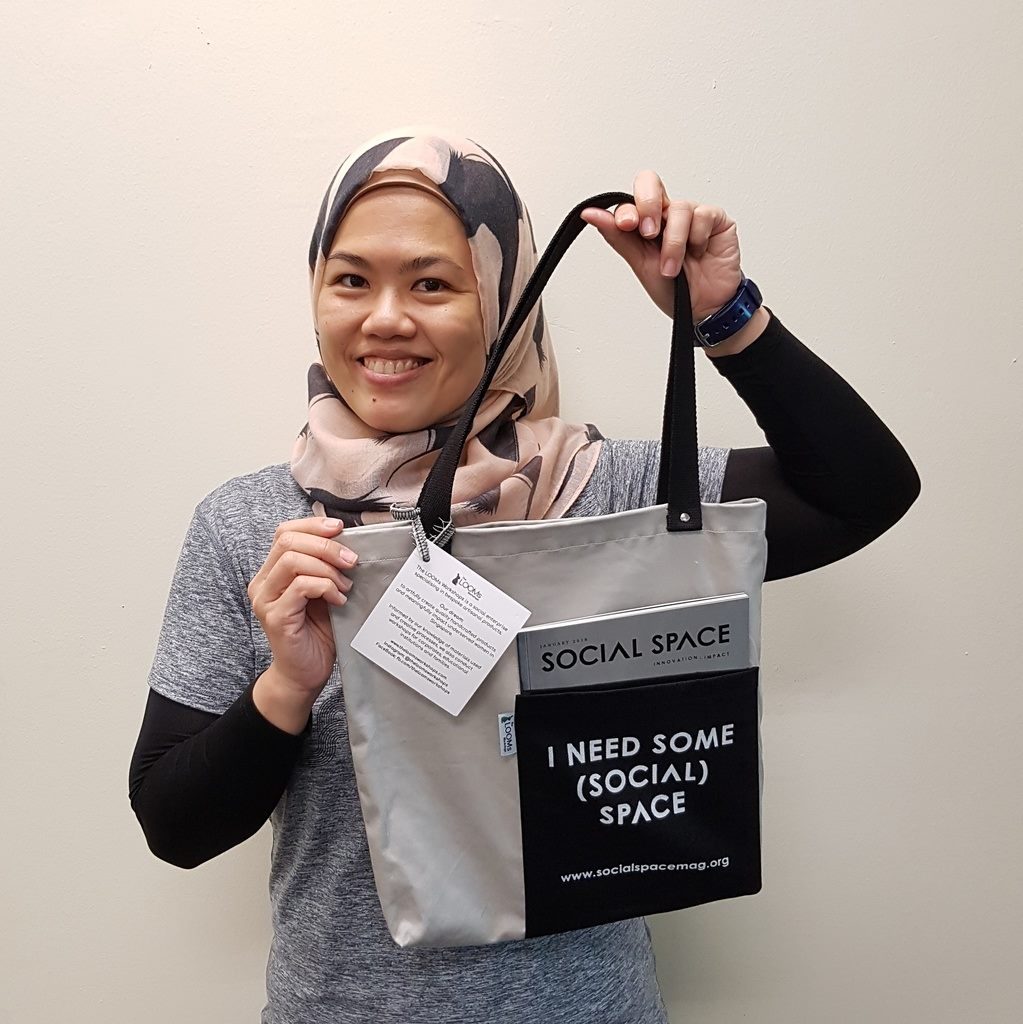 LOOMs customised a limited edition tote bag for Social Space.
How do you measure your social impact? How have some of your participants benefited from LOOMs?
I measure social impact by quantitative data collected from the women we have trained as well as from anecdotal feedback and responses. An elderly artisan left us after two and a half years to concentrate on her home baking business. The extra income she had made from LOOMs allowed her to enjoy little luxuries such as buying her grandchildren toys and taking short trips to Batam. She also shared how working and attending training in our studio made her feel calmer and more relaxed. Now, she puts into practice the self-care tips and exercises we taught her. We had another artisan who struggled with depression. She joined LOOMs after being retrenched from her sales job, and learned how to sew after acquiring a sewing machine via our Rent-To-Buy-A-Sewing-Machine scheme. With her new skill, she created several LOOMs products, and also set up her own Facebook business selling handmade gifts for Teachers' Day and birthday parties. She has since regained her confidence and taken on an office job. Recently, we also had a Work Trial Training Programme trainee who repeatedly thanked us for giving her an opportunity to learn how to sew and make her own tote bag and card case pouch. On her last day of training, she gifted us with lipsticks to show her appreciation.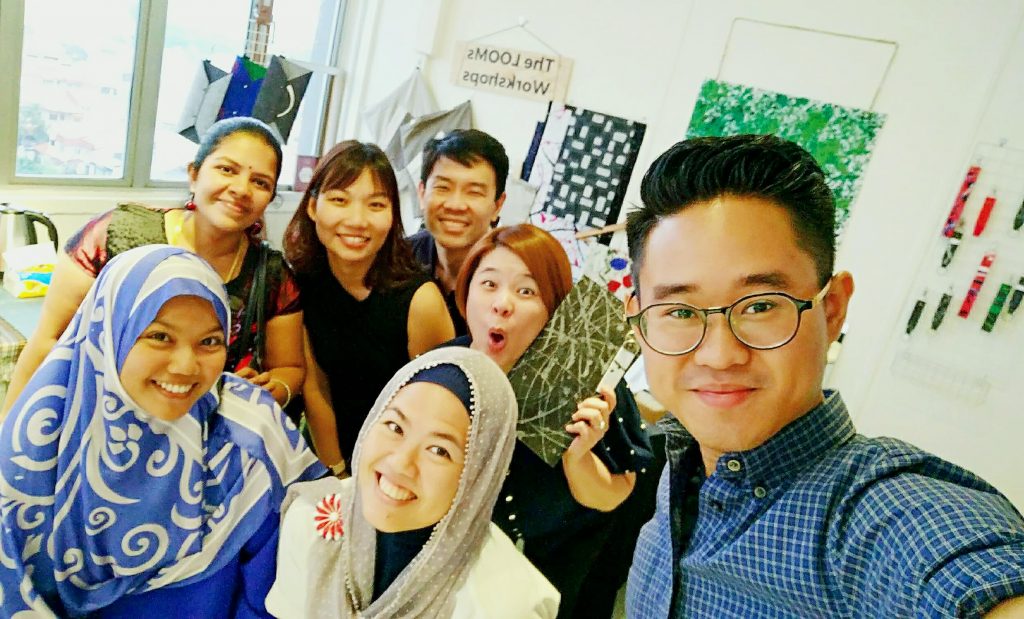 What are your thoughts on the artisanal/craft-making scene in Singapore?
I'm passionate about artisanal craftsmanship but I am no expert on the local scene. My impression is that it has a hipster vibe and the emphasis is on the individual artisan/crafter. And even though the artisanal community is growing, many of us still work in silos or in rather isolated groups. Rather than an industry, it feels more like many hobbyists indulging in their passion and paying very little attention to the business aspects. Moreover, artisanal goods remain niche and there is limited understanding of and little value placed on them. I think Singapore still has some ways to go before we see a strong and flourishing artisanal and craft-making scene.
What are your thoughts on art? How important is it in our everyday lives?
Someone once said art is like air. It is all around us in the colours and arrangements of nature, to man-made structures that serve various functions. We often take art for granted, but life without it would be bland and mundane. Art has an ability to touch us in ways we cannot logically explain and its beauty lies in the fact that it can mean different things to different people. The act of creating art is another thing altogether. To be able to create beauty, which is subjective in itself, is magical. Take the ladies working at LOOMs, for example. When given the opportunity to paint, they tend to be hesitant at first, as if afraid of being judged. But after 10 to 15 minutes of simple doodling, you'll notice the apparent joy and contentment on their faces and in their body language. I believe it does not matter what value society places on their art—the freedom to create as they want has taken them to a different, fantastical place. This is the power of art and why it is as important as air.
What is your favourite piece of art?
It's difficult to pin-point a single work of art, but if I had to choose, it would be Frida Kahlo's self-portraits. Kahlo is a female artist whom I admire for her strength and determination—she was so brave to pursue art fiercely despite her crippling accident. I love the rich colours and imagery in her paintings.
And within the LOOMs catalogue, do you have a personal favourite?
Yes. That would be a Japanese-inspired upcycled thread and bubblewrap clutch. It was my first experiment with upcycled fashion, and I love how it turned out.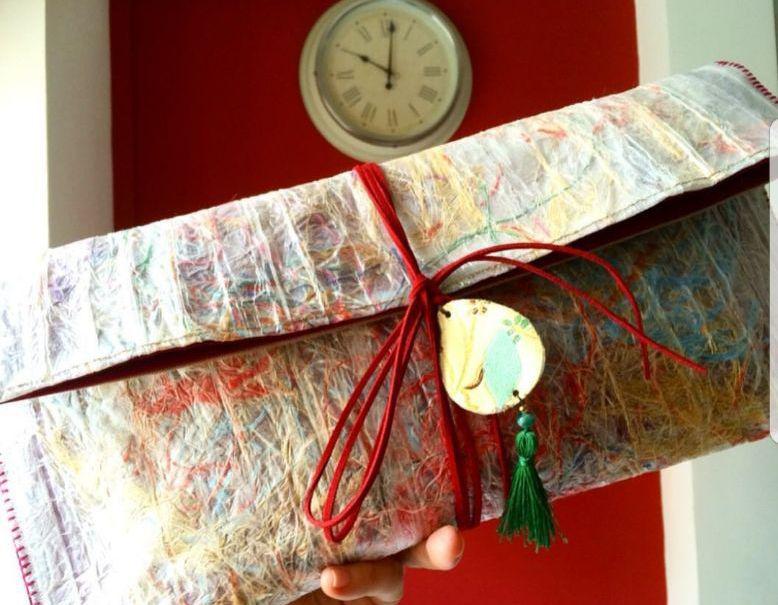 Finally, who or what inspires you the most?
My artisans are my greatest inspiration. No matter how difficult things are, they manage to get themselves out of their beds and homes, into the LOOMs Studio, and work hard to make their lives better for their families.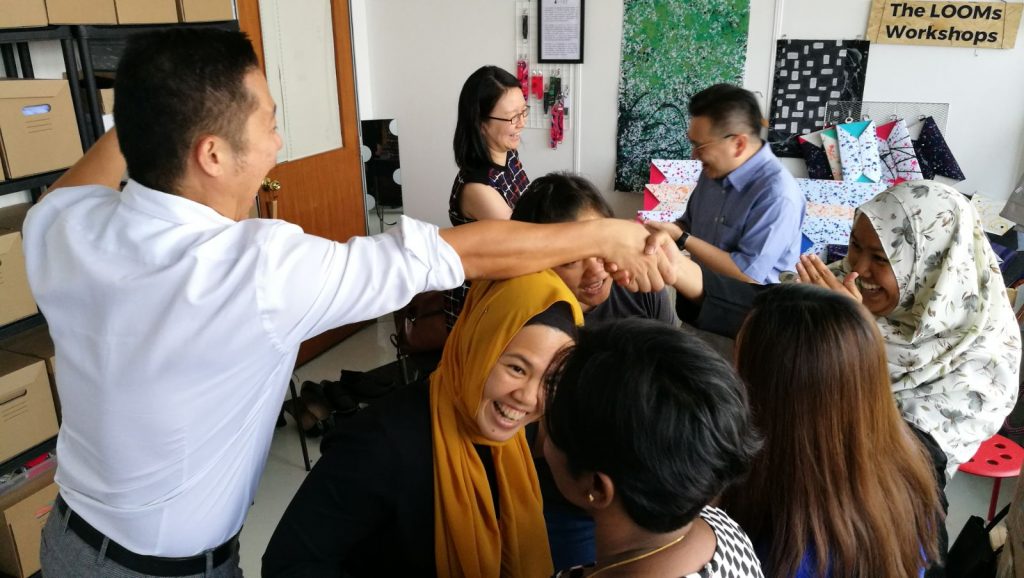 ---
| | |
| --- | --- |
| | Nurin Nazifa Binte Mohd Yusoff is a Year 4 undergraduate from SMU's Lee Kong Chian School of Business, where she majors in Operations Management and Corporate Communications. Keen to develop a greater understanding of social innovation around the region, her areas of interest include youth empowerment, social inclusion, entrepreneurship and entertainment. She can be reached at hello@socialspacemag.org |