Meet Sylvia Lee, 62, founder of EmancipAsia, a Singapore-based non-profit working to combat human trafficking through awareness-building, advocacy and public education. Through a series of photo exhibitions and monthly film screenings, Sylvia and her team are shedding more light on a topic that's not often discussed. Not many people realise, for instance, that no country in the world is immune from human trafficking (Singapore included), or that the issue goes beyond young girls and the sex industry—trafficking also presents in other forms of labour, where men, women and children alike are vulnerable. NEEDHI MEHTA chats with Sylvia about the inspiration behind EmancipAsia and how this crisis of human trafficking, a form of modern-day slavery, needs to be at the forefront of everyone's attention.
---
Please tell us more about yourself. What were you doing previously and how did it lead you to founding EmancipAsia?
After graduating from Imperial College London in Chemical Engineering, I began a 23-year-long career with Shell as a chemical engineer, which spanned refinery operations, engineering design, product quality, economics and optimisation, planning, strategy, investments, talent management, strategic and operational HR. This was followed by a three-year stint at CapitaLand as their Head of Group HR, before I decided to leave the corporate world in 2008 to pursue personal interests. In 2010, wanting to leverage my corporate skills in the non-profit scene, I started Lotus Culture to help sexually exploited and trafficked girls in Cambodia rebuild their lives and find employment.  Although I found my role at Lotus Culture very fulfilling, it focused more on alleviating the symptoms of human trafficking than on the underlying issues: insufficient public knowledge, business greed and imperfections in the regulatory/legal space. I thus founded EmpancipAsia in 2012 as a way to drive awareness and galvanise different sectors of society into action.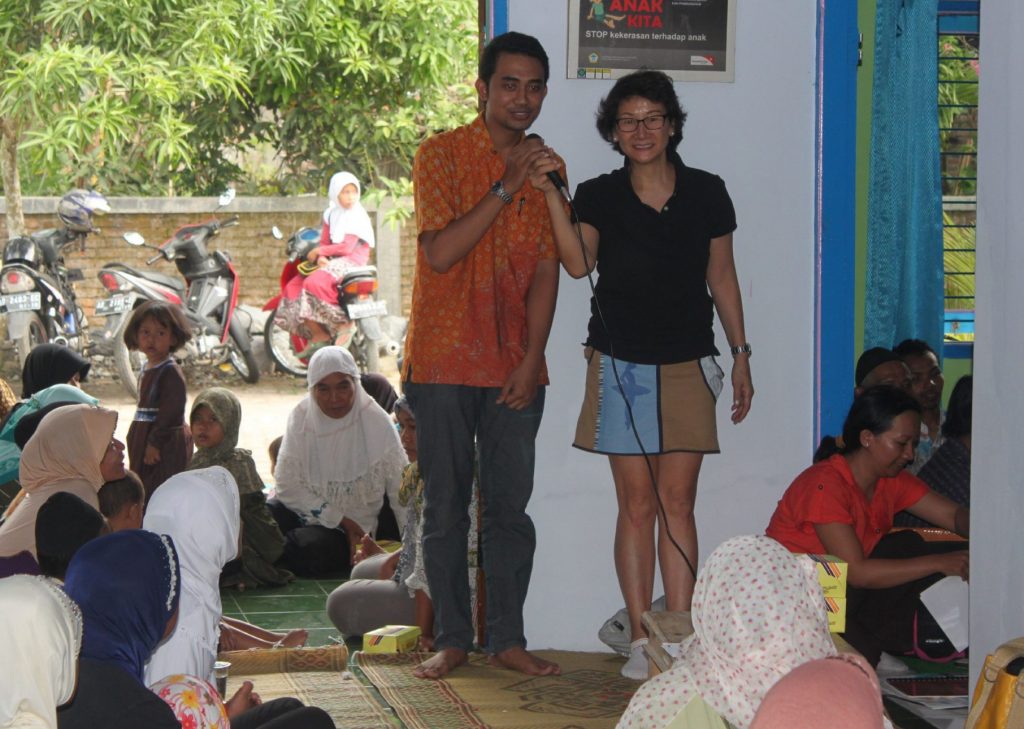 Sylvia raising awareness about sex trafficking in Indonesia, 2014.
How did you come to embrace this cause and eventually be a passionate advocate against human trafficking? 
I learned more about human trafficking from a sex trafficked survivor herself. Before we met in 2009, I had no in-depth knowledge about the issue. A victim in Cambodia in the 1980s, she is now an activist committed to ending sex trafficking and empowering survivors. Hearing her story really opened my eyes and mind, and as I read up more about the subject, I felt the need to do something. Human trafficking is a global crime that is complex, heinous and happens everywhere. Yet few are speaking about it and very little resources seem to be devoted to this cause. The severity of this problem and the lives destroyed by it are disproportionate to any efforts and resources spent to address it. Further, there is scant information on the subject: whenever I speak to friends—including highly educated individuals—about my work with trafficked girls in Cambodia, almost all admit to knowing very little about human trafficking. That is why I'm dedicated to raising more awareness about this important issue.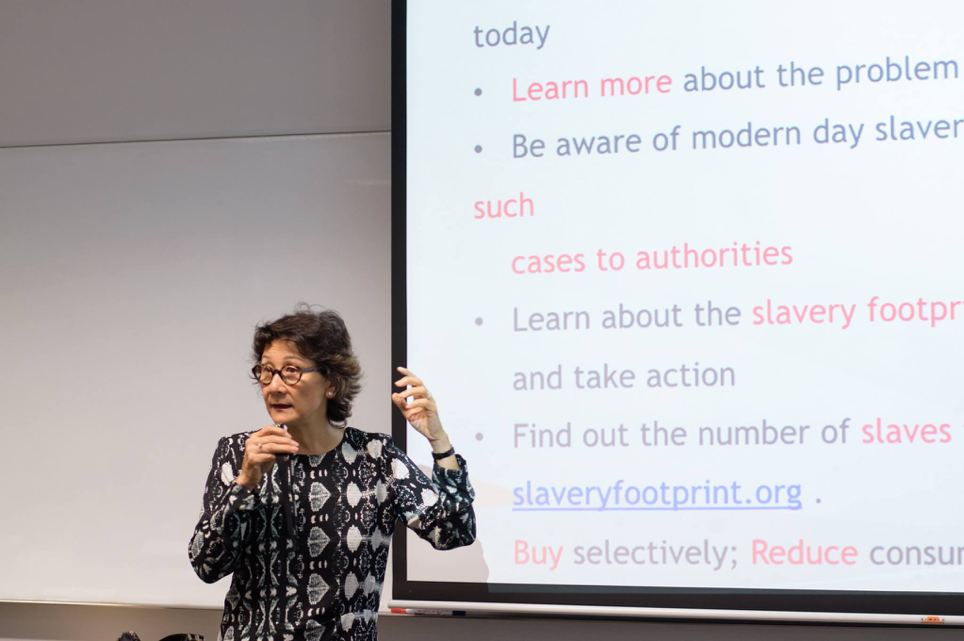 Sylvia at the United Nations Association of Singapore Model United Nations (UNASMUN) Preparatory Conference, 2017.
How is it possible that human trafficking is happening right under our noses in Singapore yet so few are aware or discussing it?
There are many reasons why this problem has gone unnoticed or been downplayed. First, many cases of human trafficking are not reported because the victims themselves do not come forward. Reasons range from being afraid something bad may happen to their families, to not being aware they are victims, to threats from their exploiters, to fear of losing income during long-drawn-out legal proceedings. Second, as mentioned, there is a general paucity of information on this subject. Before public awareness can be created, people first have to learn enough about the problem. That often entails getting them to an event or into a room, and that is one of the most difficult things to do in terms of raising awareness. Also, the issue is rarely talked about in the media.  
What other challenges do you face, running EmancipAsia?
Because human trafficking is something that's still not really talked about or well understood, it is difficult to obtain funding and donations. Many large companies are hesitant to get involved for fear of unravelling the proverbial skeletons in their closet—slavery is extremely prevalent in the supply chains of both manufacturing and service sectors. Moreover, as our work is about generating awareness, there are no tangible returns or results to attract donors or investors.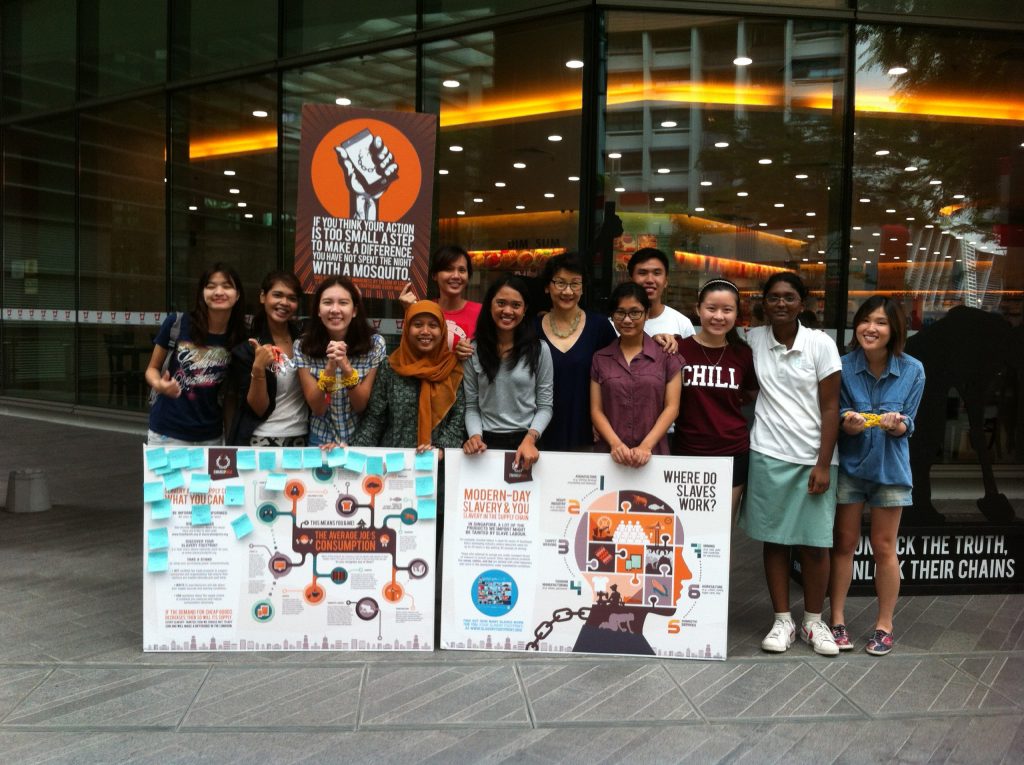 Sylvia at an awareness-raising event with a study group at the National University of Singapore, 2014.
What does success look like to you? I really hope EmancipAsia will give greater visibility to the cause. If, after some time, I asked random people on the street what human trafficking is and where it takes place, and 70 per cent of them could answer me, then I'd consider it to be a good indicator of success.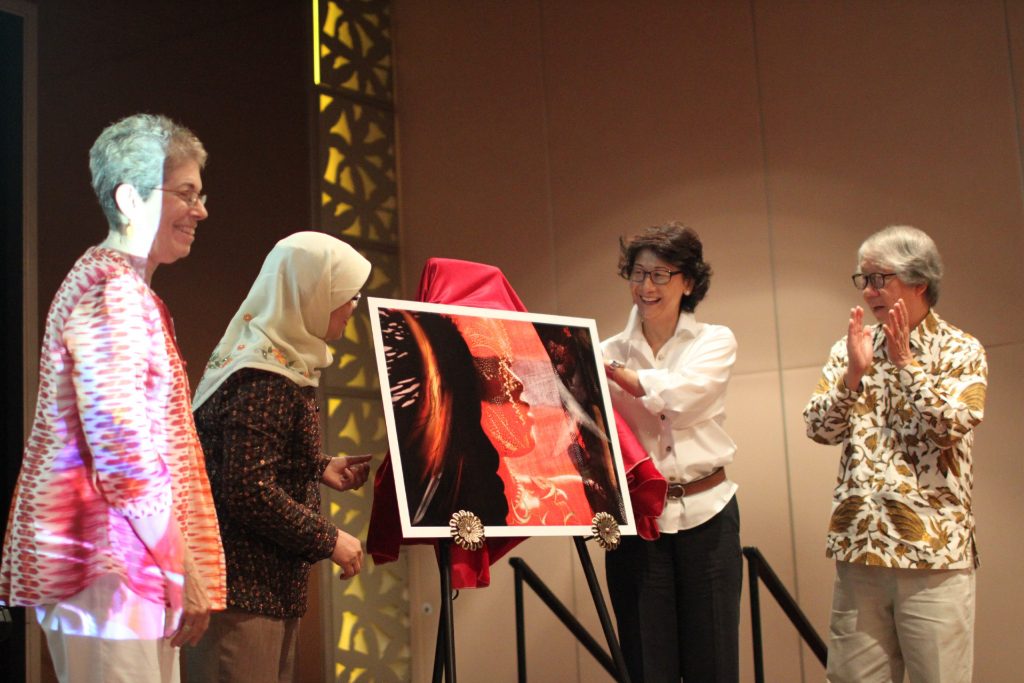 Launch of photography exhibition "Bought and Sold: Voices of Human Trafficking", 2012; Sylvia with Guest of Honour, Madam Halimah Yacob, Prof Tommy Koh and photographer Kay Chernush.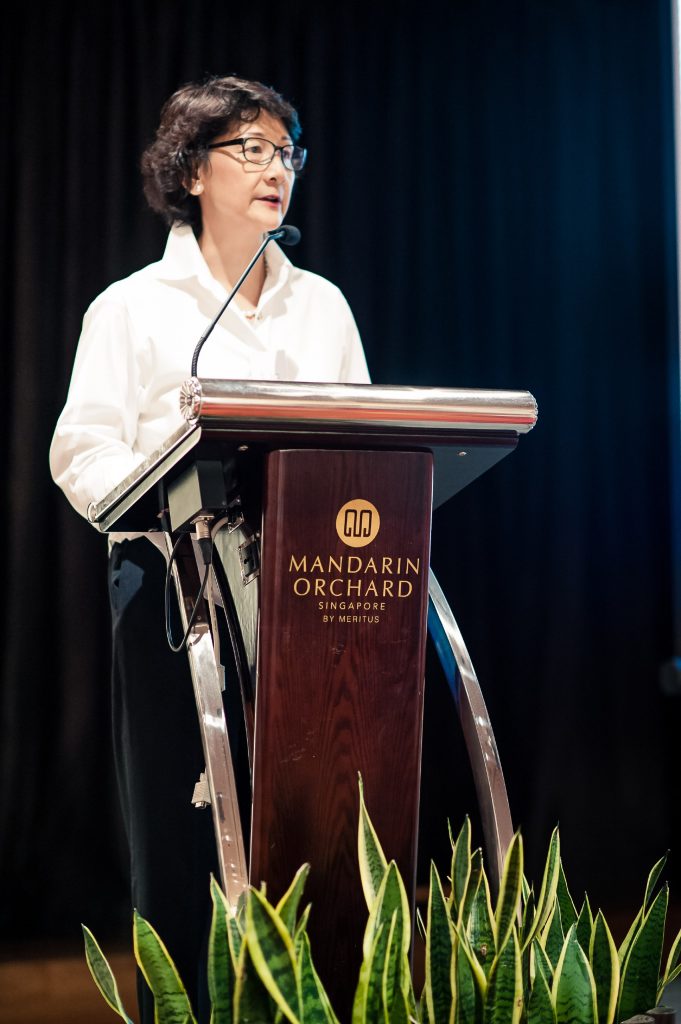 Sylvia speaking at "Bought and Sold: Voices of Human Trafficking", 2012.
Meanwhile, what do you say to those who believe the problem is too systemic and large for an individual to take on? I'll respond with the starfish story, based on a 16-page essay entitled "The Star Thrower" by Loren Eiseley. One adaptation of the original text reads:
One day a man was walking along the beach when he noticed a boy picking something up and gently throwing it into the ocean. Approaching the boy, he asked, "What are you doing?" The youth replied, "Throwing starfish back into the ocean. The surf is up and the tide is going out. If I don't throw them back, they'll die." "Son," the man said, "don't you realize there are miles and miles of beach and hundreds of starfish? You can't make a difference!" After listening politely, the boy bent down, picked up another starfish, and threw it back into the surf. Then, smiling at the man, he said, "I made a difference for that one."
Likewise, if each of us does our part to prevent just one person from being enslaved, or to rebuild the life of one victim, we can all make a collective impact. The global problem of human trafficking makes it Singapore's problem, too—nobody is ever too small or insignificant to take action against it.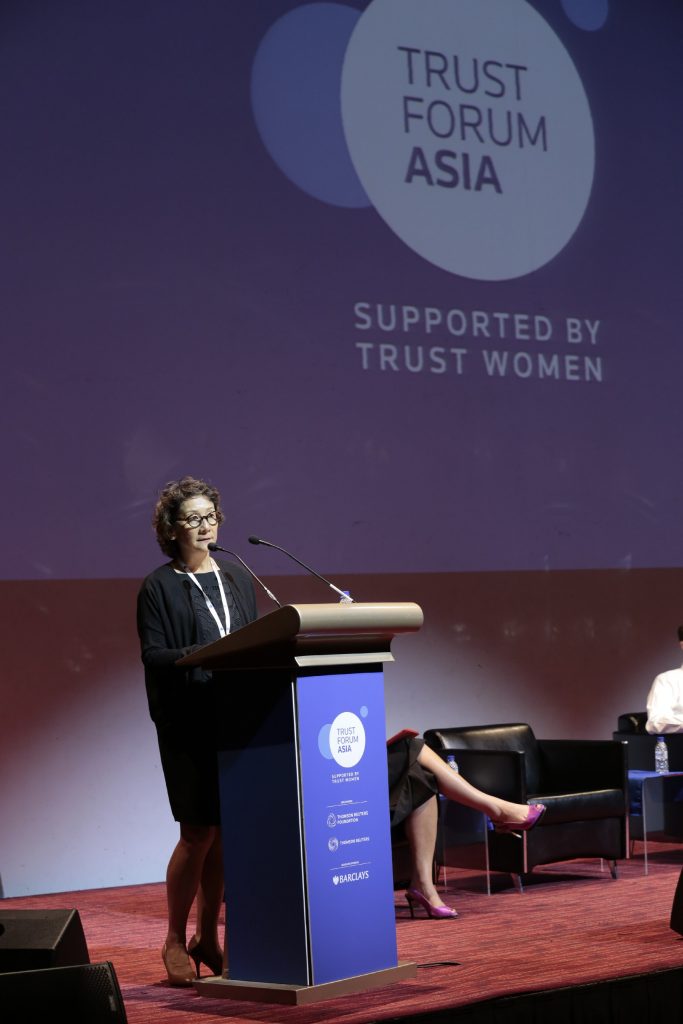 Sylvia speaking at the Trust Forum Asia, organised by Thomson Reuters, 2016.
Where can Social Space readers find out more about EmancipAsia's recent and upcoming initiatives?
Watch our documentary production "Not Here", featuring three cases of suspected human trafficking in Singapore. They involve Mary, Abdul and Iriana, and their experiences in the domestic help, construction and sex work industries. Singapore is a significant transit point for trafficked fishermen and port of call for fishing vessels. In this film, viewers will also learn that in a country where most goods are imported, they are unknowingly complicit whenever they consume products and services that involve victims of trafficking in their supply chains. You can find more information about our programmes and events at our website. But beyond the work of EmancipAsia, I hope more people will be curious about human trafficking and ask themselves what they can do for this cause.  
Banner photo: Sylvia doing public outreach outside SCAPE, 2014. All images courtesy of Sylvia Lee.
---
| | |
| --- | --- |
| | Needhi Mehta was a Summer Associate (Editorial) at the Lien Centre for Social Innovation. A rising senior at the University of Pennsylvania, she is interested in advocacy for marginalised groups, solutions to uplift immigrant communities and raising awareness about social inequalities on campus. Needhi is part of her school's first-generation, low-income community (FGLI), Asian American identity groups, and public health advocacy groups on campus. She is currently doing research on healthcare experiences faced by trafficked youth in Philadelphia. She can be reached at nemehta@sas.upenn.edu |