Meet Geraldine Tan, 50, CEO of My NoNNa's, a social enterprise that employs and trains individuals with special needs to prepare, cook and serve Italian food at the school canteens of Raffles Institution, the Singapore University of Technology and Design and Nanyang Girls' High School. My NoNNa's is a product of Geraldine's interest in F&B and desire to provide meaningful employment to persons with special needs, such as autism, intellectual impairments and physical disabilities. What's on the menu? Plenty of comfort food, ESTHER TAN finds out, which is made with a whole lot of love.
---
Please tell us more about you. What were you doing prior to starting My NoNNa's?
I worked in the corporate world for 22 years, first in management positions with the Singapore Airlines Group, and then across a number of multinational corporations. I thus have a broad range of job experience in the areas of food service, customer service, as well as marketing, branding and business development.
How does your former corporate background differ from your present role?
For one, My NoNNa's organisational structure is quite different from the conventional model. In most cases, the employees at the base of the organisational chart are working to serve the leadership at the upper levels. Over here, I may hold the CEO title, but my staff—persons with special needs—are the ones I serve. They are the reason for the company's existence, so all other layers of the organisation are there to support them.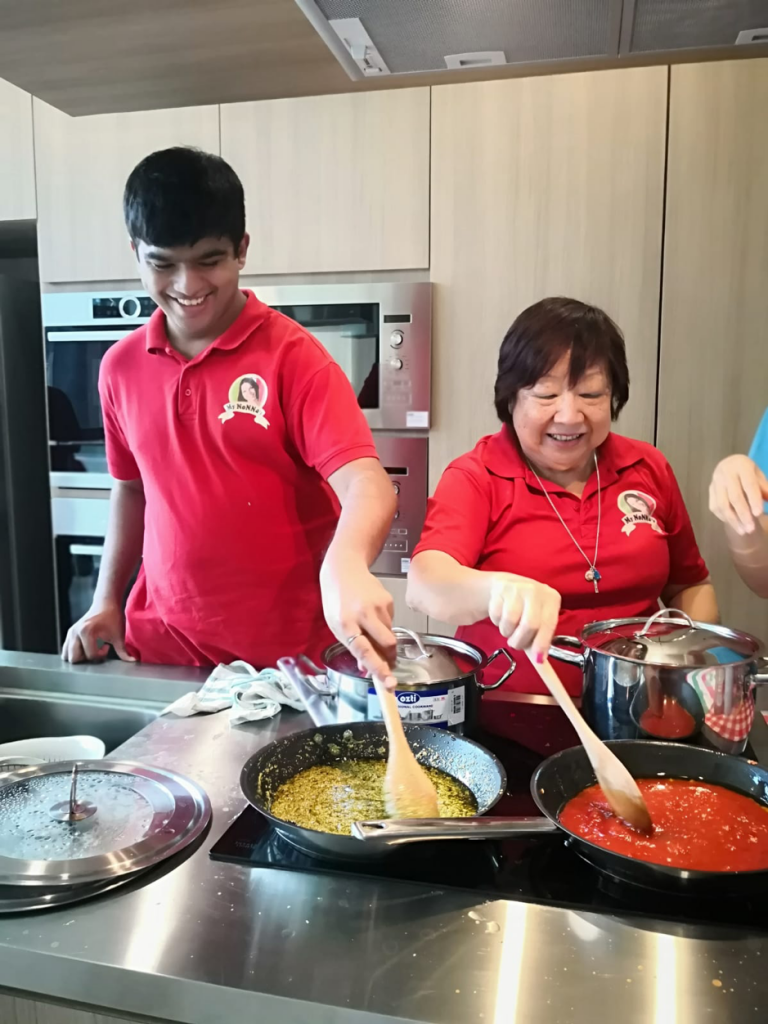 Special needs champion, Jasnam, preparing pasta alongside Catherine, his supervisor.
What prompted you to leave the corporate world to start a social enterprise, especially one specialising in F&B?
It was born out of a strong desire to do something more meaningful with my life. I have a family friend who has an intellectual disability, and I've seen how she struggled for many years to find a fit in the working world. Although at the time I did not know much about the special needs community or how many others faced similar challenges, I felt that I could use my professional skills and experience to help them. I've found that with some modifications I've been able to draw from my management experience to lead employees with special needs. Ultimately they are not all that different—as humans, we all want to contribute and feel appreciated in our jobs. As to why I chose to go into the F&B sector, it was an easy decision because I'm a foodie! I previously ran a private chef business, so I had experience in operating a food establishment.
Nonna is Italian for "grandmother". Is there a personal association or any reason behind the naming of My NoNNa's?
Italy occupies a special space in my heart, having spent a lot of time there when younger. In those years, I lived with an Italian family, whose grandmother (Nonna) was the main chef. Nonna would prepare great meals that the family could look forward to upon returning home from work. Everyone would gather for dinner at a long table laden with a wonderful home-cooked feast. My NoNNa's food is therefore inspired by this comforting, homely style of Italian cuisine. It also helps that Italian recipes are fairly structured—we can break down the steps easily when training our special needs staff in the food prep.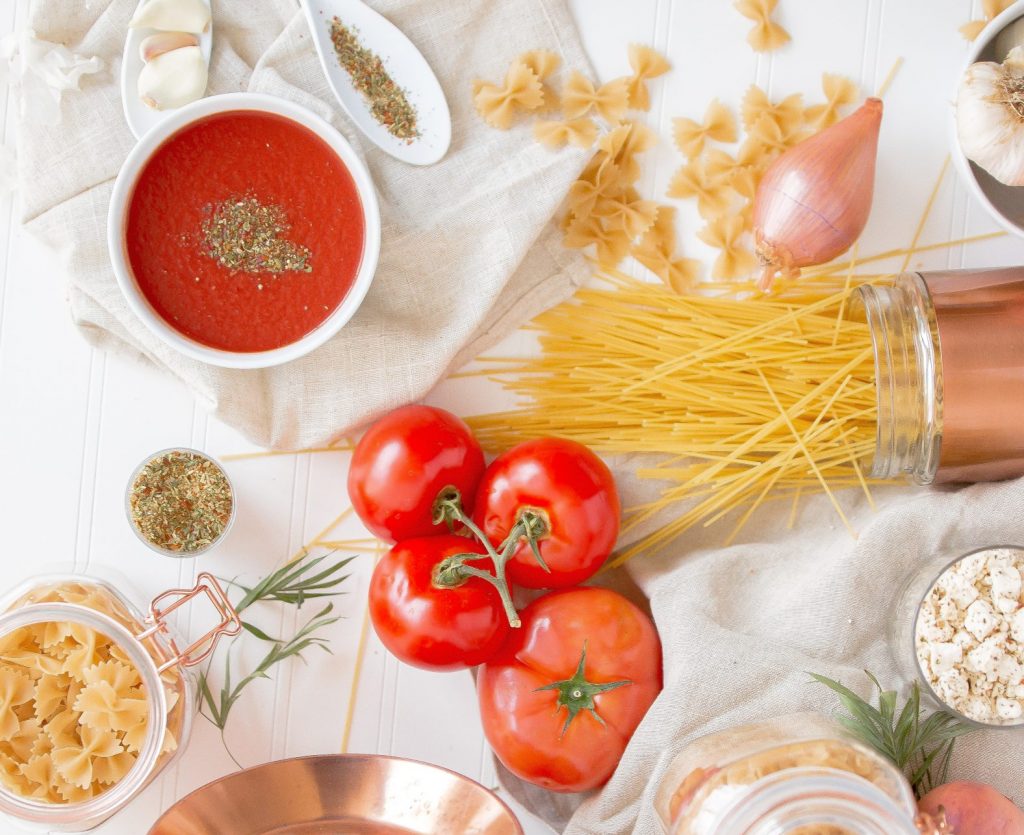 Image by Heather Ford via Unsplash.
Given your specific talent pool, how do you go about recruiting your staff?
We work with a number of special education schools as well as associations and social service organisations who refer possible candidates to us. However, some parents (of persons with special needs) have also found us on Facebook!
How do you prepare them to undertake their job responsibilities?
We have an extremely structured curriculum in the training and development of our staff with special needs. A continuous process, it is geared towards helping them lead a more independent life and integrate better with society. At the very least, they must learn how to cook rice so that they can feed themselves after their parents are no longer around. Most of our employees progress to cooking pasta as well as roasting chicken and vegetables. We also place a lot of emphasis on their supervisors' training, without which the employment model would not be sustainable.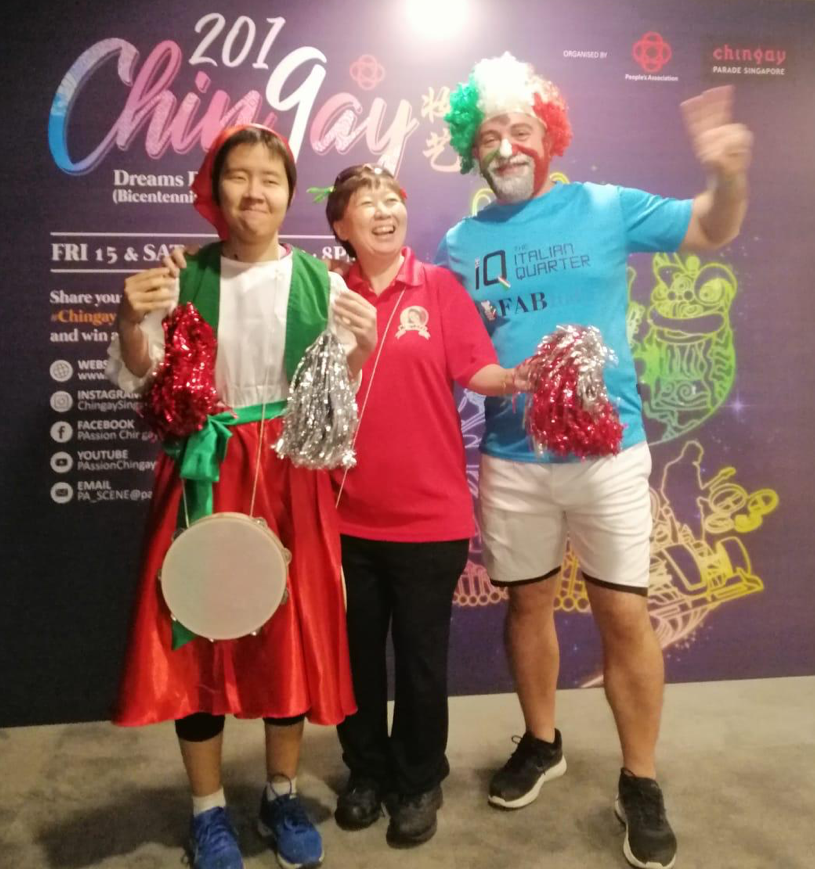 Geraldine with special needs champion Sharon (left), performing together with FabItalia (right), at Chingay 2019.
Speaking of sustainability, how do you keep the business financially sustainable?
We believe that our highest cost should be the cost of our staff, comprising both our employees with special needs and their supervisors. All of them earn monthly salaries with CPF. The second highest cost comes from food, as we believe in using quality ingredients. Otherwise, we keep costs low by paying nominal rents, and diversifying our revenue streams.
My NoNNA's branches are presently located at Nanyang Girls' High School, Raffles Institution and SUTD. Why did you select these particular schools, and are there plans to expand into other campuses?
We chose to partner educational institutions with a strong culture of social responsibility, and which see the value in having their students work alongside persons with special needs, thus developing a deeper appreciation for this community. After all, students of today are managers of tomorrow—if we can show them now what a socially inclusive workplace looks like, they would have less hesitation working with or even hiring persons with special needs in the future. We may expand into even more schools, but for now we're also exploring the possibility of opening a MyNoNNa's outlet for the general public.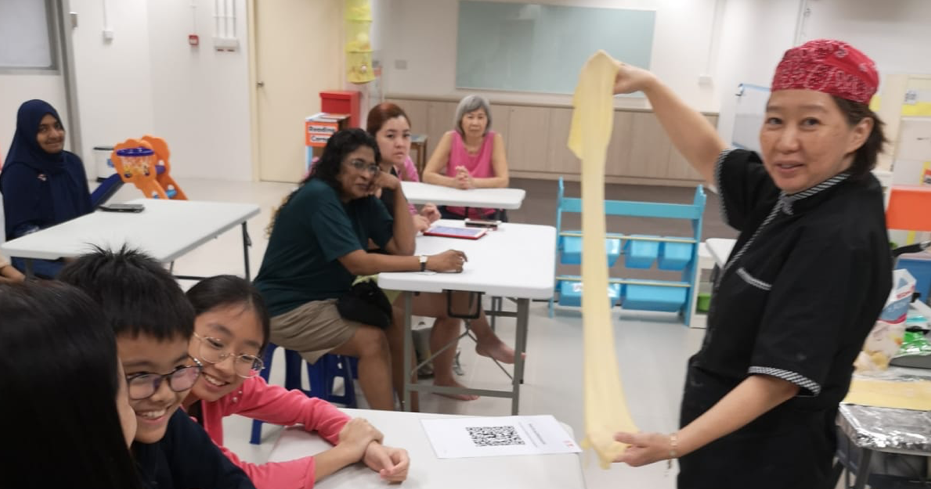 Geraldine teaching a fresh pasta class.
It's been four years since My NoNNa's launch in 2015. What were some initial challenges you faced and how did you overcome them?
One of our early challenges was getting our staff with special needs certified in food handling safety. Back then, there was no government subsidy, so it was very expensive. Today, however, it's much easier because there are subsidies in place, as well as relevant organisations to provide the certification training.
What are some newer obstacles you face? As we try to expand, the challenge is in finding and training enough able supervisors to manage the staff at the various outlets. From what I observe, there are still not enough people who have the patience and empathy to supervise persons with special needs. Besides that, running a social enterprise requires a great deal of perseverance. It's more challenging because you have fulfil a social mission in addition to meeting all your other financial KPIs.
Who is your longest-serving employee with special needs? How have they grown since becoming a part of My NoNNa's?
One of our staff members is Sharon, who has Asperger's Syndrome. When she first joined us almost four years ago, she did not interact much. She would not look up from the ground and did not speak to anyone; at lunchtime, she sat at the far corner of the canteen to have her meal. Fast forward to the present, Sharon makes eye contact with students, takes their orders, makes waffles, and even lunches with the rest of the team!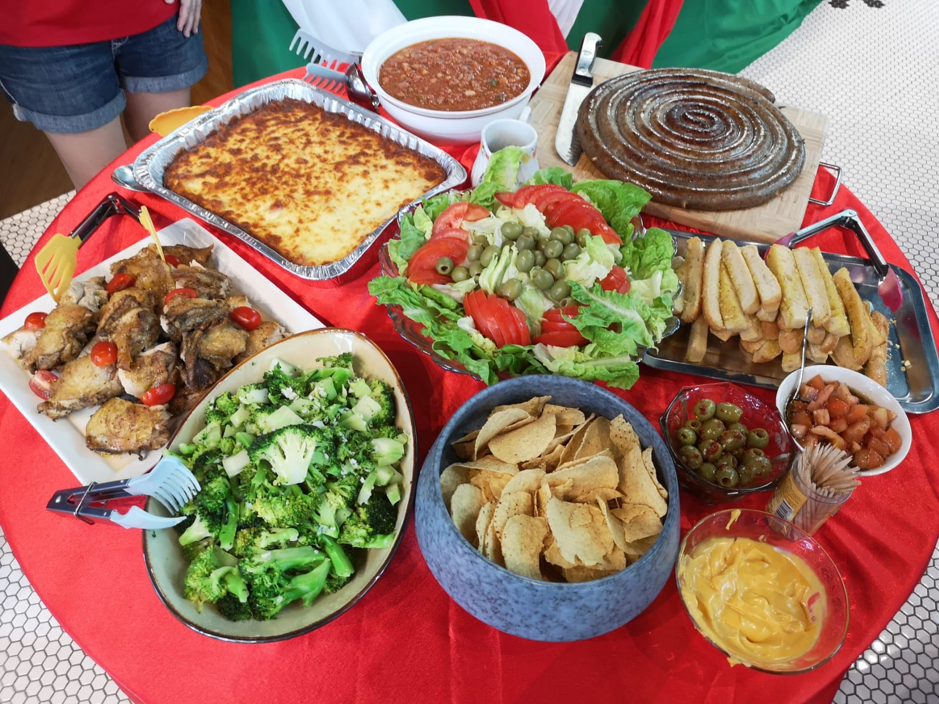 Some of My NoNNa's yummy offerings.
How wonderful to hear. Can you share any other memorable incidents when you realised your work at MyNoNNa's was making a positive impact?
Within our first year of operations, I began to receive positive feedback from the parents of some employees. They would come up to me to share how much their child had improved, either socially or in their ability to cook for themselves and their families. I can also name two particularly memorable cases. We had hired a middle-aged man with intellectual disabilities: he was in his forties and had not worked for the past two decades. It took us much longer to train him than someone 20 years his junior, but when he finally mastered the cooking, we all felt such an immense sense of accomplishment! Another proud moment was when I attended the graduation ceremony of a female staff member. She was able to graduate from her special education school only because we'd offered her a position at My NoNNa's. Her mum and I were both in tears that day.
We cannot end this interview without talking about food. Which is your personal favourite item on the MyNoNNa's menu?
Mac and cheese!
There's so much more to Italian cuisine than pizza and pasta. What's one Italian dish you wish more people knew about? Osso Buco. It's a slow braised veal shank stew, the ultimate comfort food.
What is the easiest Italian dish someone can make with the fewest ingredients?
Pasta aglio olio.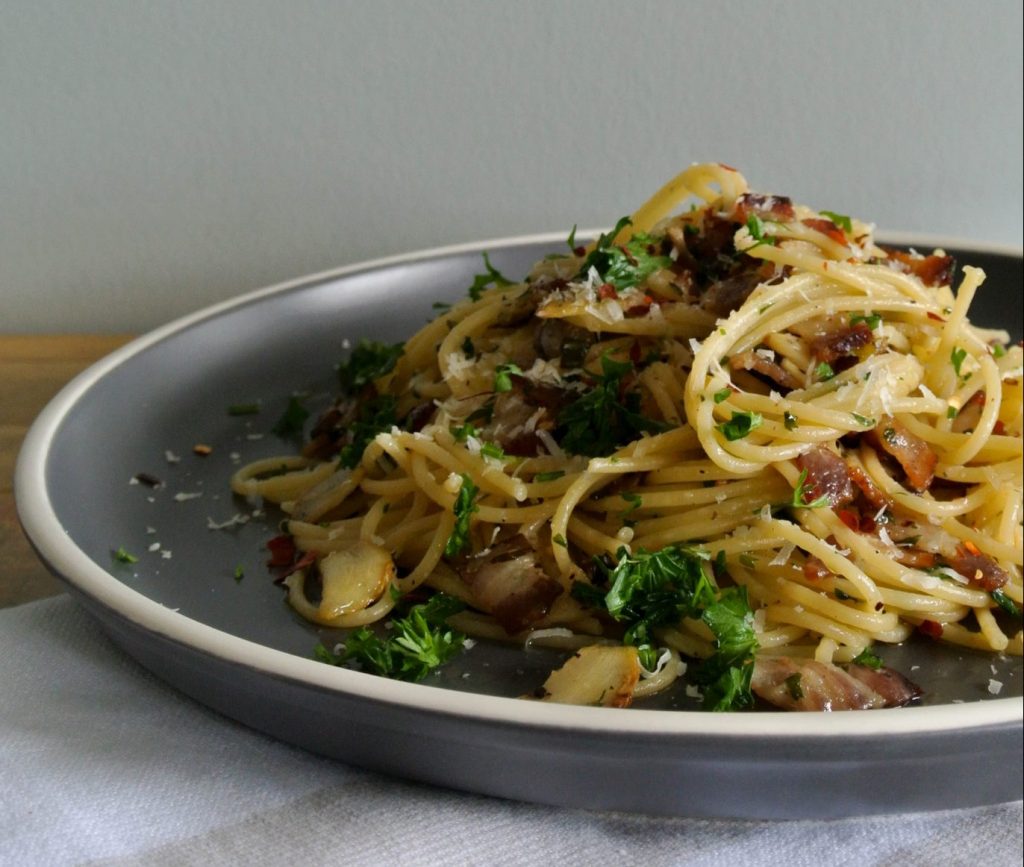 Pasta aglio olio; image by Youjeen Cho via Unsplash.
Who are your favourite celebrity chefs?
Nigella Lawson and Racheal Ray. They're both self-taught chefs, and so am I.
Do you cook on your days off and is Italian food usually on the home menu too?
I try to cook for my family whenever possible. Sometimes Italian, other times Peranakan because I'm half Peranakan.
If you could picture your last meal, what would it look like?
I'd be having a great big Tomahawk steak paired with some Brunello di Montalcino, an Italian red wine.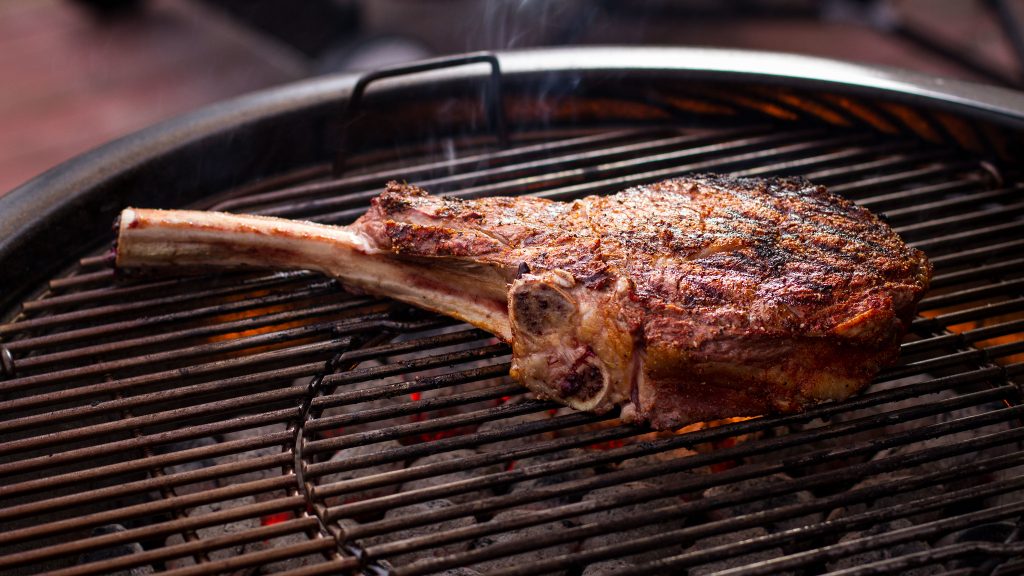 Grilled Tomahawk steak; image via Flickr (CC BY-NC-SA 2.0).
What's next for My NoNNa's?
I'd like to see a growth in franchises—hopefully more parents or caregivers of individuals with special needs will set up new outlets together. My NoNNa's will also be playing a big role in the development of an academy that offers training to persons with special needs, as well as to hiring organisations and the people supervising them.
Unless otherwise stated, all images are courtesy of Geraldine Tan.
---
Esther Tan

was a 2019 Summer Associate (Editorial) at the Lien Centre for Social Innovation. She is a rising sophomore from the Faculty of Arts and Social Sciences at the National University of Singapore, with a double major in English Language and Japanese Studies. As someone who believes that words are the strongest weapon one can wield, she is deeply interested in how language and culture shape us as individuals. In her free time, she enjoys translating her favourite articles from Japanese to English. She can be reached at hello@socialspacemag.org