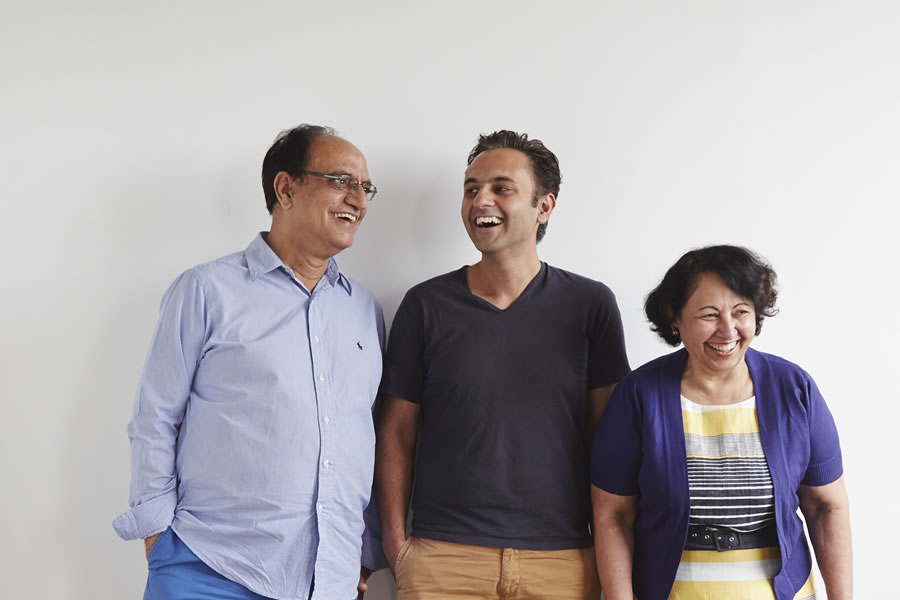 Meet Ankit Chopra, founder of Eat Me Chutneys, a Sydney-based social enterprise that aims to stymie the effects of food wastage, one jar of chutney at a time. This certified BCorp salvages unsold or discarded produce—perfectly edible fruit and vegetables that are bound for landfills because they look squished, bruised or irregularly shaped—and turns them into handmade chutneys. The result? Delicious and original concoctions such as "Tomato + Kaffir Lime", "Tamarind + Fig", "Rhubarb + Ginger", "Quince + Clove", and so on. ISHAN SINGH speaks with Ankit about how he preserves taste while managing waste.
---
We'd love to learn more about Eat Me Chutneys. Please give us an elevator pitch.
We're a little different but still delicious. As with people, fruits and vegetables get rejected for their lumps, bumps and blemishes, twists, kinks and colour. But our motto is to embrace them all, regardless of their "imperfections". Essentially we rescue the "wonky" produce from smallholder Australian farmers and convert them into lip-smacking chutneys.
We're sold. But can you elaborate on your "Organic Thoughtful Chutneys" slogan?
As a certified BCorp, we do ethical sourcing, which involves visits to all our suppliers, and using organic produce and Fairtrade spices and sugar. The thoughtfulness aspect comes from product innovations—our original chutneys are created from foraged, indigenous and ethnic flavours—and as a company, we're constantly engaging with the community by holding classes, mentoring others and participating in donation drives.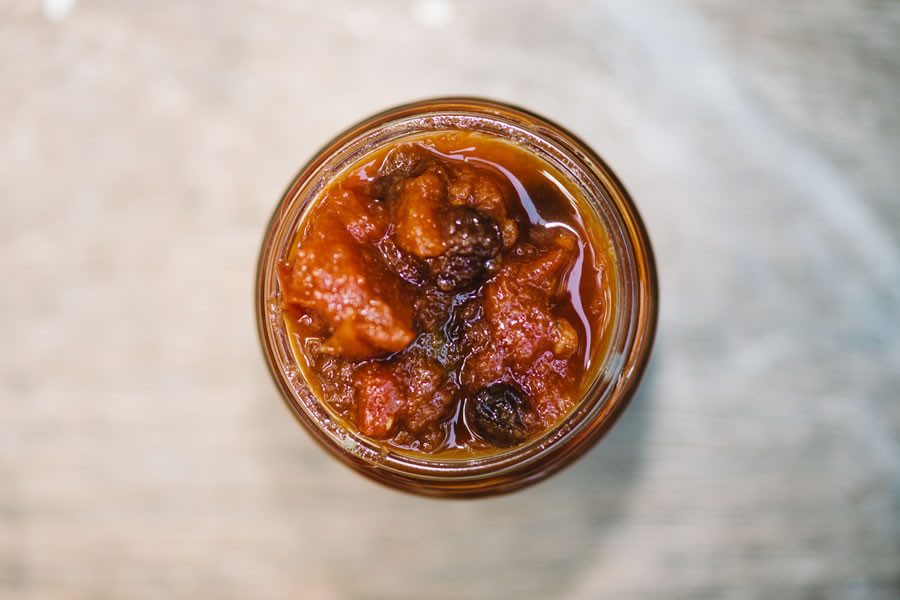 Top view of chutney
How did the idea of Eat Me Chutneys come about?
It began as Mum's little weekend plan to make and sell her amazing "Tamarind + Fig" chutney, but that turned into a year-long research project when we got curious about where all the individual ingredients came from and who was growing them.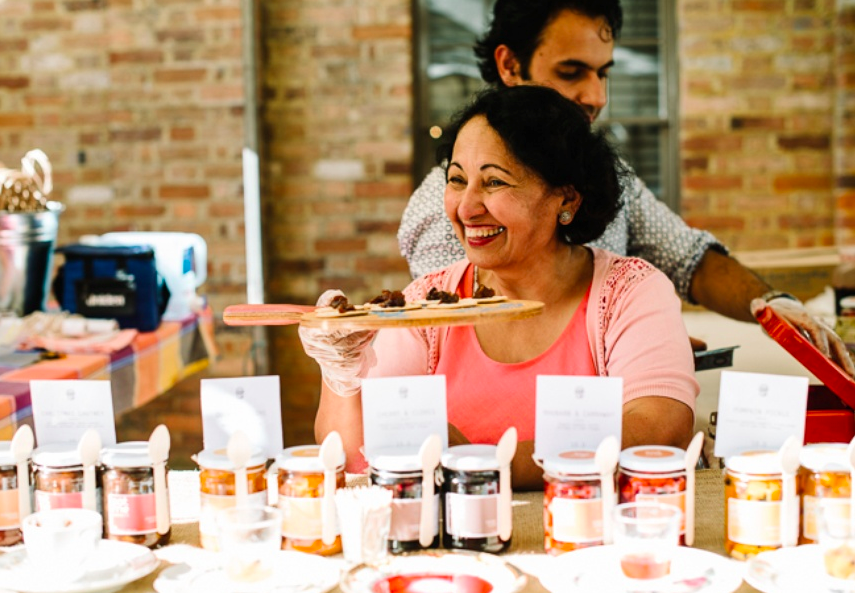 Ankit's mother Jaya ("The Chutney Queen")
And so we started to experiment with more types of produce in our chutney recipes, from rhubarb and kumquats to tomatoes and eggplant, and switched to Fairtrade (and organic) ingredients along the way. Just thinking about how all this gorgeous produce would be dumped in landfills spurred us to salvage and make great chutneys out of them. We're very proud that our Tamarind chutney became Australia and New Zealand's first and only Fairtrade certified chutney.
Before this, you trained as a chef at Le Cordon Bleu and worked at L'Astrance (a three-star Michelin restaurant) in Paris. Was it difficult making the career switch from chef to social entrepreneur?
Not really. Everyone around me was very supportive. Ultimately it was important that my family and I pursued what we enjoyed doing—and not something that was just about pleasing and attracting customers. We're socially minded people, so it made sense to start a social enterprise.
We had to ask: what's it like running a business with your parents?
So much fun and a constant learning process! It's been an interesting journey, especially since none of us has ever run a business. Mum, Dad and I all come from very different professional backgrounds, but the familial bond was what brought us together. There's definitely also a downside to working so closely with family members, however: personal biases can creep in every now and then, but we're learning how to manage these.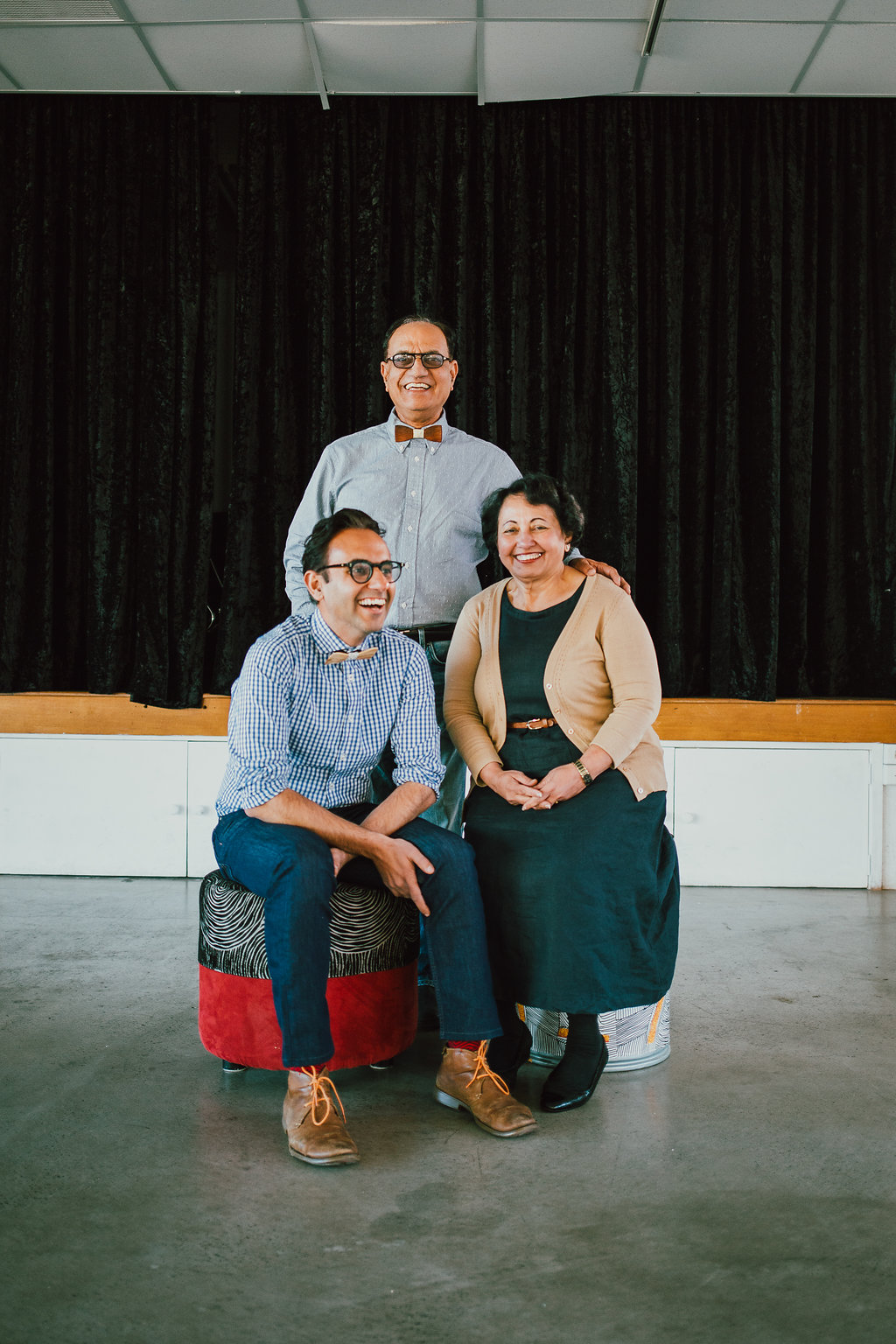 Ankit (seated, left) is a Michelin-trained chef, his mum (seated, right) Jaya is "Chutney Queen", and his dad Bhupinder (standing) helps with labelling and packaging.
How do you measure your growth and social impact?
As with most companies, financial growth is an indicator of success. We're working on building a growth yardstick to examine how active we are in environmental and labour advocacy over the last fiscal year, and to see how this can co-exist with our financials. Besides converting would-be food waste to delectable chutney, we create social impact by providing jobs to disadvantaged women in our community. Our employment programme aims to help these ladies develop applicable skills, gain financial independence, and go on to lead purposeful lives.
Tell us a little-known fact.
On any given day, we receive phone calls that go something like this: "We have 30 kg of unsold eggplants this week, the yield was much higher than we expected." The caller in this example is Field to Feast, which grows chemical-free produce on a small farm in Catherine Fields (Sydney, Australia). To date, we've rescued approximately 100 kg of produce from them.
Since we're on the topic, how do you take your chutneys?
Mum's personal favourite is "Tamarind + Fig" as it brings back fond memories of eating together as a big family. We also enjoy this flavour in the form of tamarind chicken wings—they're perfect for a quick BBQ meal. And then there's "Rhubarb + Ginger Pickle", which tastes amazing with a bowl of vanilla bean ice cream, or as a topper for toasted granola, yoghurt or fresh fruit.
Eggplant + Curry Leaf Chutney
But my absolute favourite chutney flavour is "Eggplant + Curry Leaf". It works with almost anything! No lunch in the fridge? No worries: I could mix in the eggplant pickle with steamed rice, or have it as a ham-and-eggplant-pickle sandwich.
What advice would you impart to aspiring social entrepreneurs?
It's important to follow your own inner compass. Eat Me Chutneys is an extension of my family's natural way of life. I believe that everything begins from the smallest rituals and gestures—the positive energy will then flow into your space, spirit, and eventually the product you're creating (in our case, chutneys). Being well-intentioned has been so crucial in our journey: whether we were setting the dinner table, or travelling out to meet farmers, or simply being inquisitive, they all had a part to play in Eat Me Chutneys' growth. So quite simply, my advice is: everyone's journey is different. Don't follow in anyone else's footsteps except your own.
All photos courtesy of Ankit Chopra, Eat Me Chutneys
---
| | |
| --- | --- |
| | Ishan Singh is a first-year undergraduate at the Singapore Management University's School of Business, and is an Editorial Assistant of Social Space Magazine. He spends any spare time he has rapping or producing music, and hopes to pursue a career in music. Passionate about the arts and writing, Ishan hopes to write articles and make videos that shed light on the importance of the arts in our communities. He can be reached at ishan.singh.2018@business.smu.edu.sg |