Meet Veerappan Swaminathan, 34, Founder and Director of Sustainable Living Lab, a for-profit social enterprise that develops solutions for organisations and communities to grow sustainably. Championing the UN's Sustainable Development Goals (SDGs), SL2 helps companies advance both their business goals and CSR agenda by creating more sustainable practices and products. PETER BINGXUAN WANG finds out more.
---
Please tell us more about yourself. What's your background and how did it lead you to start SL2?
Raised in an upper middle-class family in India, I had the opportunity to travel regularly within the country. Many times, I ventured outside the city areas and into the villages, and I recognised from a young age that development standards could vary radically even within the same country. I graduated with a B.Eng (Mechanical) from the National University of Singapore in 2011, and am presently pursuing a Master of Science in Intellectual Property Management at NUS.
All in all, you can say that my university years set the groundwork for SL2.  In my freshman year, my present co-founders and I designed a solar fruit dryer that won the UNESCO-Daimler Mondialogo Engineering Award. Today, our partners have since taken this product further and installed it in 2,000 villages across India. As an undergrad, I took part in 11 competitions, won 7 of them, and used the prize money and grants to set up SL2 and buy our first few machines. My time spent with the University Scholars Programme and NUS Overseas Colleges also built for me a powerful network of trusted allies whom I still turn to till this day. More significantly, I learned important skills such as project management, technical drawings and machining—all of these gave me a good head start in the prototyping aspects of my business.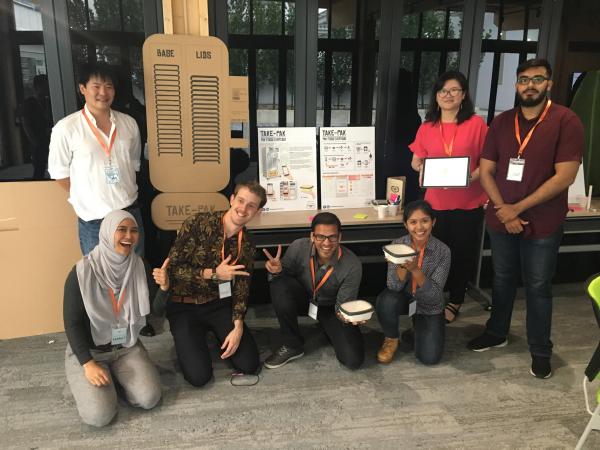 At Sustainability Circle 2018, the SL2 team explored new ways to create sustainable, resilient, long-lasting value in the circular economy.
Why was Singapore a suitable headquarters for SL2?
Singapore is a unique location to set up a company specialising in sustainable development. We have a global reputation for being a modern urban city with low corruption, and many countries consider Singapore to be a model for sustainable development. By establishing SL2 here, clients intrinsically trust us to deliver a good job and to be an honest operator.
On the other hand, the people in Singapore seem to deal more with "first-world problems" than with fundamental development issues facing their neighbouring countries. As such, we have to spend more time understanding the issues and developing the systems.
How does SL2 differentiate itself from other companies working in the sustainable development space?
Generally speaking, there aren't very many companies working in the sustainable development space now. The sector mainly comprises non-governmental groups or charities that use a grant-based model to effect projects. As a for-profit business, we are typically ineligible for grants, but that in turn encourages us to come up with creative ways to generate both commercial and development value.
Compared to other players in the market, our strength lies in our ability to move from the ground to the boardroom, and vice versa. The knowledge and feedback we get from the ground helps us to build strong initiatives and programmes. Additionally, by staying ahead of the tech game—whether it's in digital manufacturing, IoT, or artificial intelligence—we're constantly finding new ways to use tech as a lever for sustainability.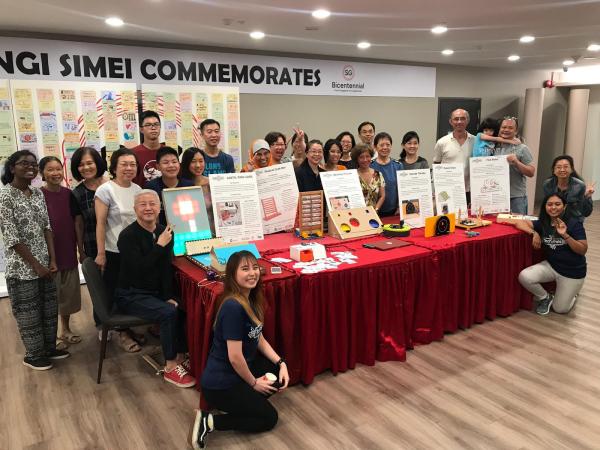 The SL2 team at Tech Pals Product Exhibition: Designing for Seniors with Dementia, held at Changi Simei.
Being for-profit, how do you sustain the business financially?
We run commercial projects and get paid for our services. As long as we maintain a good supply of projects and generate good outcomes, we'll be fine. That said, I did not go into this thinking it was going to be financially lucrative career; rather, I consider the purpose-driven nature of SL2 to be more valuable, and that makes me proud of every dollar that I make.
Who are some of your major clients and what kinds of services do you provide?
At this time, some of our bigger clients include Intel, Nippon Closures, IMDA, and most recently Nanyang Technopreneurship Centre.
Earlier, our projects tended to be one-off and our services were limited to specific parts of the programme, such as innovation event management, workshops, or prototyping. In the past two years, however, we've begun to be involved right from the conceptualisation phase. Our standard projects, located in Southeast Asia or India, span at least six months, and we take care of everything from conceptualisation to on-the-ground implementation.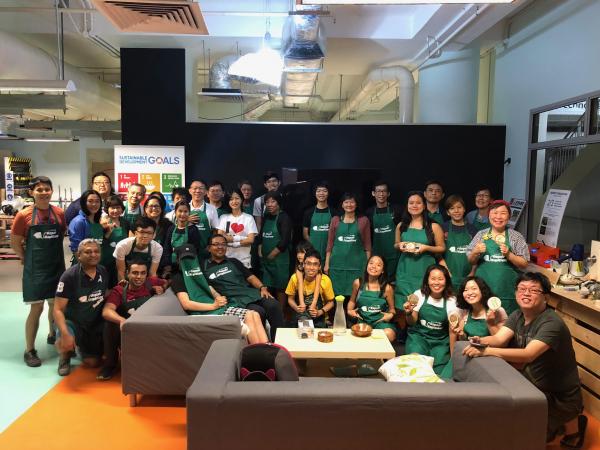 Graduates from Season 2 of Repair Kopitiam
What's the most memorable project you've ever worked on?
Every project is memorable as we almost never do the same thing twice. But if I had to pick one, it's our current undertaking with a certain global technology firm, which I cannot name for NDA reasons. As part of this work, we've essentially developed the national AI curriculum (supporting SDGs) for 28,000 high schools across India. This same curriculum has also gone international, and expanded into South Korea, Poland and China. The impact scale of this project is staggering for a tiny social enterprise like us from an even tinier Singapore.
Tell us more about your team and the people you work with.
We have a base of technologists with a track record of practical experience in the field. Anybody who joins our company is also expected to have developed a personal conviction around sustainability and to have the desire to work directly with the communities we serve.
We've been in the business for eight years now. In this time, seeing some of our younger team members grow older and move on to do great things of their own, I feel somewhat like a proud parent. I'm also happy when our communities carry on with the projects we seeded, and when they embrace the projects as their own. This heartens me, knowing that our company and mission will continue long after I'm gone. To me, that's true legacy.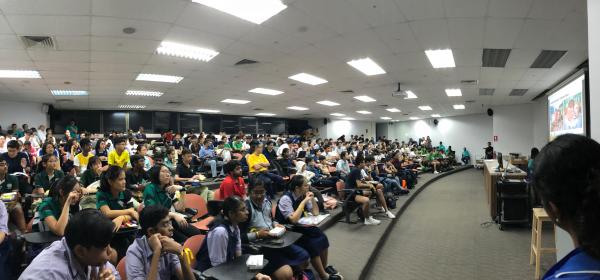 Hackathon at the Young Technopreneurship for a Sustainable 2030, organised by the Science Centre.
What does social impact look like to you?
Our social impact varies by project. If I had to draw a common thread, it's about empowerment. As we take a community through a technical/technology experience, we're also bring about a mindset shift in the process. The experience serves as a data point of a time when someone was able to overcome something they previously thought was impossible. SL2 thus exists to remind people that community, business and the environment are inextricably linked. As more organisations look to go more sustainable, we are here to offer the guidance and technological expertise to help them determine how best to deploy their resources to create a more sustainable future.
Can you share some instances when you saw the positive impact of your work on people?
We're not exactly a beneficiary-focused organisation, as our social impact work is the area of general sustainability. This means we usually measure our impact based on waste reduced, number of prototypes created, programme participation numbers, and so on. That being said, I'm happy to share here an excerpt of an email I received from the parents of a 16-year-old boy who's been involved in our work since he was 9. He had previously been socially reclusive and uncertain about what he wanted to do.
"We could see that you are passionate about what you do and we are so glad that we stumbled upon your course. You have helped to open a new world for our son who has started discovering an interest in using his hands and mind to create in the last couple of years."
In another example, our first formal hire, Zi Jing, was an ex-probationer who'd fallen into bad company. Since we started working with him as part of his court-mandated probation term, he found a new purpose and went back to school. Today, Zi Jing has completed his probation and moved into full-time employment.
PlastiCity, a community project by SL2, at Maker Faire 2018.
As someone who works in sustainable development, what sustains you as a person?
Variety. I need to be doing different things, as that enables me to go into different modes. Being father to a baby also sustains me a great deal.
What advice do you have for anyone aspiring to pursue a career in sustainable development?
Before anything else, understand the issues and fall in love with the problems. This often means travelling to places to get to know the issues first hand, and doing fieldwork prior to devising solutions or starting projects. It is time-consuming, but if you want this for a career, you must know what you're getting into.
Finally, what's next for SL2?
We've recently expanded our offices into Indonesia and India. In 10 years' time, we hope to have laid a network of labs operating in several second- and third-tier Asian cities.
---
Peter Bingxuan Wang was a 2019 Summer Associate (Editorial) at the Lien Centre for Social Innovation. Originally from Beijing, Peter is currently a rising third-year student at Columbia University in New York, where he majors in Philosophy. Interested in the intersection between journalism and social activism, he writes for his school newspaper and is involved with an educational non-profit. In his free time, Peter enjoys travelling, watching movies and reading any book that falls into his hands. He can be reached at bw2550@columbia.edu