By Ishan Singh
As the Internet integrated its way into society over the course of the 2000s, it became responsible for the birth of a new brand of celebrities: social media personalities. The power of reach, once so preciously protected by newspaper companies and record labels, today finds itself accessible by anyone with a WiFi connection. To quote Childish Gambino, an artist born into the digital age, "I got fame, my A&R's a computer." Today, we find musicians making careers out of their bedrooms, recording on USB mics plugged into their laptops. All it takes is a few clicks to get their music online and then the rest of the world may listen if they wish to. We find actors recording low-budget skits on their cell phones, some of which receive greater acclaim and viewership than movies backed by multi-million dollar budgets. "Slice of life" is another style of visual storytelling depicting footage from moments of everyday life. As long as viewers are interested in "being let in" on another person's life, creators themselves will continue to make vlogs (short for "video blogs"), documenting themselves everything from skydiving to rearranging closets. Today's most popular vloggers have tens of millions of followers.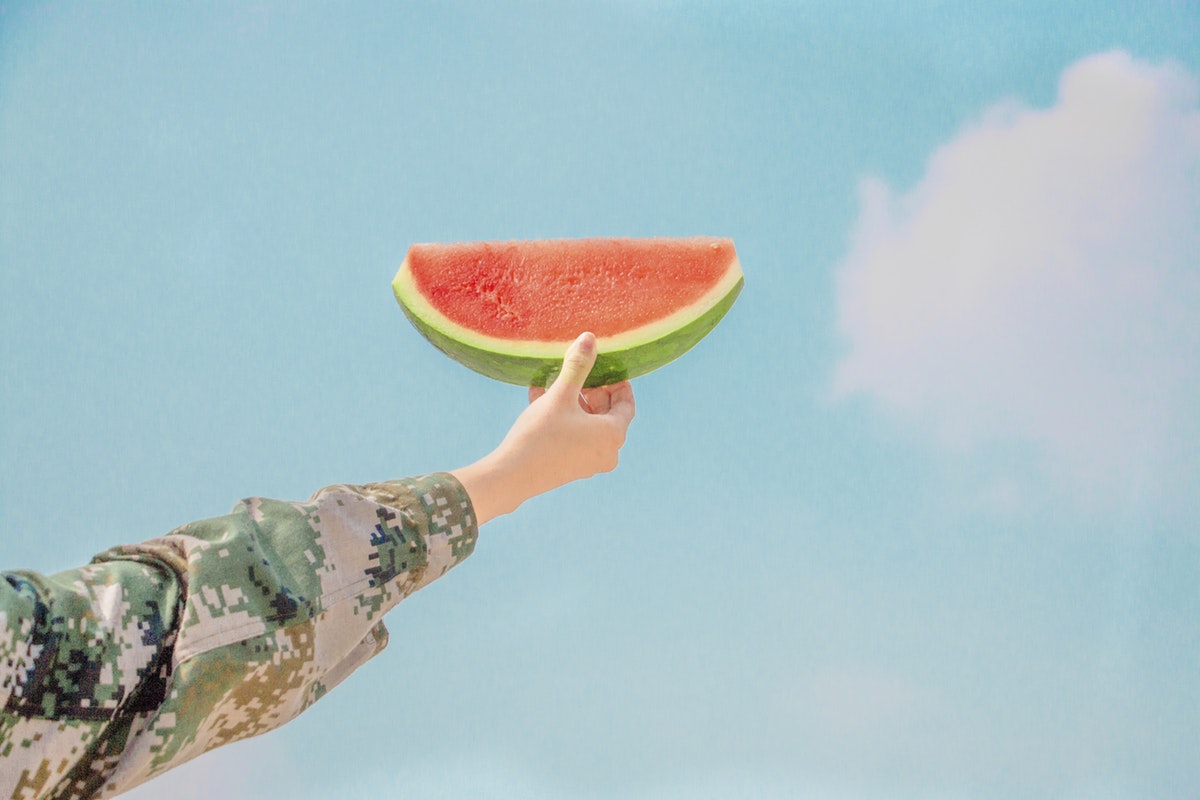 Image by Scott Webb via Rawpixel
Other styles of "slice of life" storytelling involve the creators having live chats with their subscribers, or chatting with friends on trending topics. Yet others conduct "social experiments" where they interact with strangers and talk their way into (and out of) funny or awkward situations, while capturing the reactions of all involved. In this edition of #TheShortList, I review the content of some famous internet personalities—motivational speakers, visual storytellers, social commentators—who have built a sizeable audience, and unravel some key takeaways. I have also included my ratings, based on how strongly I'd recommend them to a friend.
---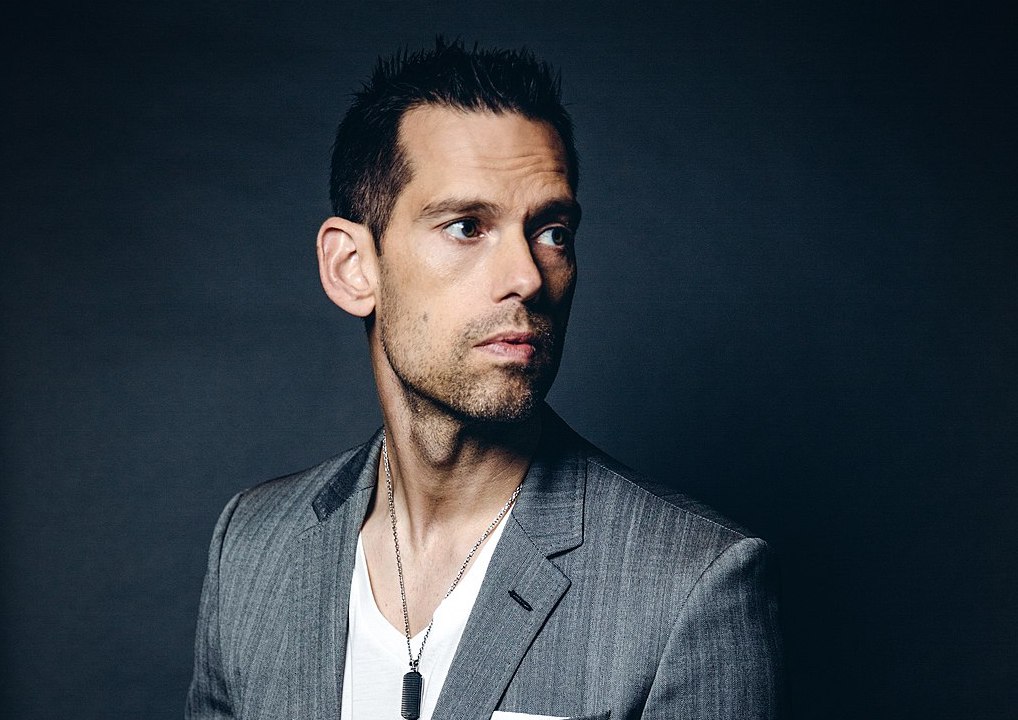 Image via WikiMedia Commons (CC BY-SA 4.0)
In 2016, Tom Bilyeu cofounded a media company, Impact Theory, with his wife Lisa Bilyeu. Presently, the company releases talk-show format interviews hosted by Bilyeu himself, featuring successful people from different walks of life. In just three years, he amassed over a million followers on YouTube, and continues to publish new videos up to twice a week. Having different guests on his show allows Bilyeu to create a wider variety of content as he uses his platforms to share all their different experiences. Going through his videos, I felt like I was faced with a motivational buffet, wherein I could select the content relating to the specific areas of my life where I felt I needed more insight or inspiration. With guests ranging from hip-hop artists like Talib Kweli to neuroscientists like Joe Dispenza, listeners are let in on some unique perspectives on life, and come away from the experience deciding what's useful to be applied to their own situations. What sets Impact Theory apart from other popular serialised motivational content is that it doesn't come across as preachy and neither does it try to impose opinions as absolute truth.
The interviews themselves are about 40 minutes long each, and didn't leave me with a heady buzz I sometimes experience after consuming "motivational" content. I also appreciated Bilyeu's deliberate choice to omit the "inspirational war music" in the background that some creators use for dramatic impact. Without these typical "distractions", I got to pay attention to what was being said and to figure out what held the most relevance for me. If you do check out Impact Theory, there's a fair chance that you'll walk away with valuable insights and a desire to act upon them. That's far more than can be said for a lot of other motivational content found online. Have a listen and decide for yourself.
Similar personalities: Tim Ferriss , Andrew Warner
Would recommend? 4.5/5
---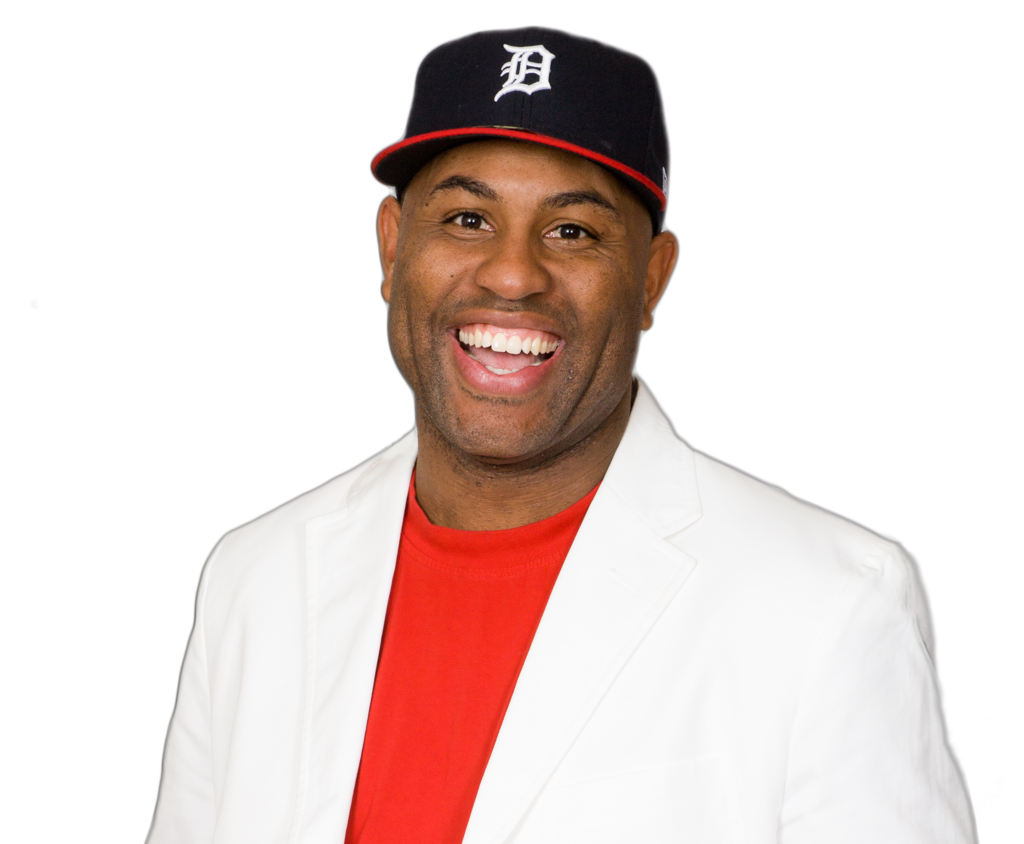 Image via WikiMedia Commons (CC BY-SA 4.0)
Eric Thomas, who goes by "ET the Hip-Hop Preacher", was a high-school dropout who was homeless for two years until he turned his life around by going back to school and finishing college—a process that spanned 12 years. Today Thomas is one of the world's most famous motivational speakers, i.e., his name appears as one of the top results if you Googled "motivational speaker". Prior to doing research for this article, he's also the only one I'd heard of. I'd describe Thomas's motivational speeches as "cookie-cutter" insofar as they are applicable to almost anyone and everyone. He has no discernible target audience and speaks with incredible passion, especially when he recounts some personal stories. His monologues are also commonly used as backdrops to numerous "inspirational-style" YouTube videos, and as the introductions to songs such as "Wins and Losses" by rapper Meek Mill.
Back when I was a high-school student, I watched my fair share of ET videos and loved them. Today, while I still enjoy his content, I am listening with slightly more scepticism that has less to do with Thomas and more to do with the way "motivation" is structured and purveyed as a product of business. Instead, I identify more with the words of Jocko Willink, a former Navy SEAL turned podcaster. On motivation, he had this to say: "Accomplishing your goals is not about motivation, it's about discipline. Motivation is fickle, it comes and goes.  Motivation is unreliable and when you're counting on it to get your goals accomplished, you're likely going to fall short." This statement really resonated with me and has inspired me to cultivate habits instead of relying on willpower alone. Consuming Thomas's content, while satisfying, upholds my personal belief that motivation is meant to incite action, not act as a substitute. If, after watching a "motivational" video, you find that you only feel like watching another, reconsider the value you're deriving from it. Does it differ so much from binge-watching reality TV or having a Netflix marathon?
Similar personalities: Les Brown , Wayne Dyer
Would recommend? 3.5/5
---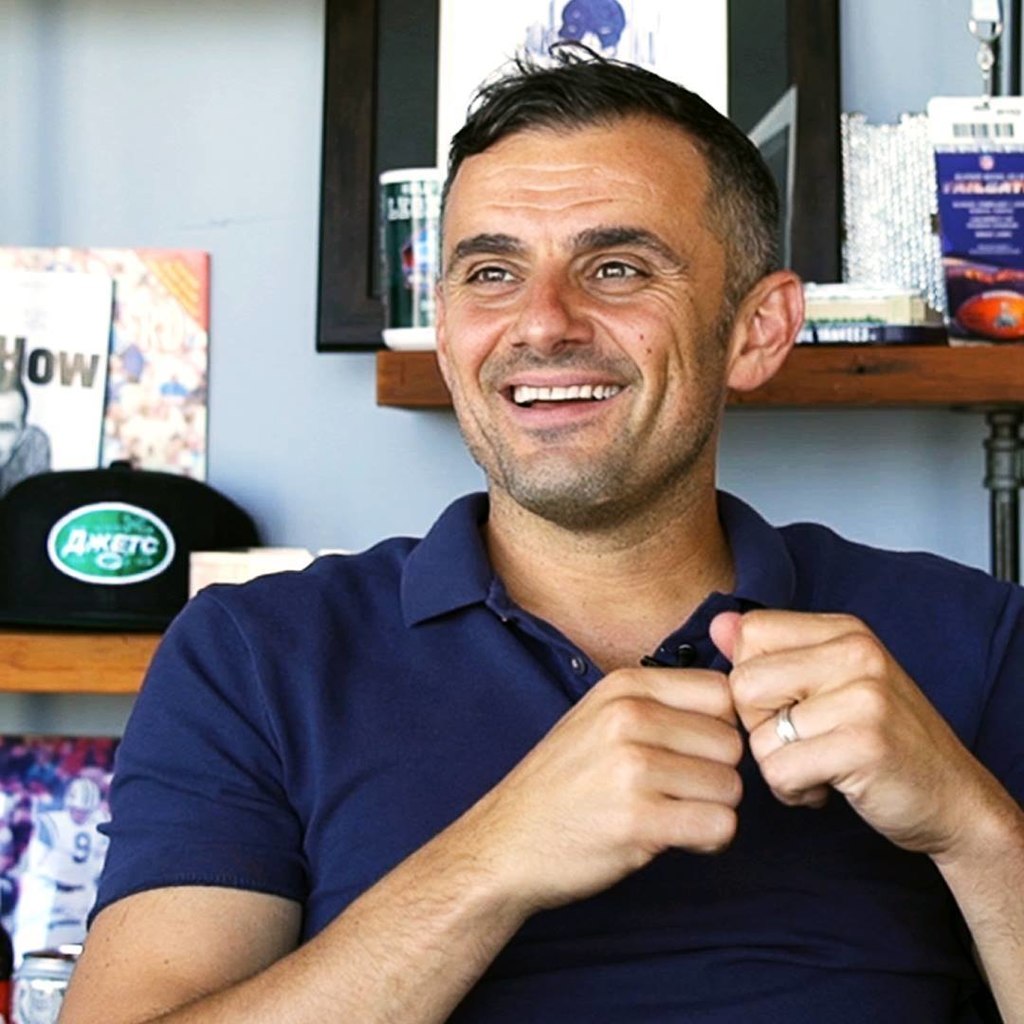 Image via WikiMedia Commons (CC0 1.0)
Gary Vaynerchuk (who goes by Gary Vee) is among the first generation of entrepreneurs to tap into the potential of e-commerce. A staunch proponent of social media, he speaks at length about the increasing prominence of the digital world and the importance for entrepreneurs to build and maintain a strong online presence. "Put out content. Put out a great product. Test things. Try it all," says Vee, in one of his most popular YouTube videos.
After browsing through his social media pages, watching his daily videos on YouTube, listening to his podcasts on Spotify, and tuning in to his commentaries via Instagram Stories, I found his messaging to be consistent across his various platforms. Most of the material revolved around the idea that "If anyone ever did it, you can too. Stop making excuses. Stop complaining." Although Vee's content is specifically targeted at aspiring entrepreneurs, I must admit that his charisma and energy captivated me and made me want to keep listening. Hearing stories about his hustling and grinding over many years, I felt—for a fleeting moment— inspired to dive into my own pandora's box of pipe dreams. This included revisiting an aspiration I had as a 13-year-old to start a comic book company. But like I said, that burst of "motivation" did not last very long at all. Perhaps I have my work ethic (or lack thereof) to blame for that, or maybe it's just that Vee's words, while fanciful, lacked real insight and value for me personally. That being said, I don't mean to discount Vee's experiences and knowledge in any way. How impactful his advice can be depends largely on the way his listeners decide to interpret it and apply it to their own lives and situations. After all, someone like Vee may very well be the exception instead of the rule. For instance, he is certainly not the only one to embrace the idea of being fearless in the face of failure; however, the implications for each individual are very different. Should you dive into the world of Gary Vee, do so with an open mind albeit decent hold on your own reality. He may not offer a one-size-fits-all formula for success (because it doesn't exist), but getting a taste of his infectious enthusiasm can be in itself motivational.
Similar personalities to check out: Tai Lopez , Ali Brown
Would recommend? 3/5
---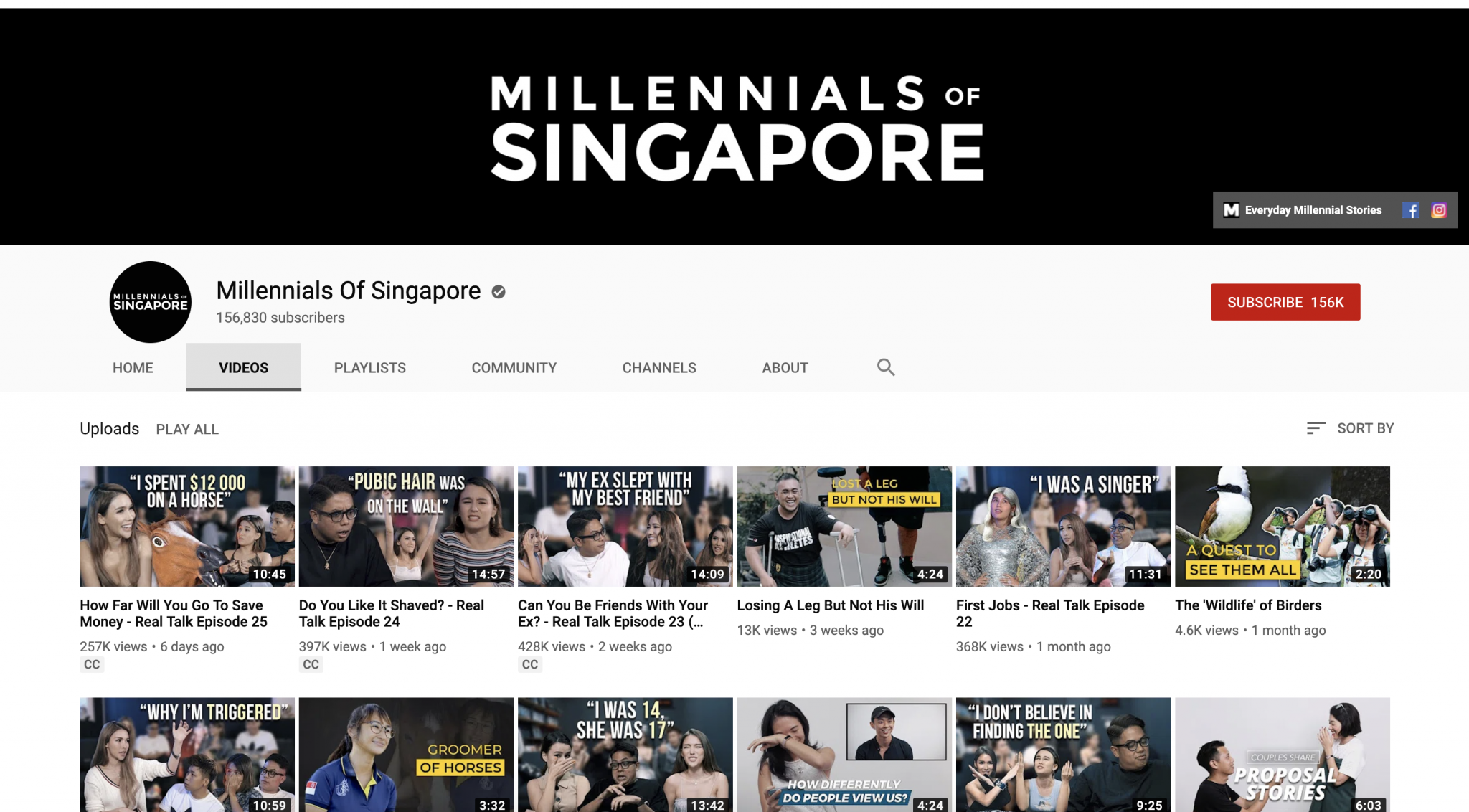 Screengrab of Millennials of Singapore's YouTube homepage
Dedicated to sharing the stories of everyday people, Millennials of Singapore is a popular Singaporean YouTube channel. Although it has only been active for about two years, MOS has amassed a wide following, its videos frequently garnering hundreds of thousands of views. The channel houses various series, the most popular of which is "Real Talk", where four hosts discuss a different social topic on each episode. With clips never going beyond 10 minutes in length, the content is concise and punchy. The edits are well placed and there are strategic jump cuts keep audiences captivated. The hosts also enjoy an easy chemistry play well off of each other's energy. Watching episodes of "Real Talk" feels just like listening in on conversations among friends. Everyone is comfortable in front of the camera and forthcoming with sharing personal stories. These factors, and more, make MOS videos relatable and an easy watch.
While it's not important to watch the series in order, I started with the first episode, where they examined feelings of insecurity. The content is potentially binge-worthy, so you may find yourself going through many episodes in a row. Other than the "Real Talk" series, there are videos that feature individuals and their personal stories. These cover a wide range of people, from zookeepers and football players, to those who share their unique experiences, including religious conversion or having gone to prison. Millennials of Singapore is definitely a YouTube channel worth checking out, especially if you live in Singapore. The content is professionally produced, and will surely leave you with something new to think about.
Similar creators: Humans of New York , Humans of Bombay
Would recommend? 4/5
---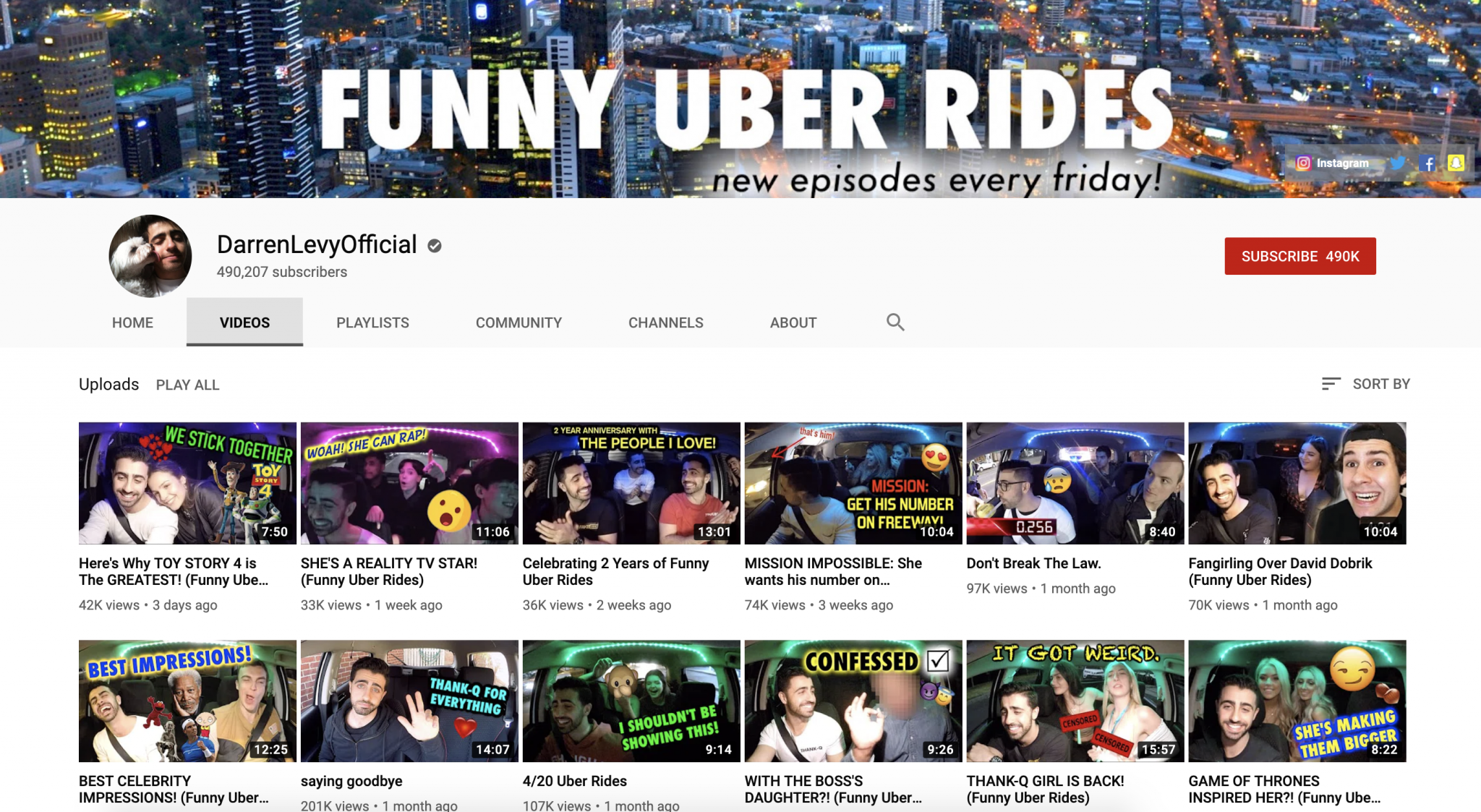 Screengrab of DarrenLevyOfficial's YouTube homepage
Sometimes it's easier to open up to a complete stranger you're not likely to see again. Someone like a cab driver, perhaps. Darren Levy drives for Uber in Australia and records all the trips he goes on. He then compiles all the best bits at the end of each week and publishes these clip on his YouTube channel (with his passengers' permission). The idea of listening to other people's in-vehicle conversations might not be everyone's idea of good entertainment, but give it a shot and you might be surprised.
Personally, I find it interesting to see what a random stranger in another country did on a random night out. Most of the conversations consist of small-talk or banter; not all are particularly informative or topical. However, listening to these helps me put in perspective the vastness of our world. It makes me think about just how many people are living their own lives and dealing with their own problems at any given moment in time. Darren's a great conversationalist and always puts together an interesting watch, whether it involves drunken businessmen spouting life advice or angry couples dragging him into their arguments. The videos are always around ten minutes long, and one can always look forward to a mix of light-hearted, funny moments.
Similar creators: RyMac, Ryan is Driving
Would recommend? 4/5
---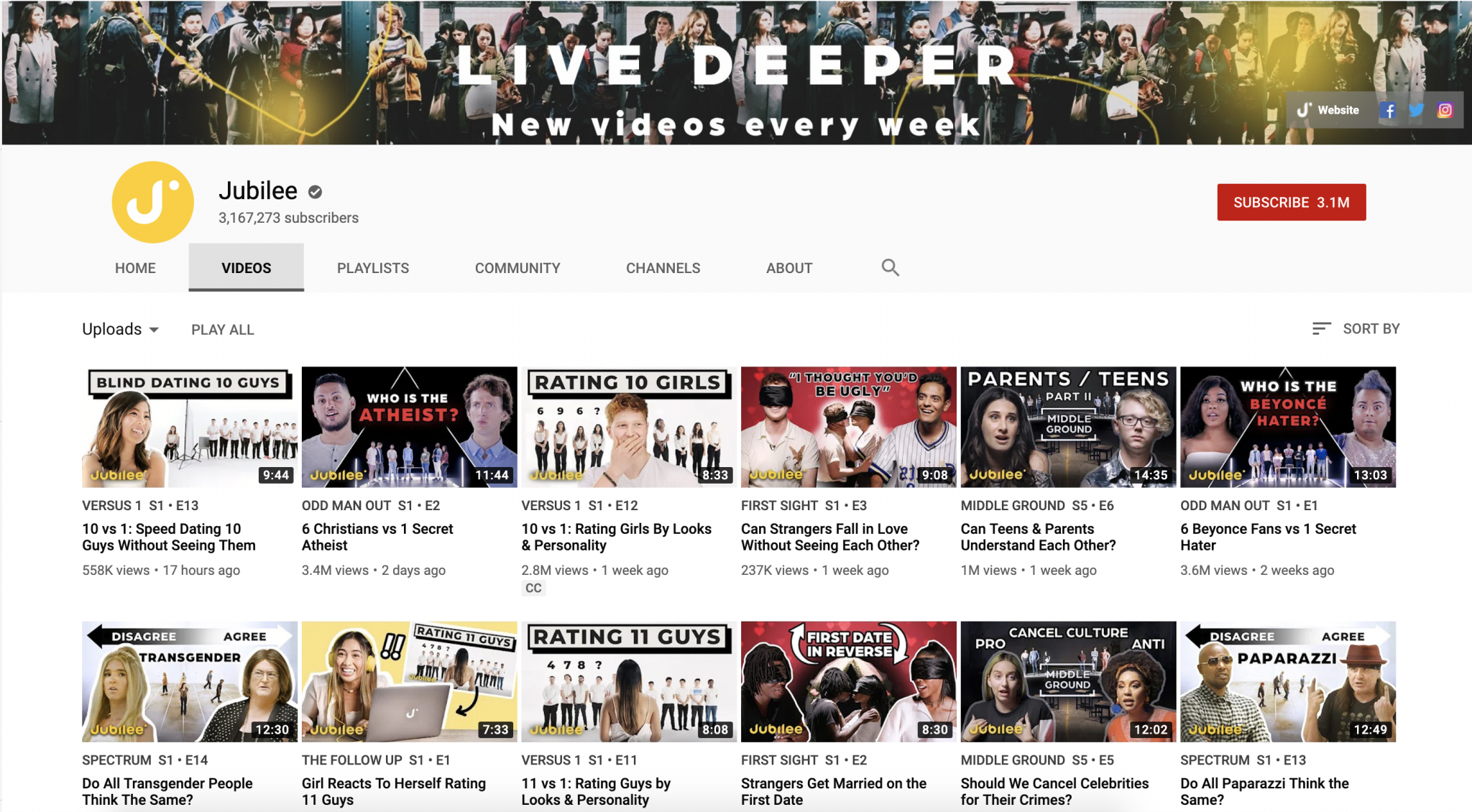 Screengrab of Jubilee's YouTube homepage
Jubilee is responsible for what I consider to me some of the most innovative and thought-provoking content on YouTube. Among their numerous series and standalone videos, some of my favourites include:
"The Middle Ground": Two groups of people, each holding radically different beliefs, are brought together to have good-faith discussions on various, often controversial, topics. Issues prevalent in today's society, such as "cancel culture" and "non-binary gender", are looked into from both sides. These videos help provide an equal platform for opposing views to be shared, and allow the viewers to form their own opinions.
"Bottom Line": The lifestyles of individuals across different professions are compared by following them around and recording their activities for a day. This series offers the viewers an insight into various work environments, and to see how people of varying income levels have differing priorities. My favourite episode (the first) contrasts the lives of Ricky and Azaraiah, the former earning US$11,000 every day as a trader, and the latter US$60 a day as a food-delivery person. As a college student, watching this series made me think about the direction in which I'm headed in life, and to consider what's most important to me.
"Real Monopoly": Four strangers—a businessman, a university student, a healthcare worker and a blogger—come together to play a game of monopoly with real money. Throughout the video, they discuss their take on various hypothetical questions that revolve around money. Viewers get to hear their different perspectives that stem from their unique personalities and the stages of life they're at.
Overall, Jubilee's videos are professionally produced in studios and the content always brings something new to the table.
Similar creators: Cut, SoulPancake
Would recommend? 5/5
Banner image via Rawpixel
---
| | |
| --- | --- |
| | Ishan Singh is a second-year undergraduate at the Singapore Management University's Lee Kong Chian School of Business, and an Editorial Assistant at Social Space Magazine. He spends any spare time he has rapping or producing music, and hopes to pursue a career in music. Passionate about the arts and writing, Ishan hopes to write articles and make videos that shed light on the importance of the arts in our communities. He can be reached at ishan.singh.2018@business.smu.edu.sg |