Meet Vikas Garg, 38, founder and CEO of abillionveg, a location-based app that lets you rate and review plant-based dishes or cruelty-free products from anywhere in the world. The feedback is not only valuable for people interested in plant-based living—consuming items made with plants rather than from animal-based sources—but is also a treasure trove of information for businesses looking to go the sustainable route. Users of this "Instagram-meets-TripAdvisor"-like platform seem to be enjoying the service, gauging from the app's 35,000 reviews spanning some 85 countries (and counting). With vegan options readily available at one's fingertips, Vikas and his team seem to have made green the new black. DO YOUN LEE finds out more.
---
Please tell us more about yourself. What were you doing before starting abillionveg? When I was younger, I wanted to be an adventure capitalist; in other words, an investor in emerging markets around the world. So after graduating from college in the US, I went to India to invest in and build tech companies. I spent the next several years working in banking, venture funds, pension funds and hedge funds, until I made the decision, on my birthday in 2017, to take the plunge and start abillionveg.
What spurred this decision to set aside a successful career in international finance to become a social entrepreneur?
I realised I wasn't driven enough by making money and staying on the same career trajectory for the next 30 to 40 years. Rather, I wanted my life and work to align with meaningful things that I could feel proud of.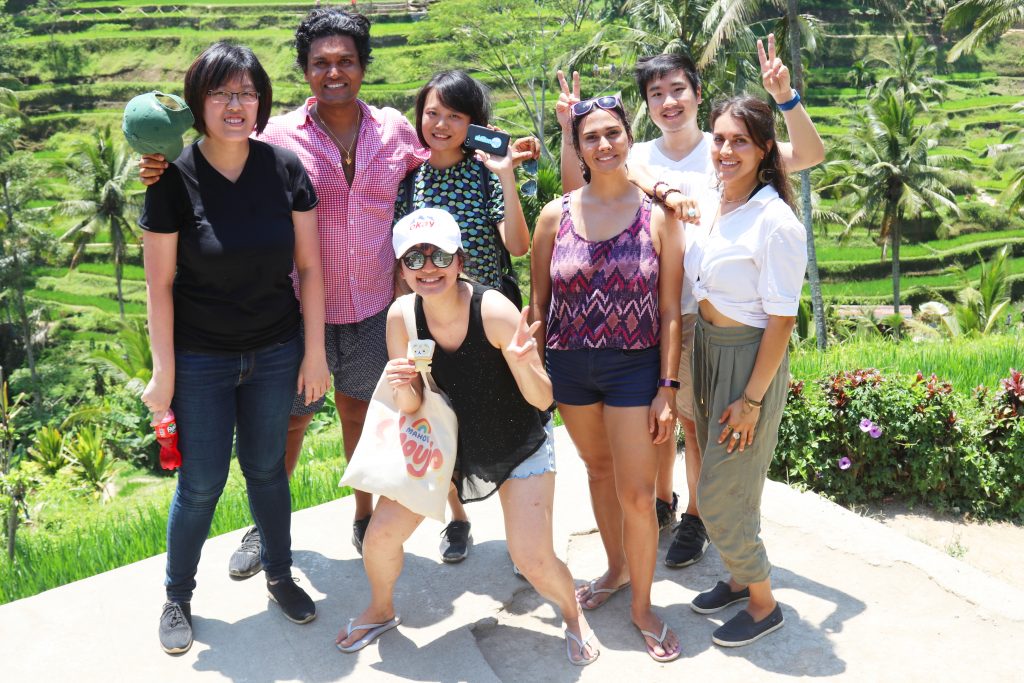 Vikas with abillionveg team members.
Please explain to our readers what abillionveg is in a nutshell.
It is a review and social platform that encourages more people from around the world to go vegan—our target is to hit a billion people by 2030. The app helps users find suitable options—whether it's a plant-based dish at a restaurant or cruelty-free mascara—and businesses can also look to the posts for insights on how to be sustainable.
How was the idea of abillionveg conceived?
It sprang from a belief that if we can make plant-based and cruelty-free options more accessible, more people will get on board with our mission to drive sustainability. Other platforms like TripAdvisor and Instagram are useful, but not really focused on a social mission and oftentimes more divisive than unifying. We therefore wanted to create an inspiring app that is built around what people enjoy.
What is your favourite feature about the app?
I love the feed. I always feel so encouraged when I see a new member posting a review of a vegan dish or cruelty-free item that I haven't seen before. Moreover, it's so much fun to see what people are eating—I get hungry every time I open the app.
How exactly do the businesses benefit from abillionveg?
They are essentially getting free advertising for their vegan options every time one of our members posts a review, and they also receive our feedback in terms of how to improve. There's the added option of claiming a business dashboard through our platform, and unlocking many business-friendly features.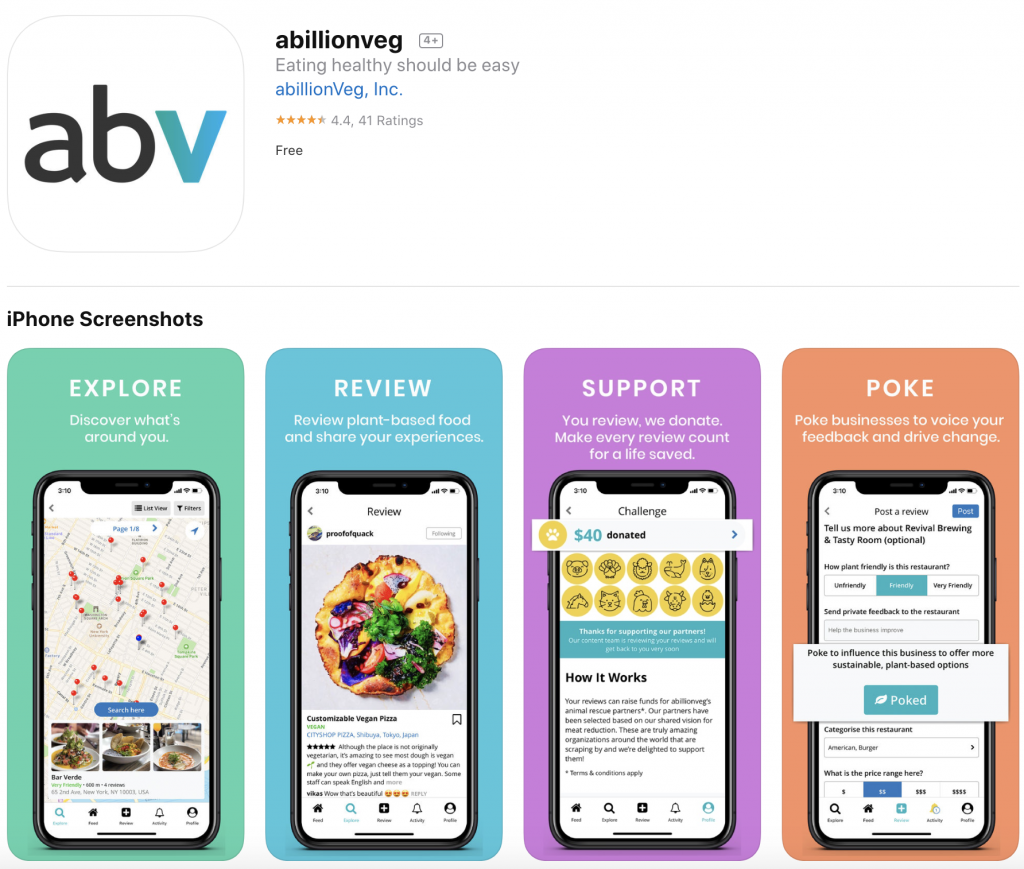 abillionveg on the Apple App Store.
Why is plant-based living important and a cause that's close to your heart?
Plant-based living means you eat, drink and consume things that are made with plants instead of from animal-based sources. Animal agriculture is the single most comprehensive problem we face from a sustainability standpoint, because it severely impacts land, water, pollution, health, biodiversity, and many issues relating to the equitable distribution of food and financial resources globally. I'm personally drawn to the sustainability cause because of the animals. As humans, we're gifted with so many talents and abilities, and I see it as our responsibility to protect the planet and its animals because they don't have the voice or the ability to fight back.
Tell us more about your "1 review=1 dollar" feature and the impact that it's made.
Users earn US$1 for every review posted with pictures, and when they accumulate 10 reviews, they can choose to donate the $10 to any of our partner animal sanctuaries or marine life rescue groups. The idea of "1 review=1 dollar" is to show people that every single review counts, and everything they eat or buy has an impact on another's life. We have many members on whose behalf we've contributed hundreds of dollars towards animal welfare—one member in Hong Kong recently broke the record by leaving 1,000 reviews and donating $1,000!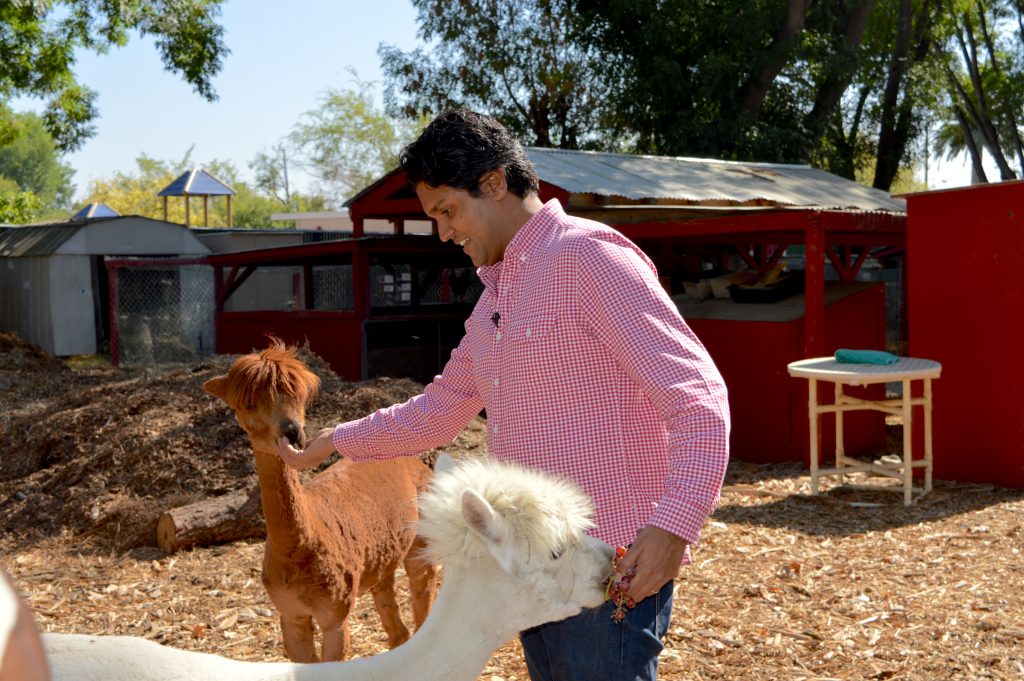 Vikas with the rescue animals of Kindred Spirits Care Farm in Los Angeles, 2018.
When was the first time you realised that abillionveg was making a positive impact?
When more people started signing up and thanking us for creating abillionveg. Positive feedback from our community is what keeps the team going.
Aside from abillionveg, you're involved in minority education initiatives. Did your personal background play a role in your support for this cause?
Yes. My mom, dad, brother and I moved to New York City when I was five, so I was a minority student in the public school system. I was fortunate to have my father, a math genius, coach me in the subject: he and I spent many summers on his office floor learning math from old Indian textbooks. Later in high school, it became my turn to help others struggling with the subject. I used the weekends to tutor at-risk minority kids in math, and through the experience, noticed huge inequalities in the US education system and access to the relevant opportunities. At 15, it felt crazy to be sitting next to someone my age but who was at such a different level of learning. However, it was also amazing to see the impact that those tutoring sessions made, so when I started my professional life, I became active in programmes that support and mentor students. One of these is Student Sponsor Partners, a non-profit organisation which places at-risk youth from tough neighbourhoods in highly structured educational and social environments. Some of these kids have since gone on to become accomplished professionals.
You relocated from the US to Singapore about five years ago. How are you liking the vegan options here and what are some of your go-to's?
I eat a lot at Din Tai Fung: their vegetable dumplings, veggies and rice are delicious and always consistent in flavour and quality. Lately, I'm also loving the pizzas and salads from Blue Label Pizza at Ann Siang Road—there are no vegan items on their menu but they'll veganise a few options upon request. Another favourite of mine is the amazing seed tabbouleh salad from Wild Honey at the Mandarin Gallery. I additionally frequent Empress at the Asian Civilisations Museum, as I'm a fan of its Teapot Soup and other inventive vegan dishes. If you're on a tighter budget, I recommend the laksa from Mummy Yummy at Shenton House. Download the abillionveg app to read more of my (@vikas) reviews.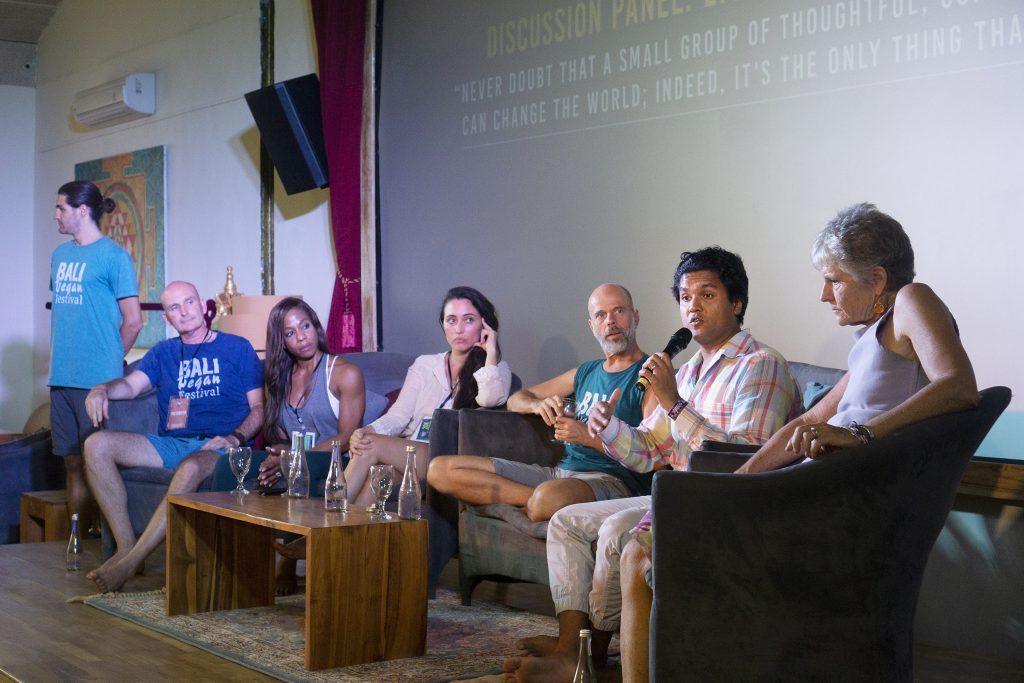 Vikas speaking at the Bali Vegan Festival, 2018.
Speaking of reviews, have you come across any unusual or quirky ones?
Someone recently reviewed a cotton T-shirt with a vegan slogan printed on it. That was pretty unusual.
If you could only eat one vegan dish for the rest of your life, what would that be?
Channa Masala, which is a chickpea stew that I grew up eating.
We know you're an animal lover. Tell us one fun animal fact about you.
I generally adore all animals, even bugs, but I'm terrified of snakes!
Going forward, what can abillionveg users look forward to?
We'll be adding more features and removing some existing ones, in response to what our members find helpful. Since our dream is to make lasting, sustainable impact on a massive scale, we'll continue doing what's necessary to bring us closer towards achieving that.
abillionveg is available via the Apple App Store and Google Play. Unless otherwise stated, all images are courtesy of Vikas Garg.
---
| | |
| --- | --- |
| | Do Youn Lee was a 2019 Summer Associate (Editorial) at the Lien Centre for Social Innovation. She is a rising senior at Yale-NUS College, majoring in Global Affairs and minoring in Philosophy. She spent most of her years in Korea, where she learned Spanish and was an avid lacrosse player. With an interest in youth empowerment, she worked as a programme management intern at the ASEAN Foundation and as a board member at the International Association for Political Science Students. She presently runs the Yale-NUS Chamber Music Collective, where she plays the violin and organises concerts every semester. She can be reached at doyoun@u.yale-nus.edu.sg |