"Ayer Ayer", Malay for "water", is an ecologically engaged art project by Singaporean visual artist and photographer, Ernest Goh. Using visual, experiential and participatory artworks, the Ayer Ayer Project raises awareness about sustainability and environmentalism.
In March 2019, the project team organised a beach clean-up activity at Punggol Beach, during which participants learned more about trash and plastic pollution—specifically microplastics. Shore debris collected from the beach clean-up were then incorporated into one of the artworks: the Shore Debris Table. This eight-metre-long table is modelled after the coastline of Punggol Beach and its surface is scattered with shore debris from the beach.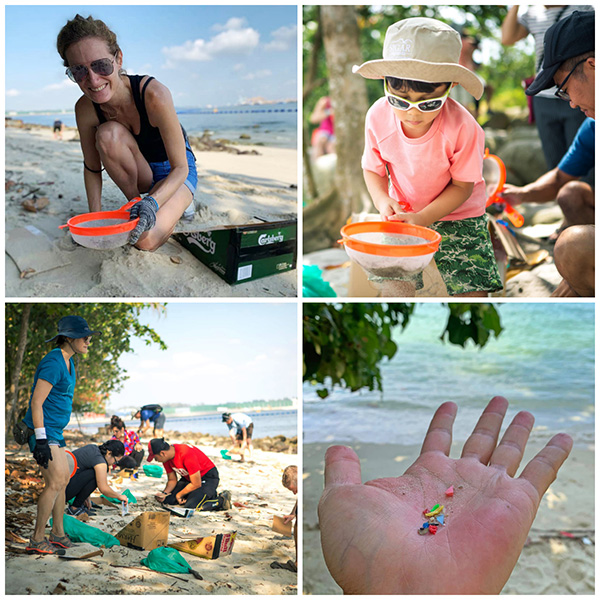 Since making its debut appearance in April 2019 at the Asia Dive Expo (ADEX 2019), the Shore Debris Table has travelled to major locations in the financial district like Ocean Financial Centre (OFC), Marina Bay Financial Centre (MBFC) and Temasek Shophouse, as well as local attractions like the Singapore Zoo and Jurong Bird Park. It has also featured at numerous festivals across the island, reaching over 10,000 people.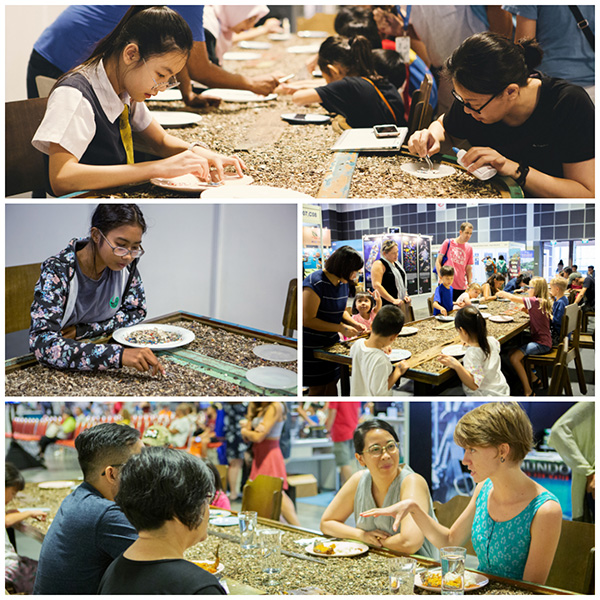 In these engagements, the artist (Ernest) invites participants to join him in the seemingly impossible task of removing small microplastic fragments from amid the shore debris. The purpose of this participatory activity is to heighten awareness about massive plastic pollution—as well as remind people that microplastics are entering our food chain through the food we eat and the water we drink.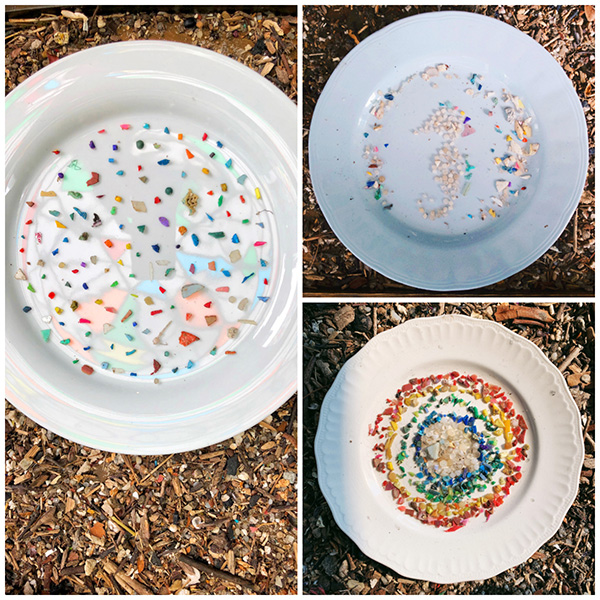 Ernest has additionally developed a second version of the table, which is inspired by the Malaysian Peninsula and the form of a standing sushi bar. The Shore Debris Table Malaya is made from salvaged wooden floor planks of a storm-damaged fishing boat from Pontian, a fishing town off the west coast of Malaysia. Measuring almost 10 metres in length, it features the coastline of Malaysia carved into the recovered wooden planks.
This work, in collaboration with Johorean creative Sam Wong, includes shore debris and microplastics collected from the Malaysian peninsula. While participants attempt to remove microplastic fragments from the shore debris table, they contemplate plastic pollution's devastating effects on the oceanic environment and beaches, as well as the fact that microplastics are entering our food and bodies. Shore Debris Table Malaya was unveiled at the Georgetown festival in July 2019.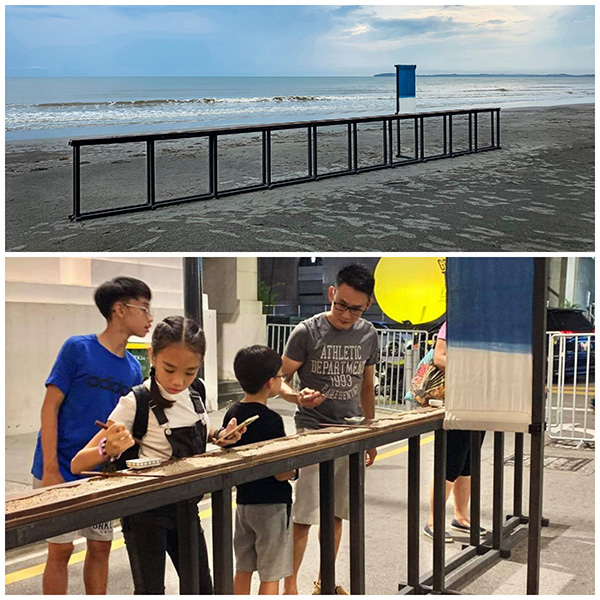 Ayer Ayer Project has an ongoing partnership with socially engaged arts platform Brack, which has co-developed several programmes for the project. Brack's editor-in-chief Kei Franklin led a performance-dialogue titled "Matter of Food" at the shore debris table. In "Matter of Food", the audience is invited to commune over a candid conversation and simple meal. As participants share their stories, they are invited to embark on a co-exploration of topics like consumption, plastic waste, the global economy, and how the environmental crisis relates to the actual food on our plates.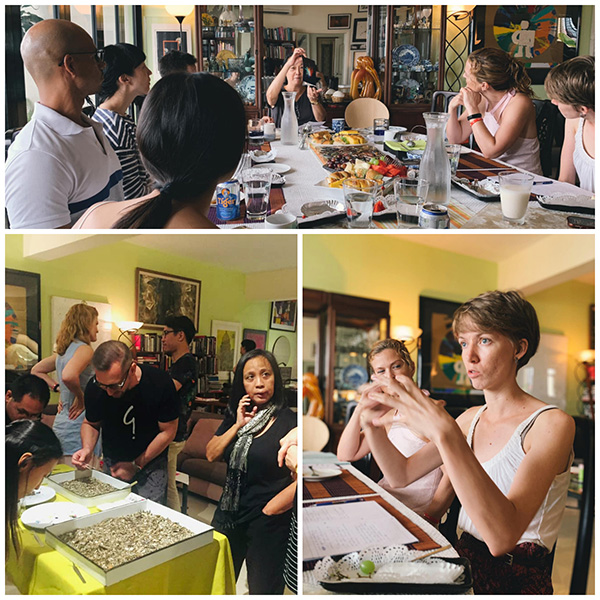 Brack activated the Shore Debris Table Malaya as part of a research workshop presented at the National Gallery Singapore for "We Started Something. Collectivism in Art in Asia: A Symposium". Through guided imagination and multi-sensory immersion, the research workshop invites participants to engage deeply with their capacity for visioning—alone and together. Members of Brack involved included Alecia Neo, Kei Franklin and Jevon Chandra.
Ernest Goh is also the artist behind the photographic showcase, Plasticity, featuring extreme close-up images of microplastic fragments retrieved from Punggol beach—some only two millimetres in size. These visuals provoke visitors to reflect on their own relationship with plastic and the role they may play in contributing to the issue of plastic pollution. The magnified images additionally demonstrate that the problem of plastic pollution is as present in Singapore as anywhere else in the world.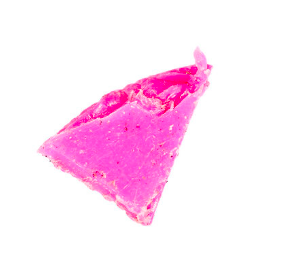 Ayer Ayer Project has most recently introduced Ayer Ayer Fountains, a series of drinking fountains built to replace the sale and distribution of single-use plastic bottled water distributed at public events. The artist Ernest Goh devised the fountains to be a cross between an artwork and a social utility that can be revived to combat single-use bottled water, while also encouraging more "water cooler talk" around plastic pollution. Ayer Ayer Fountains have, to date, helped reduce more than 8,000 units of plastic bottle waste. Equipped with live data sensors which can collect information on the use of the fountains, they offer organisers a way to track and monitor sustainability impact.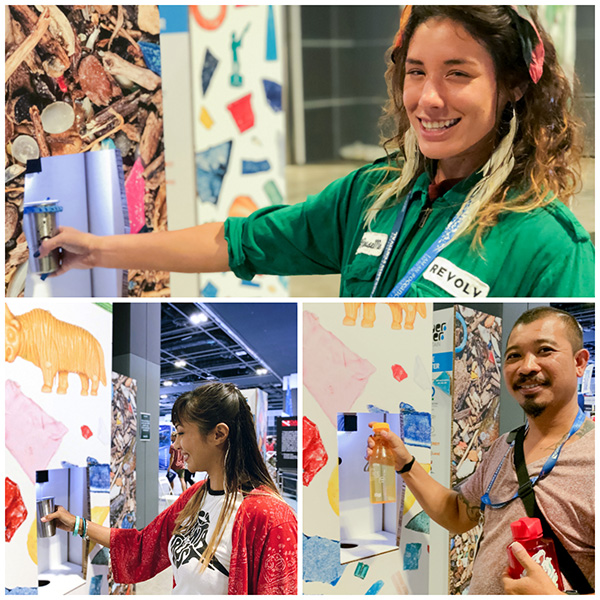 To find out more about the Ayer Ayer Project and Brack, visit their websites and follow them on social media.
All images courtesy of Ernest Goh and Brack.
---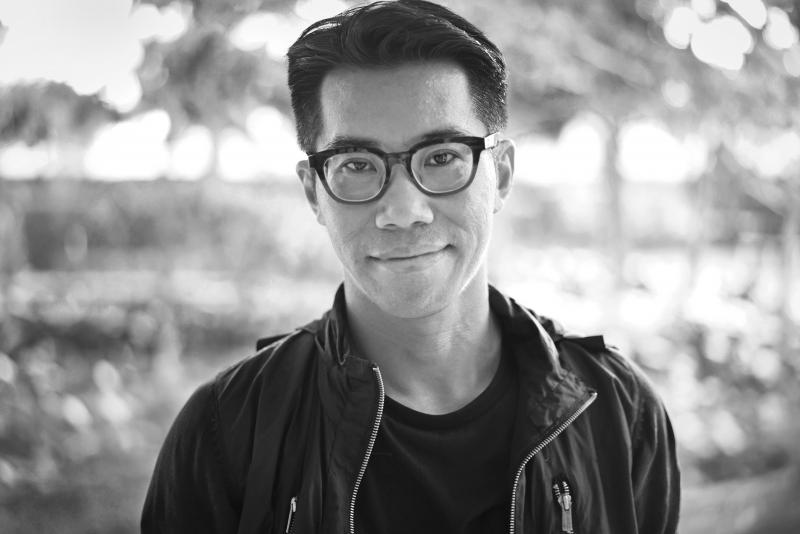 About Ernest Goh
Ernest founded Ayer Ayer, an ecologically engaged art project that reaches out to communities through visual, experiential and participatory artworks in art and science. In 2019, he looked at the complications of ocean plastic pollution faced by Punggol Beach in Singapore. Ernest is also the creator of The Animal Book Co., a photography-based project that explores natural history and wildlife. His animal portraits have been published in The Fish Book (2011), Cocks (2013, republished as Chickens in the US in 2015), and The Gift Book (2014). In 2015, he presented an exhibition, Breakfast at 8 Jungle at 9 (Objectifs—Centre for photography and Film that explored the famed British explorer and naturalist Alfred Russel Wallace's time in Singapore and the region in the 1850s. Ernest's work has been commissioned by and installed at the Lee Kong Chian Natural History Museum, Singapore, collected by the Multimedia Art Museum Moscow, and also resides in corporate, public and private collections. He  received the Discernment Award at the ICON de Martell Cordon Bleu Awards, Singapore in 2012 and the Sony World Photography Award in 2013. Previously a photojournalist with The Straits Times, Ernest has freelanced for wire agencies and international publications such as Smithsonian and Monocle. His documentary work has been published in Beyond Masks (2004), a book documenting the experiences of healthcare workers inside Singapore's largest hospital during the SARS outbreak, and in the multimedia piece Altered Land (2009), which showcased his four-year documentation of the aftermath of the 2004 Indian Ocean tsunami in Aceh, Indonesia.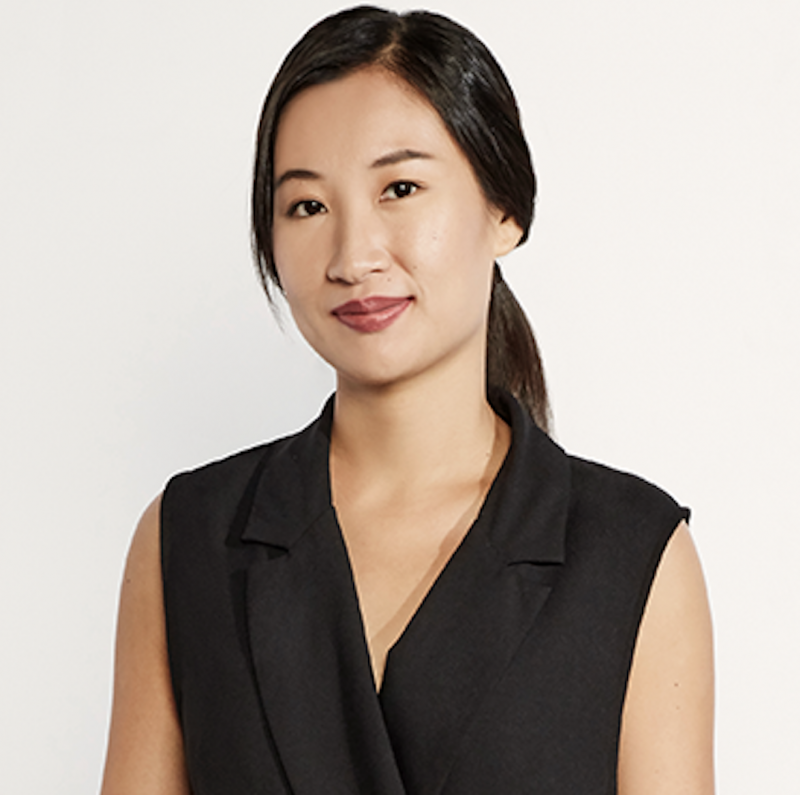 About Alecia Neo and Brack
Alecia is the co-founder and Artist Lead at Brack. She develops long-term projects that involve collaborative partnerships with individuals and communities. Her socially engaged practice unfolds primarily through photography, video and participatory workshops addressing modes of mobility, reciprocity, caregiving and well-being to explores issues of identity and the search for self. Alecia's recent projects include a collaboration with the community engagement platform Both Sides, Now; Touch Collection; Singapore Art Museum; and Personally Speaking, with Objectifs. Alecia was the recipient of the Young Artist Award in 2016.
Brack, a Singapore-based platform for socially engaged artists in Southeast Asia, is interested in practices of gathering, and in dialogical exchanges across mediums, disciplines and communities. The team seeks to understand how socially engaged art can activate a community or society, and to experiment in those very activations—through writing, work with artists and audience engagement. Brack comprises a community of artists, writers, and artistic and social intermediaries who are well-placed in Southeast Asia to understand these processes on a deep level. It emphasises the inter-relational. Aside from the online gathering space, it manifests as exhibitions, talks, workshops, dialogues, and collaborations with local and international practitioners that attempt an alternative praxis to the artist-audience link.