Two years have gone by since I jumped into the ocean with a purpose for community and an intent for conservation. The last time I was on the island of Malapascua and Carnaza was two years ago too. Fast forward to today, in our new normal—in my new normal—conservation dives are hard to come by because of the pandemic. Back in March 2020, just before the peak of the COVID-19 breakout in Singapore, and in the midst of my own personal struggles, I made a commitment to myself to do more for the community. With more time on my hands, I had the idea that I would channel my energy to doing some good. I reached out to a long-time church friend, Kenneth Wong, currently in SMU too, who had been doing volunteer work for the homeless in Singapore for a few years. However, before I was even able to embark on that journey, the Circuit Breaker started. I was in complete limbo, but so was everybody.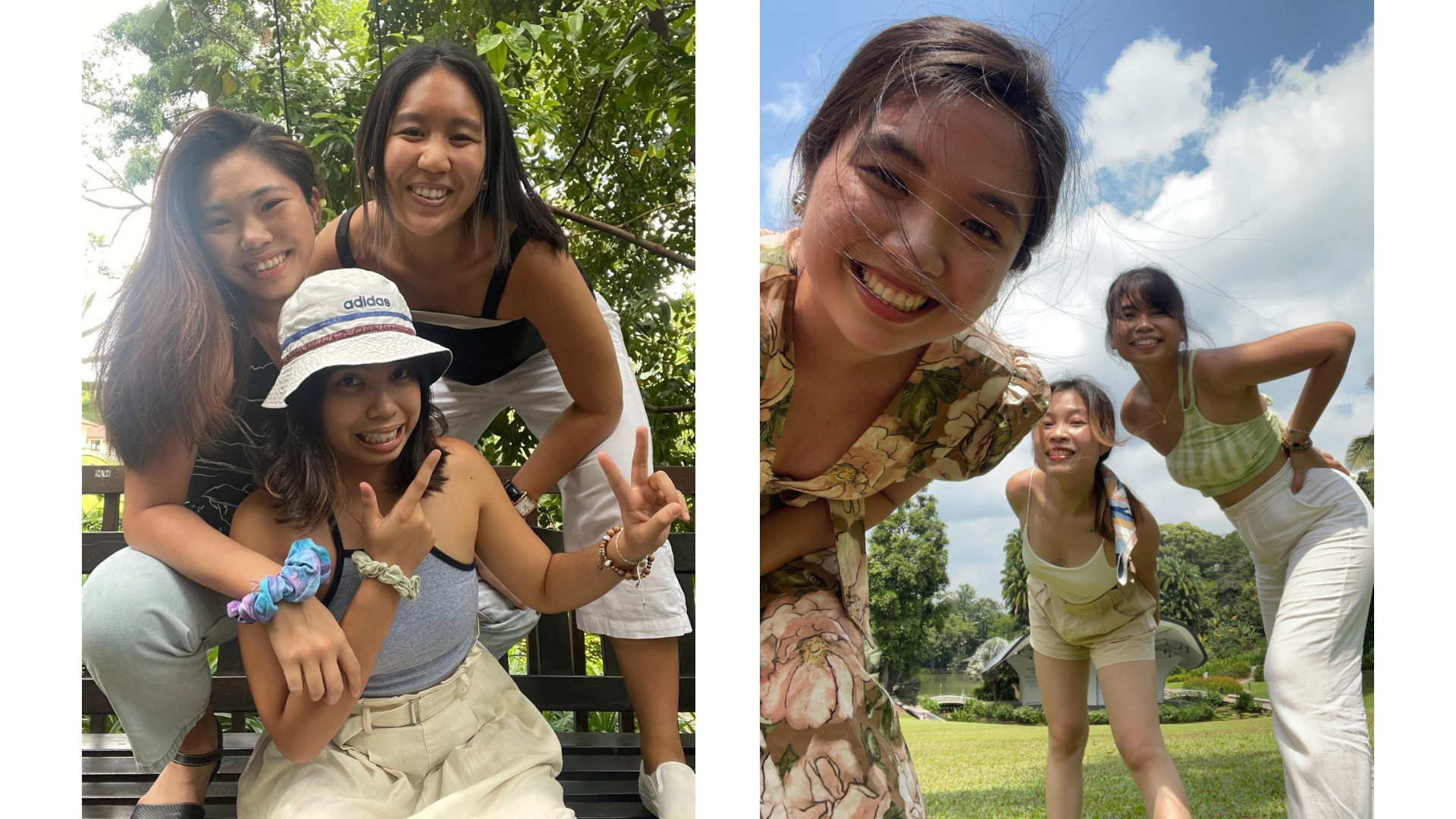 Elyza (middle in left pic, right in right pic), spending time with her friends at birthday surprises and impromptu picnics, pre-Circuit Breaker (the lockdown period implemented by the Singaporean government in response to the COVID-19 pandemic).
A large part of my first three years in SMU was dedicated to marine conservation and raising awareness for environmental issues, together with other SMU divers. After my journey with Project Reef Alert officially ended, I knew I wanted to do more. Together with my friends Jessica, then a Project Reef Alert 2019 member, and Shayne, the SMUX Diving President, we followed in the footsteps of other university environmentalists in Singapore—by organising our own Eco-festival in SMU. Thus, SMU Ecofest 2019 was born. It was a feat we were both really excited about and nervous to take on. Talking about sciences and environmental issues is not exactly something that has been interwoven into the SMU curriculum. Being a management university with no degrees or majors and very limited modules in environmental or natural sciences, relating to the students about the environment proved to be a challenge—but it was something that we felt needed to be done. We had to try.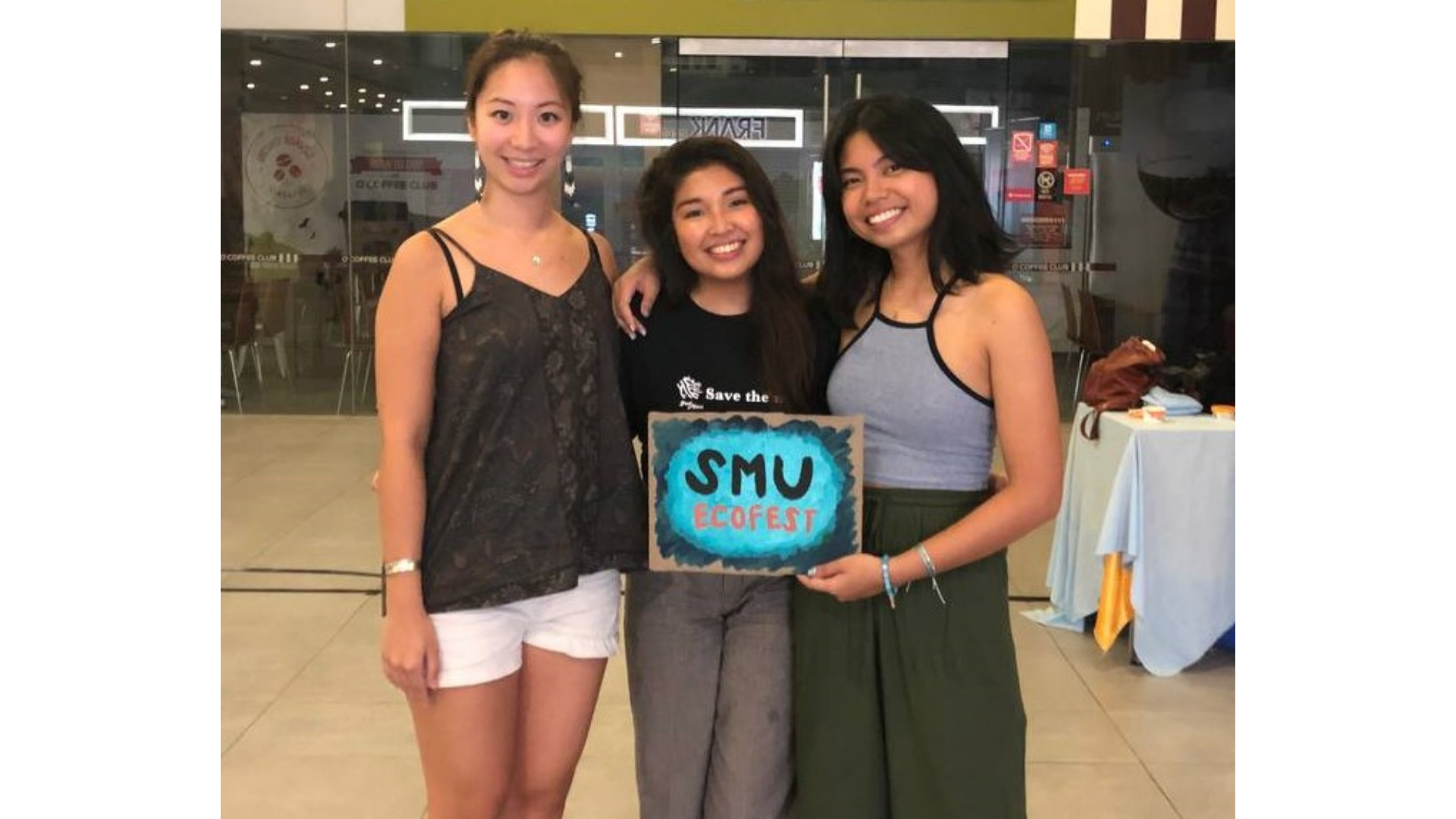 The ladies behind SMU Ecofest. From left to right, Jessica, Shayne, and Elyza.
We knew little about how to organise such an event, and even less about financing it. Fortunately, we managed to connect with Bernie, then a consultant who supported SMU Grow, an eco-education collective in SMU, with love and guidance. Bernice guided us too, and connected us with the Lien Centre for Social Innovation to help get us up and running. Along the way, we met other volunteers who cared as much about this cause as we did, and who supported us in our event. We engaged various groups and small businesses whose core was centred on the environment.
The turnout was not what we had hoped for, but we did not let that bring us down. It was a learning experience for us. Despite the struggles we faced, we knew that the people who did come to our Ecofest left with something—a product from one of the booths, knowledge, a call to action, or even hope for a better future and a better planet.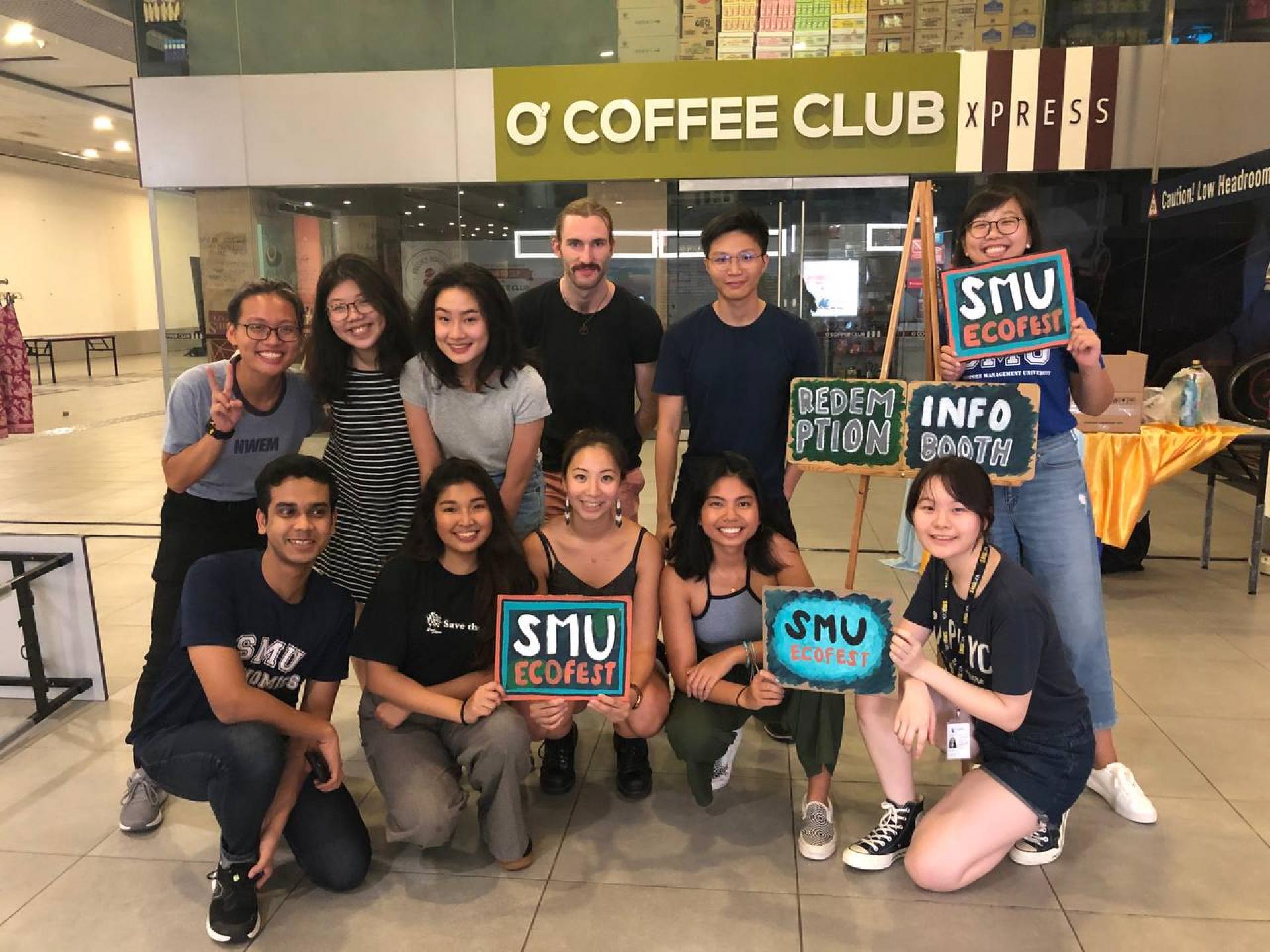 The SMU Ecofest 2019 team, on the day of the event.
After SMU Ecofest 2019, which ended in August of that year, there was a lull period of almost 9 months during which I did not do any volunteering. Dealing with my first and biggest heartbreak, I was left feeling lost by the end of 2019. A heartbreak may seem trivial to some, but it was something that deeply affected me during that time. It was in my pain that I attempted some "self-care", something that was intended to be good for me, for healing. Instead, I ended up feeling a sense of isolation that was in no way beneficial. I wallowed in my own sadness, which led me down the path of escapism.
Then I thought of my own faith. I am Catholic, and at that point I knew that it was time to rest in God and to cling onto Him. My drive, intentions and desire to volunteer also comes from a place of love and God's mission for me, or for us. Nature was something I loved since I was a child. As I grew older, every time I was underwater, at the top of a mountain or looking up at the stars, I would think "how wonderful are God's creations?"—but so are we humans made in His image.
Now I don't mean for this to be a piece about my faith, but it would be unfair to write about my volunteering without including such a big part of why I went on—and still am on— that journey. According to the Catechism of the Catholic Church, "Charity is the theological virtue by which we love God above all things for his own sake, and our neighbour as ourselves for the love of God." Love is our greatest commandment: To love one another as Jesus loves us. This is something I try to live by day after day. In my path to healing, I had been stripped of the opportunity to go for Night Missions, an initiative started by the Catholic Welfare Services. It was a weekly Friday night walk around various locations in Singapore, where we handed out food to the homeless, heard their stories, befriended them and lent them a hand in any way we could. When the Circuit Breaker started, we were all in our own homes. And for a while, I had forgotten about the homeless. That was until I reached out to Kenneth the second time, and by mid-June, with two other friends Sam and Maddie, we had formed Food For The Homeless Singapore.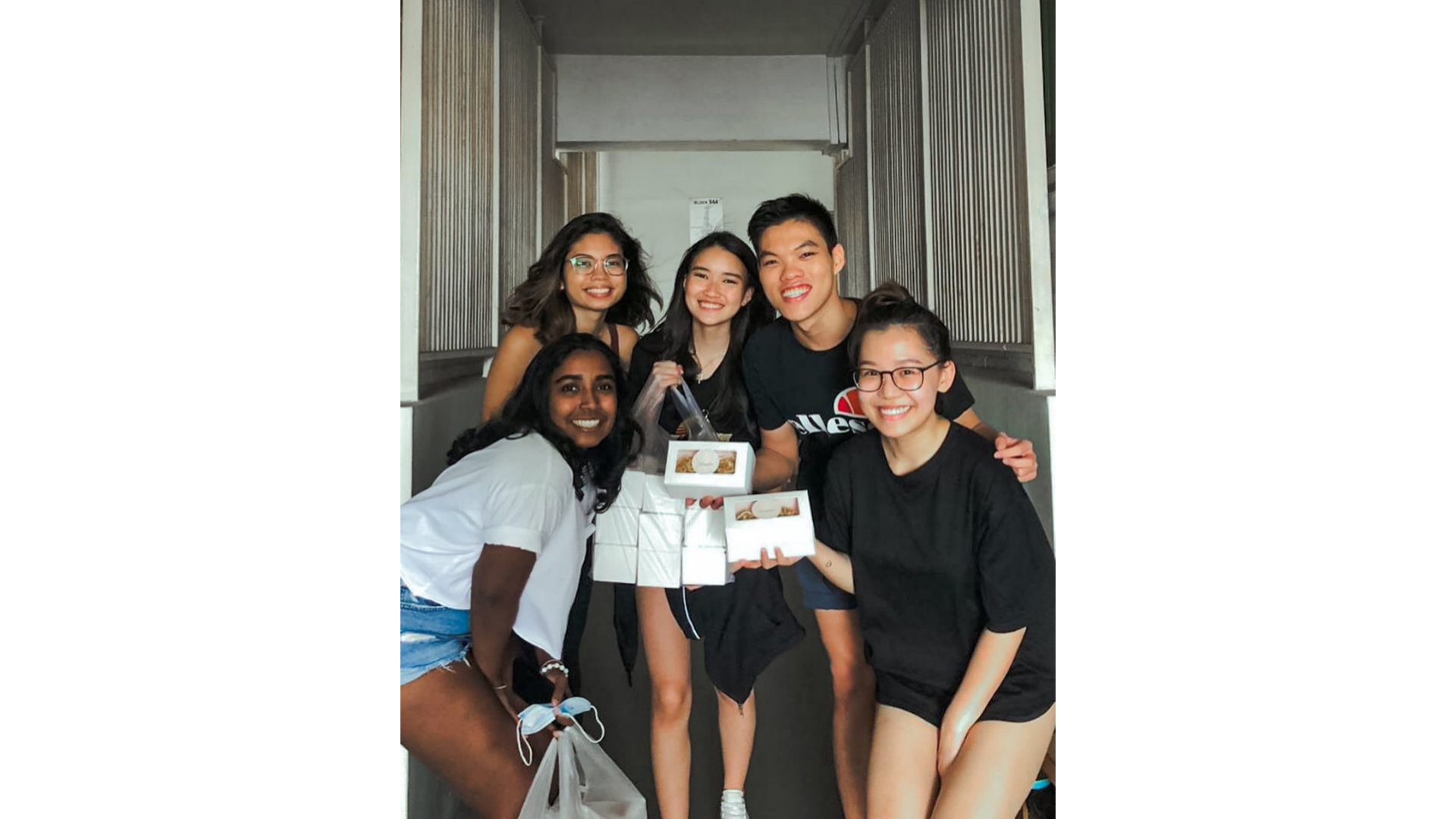 With her friends and co-founders of Food For The Homeless, a ground-up initiative that aims to bring fresh food to the homeless around Singapore.
It was something completely different from what I had volunteered for in the past, a long way from compressed air and wetsuits. This new journey is one filled with new challenges, hope, friendship, and with the least expected—a story unfinished.